Kids Fishing In North Carolina
Ideas and locations to take kids fishing in NC.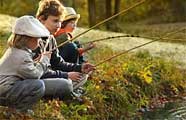 Fishing and the great outdoors offers kids an alternative to many influences they encounter in their busy lives today. A single fishing trip could be the turning point in a young life, and we encourage you to invest the time in North Carolina kids. The rewards are endless and it takes so little effort.
Places in North Carolina to take kids fishing
Consider these small lakes, ponds, creeks and urban fishing locations as places to take a kid fishing in the Tar Heel State.
Asheville
- French Broad River Park
- Lake Julian Park
- Lake Tomahawk Park
Charlotte
- Copperhead Island Park
- Freedom Park Lake
- George Poston Park
- Hornet's Nest Park Pond
- McAlpine Creek Park Pond
- Lake Wylie in
- Mountain Island Lake
- Park Road Park
- Reedy Creek Park Ponds
- Squirrel Lake
Durham
- Eno River State Park
- Lake Michie
Fayetteville
- J. Bayard Clark Park
- Lake Rim Park
- Mazarick Park
Greensboro
- Bur-Mil Park Ponds
- Greensboro Country Park
- Hagan-Stone Park Ponds
- Higgins Lake
- Lake Brandt
- Lake Townsend
- Oak Hollow Lake
- Oka T. Hester Park Lake
Huntersville
- Geitner-Rotary Park
- Lake Norman State Park
Jackson
- Apex Community Park Lake
- Bass Lake Park
- Frog Pond
- Lake Michael Park
Murphy
- Apalachia Lake
Raleigh
- William B. Umstead Park
- Blue Jay Point Park
- Harris Lake County Park
- Lake Johnson
- Lake Wheeler Park
- Reedy Creek Lake
- Shelley Lake
- Sycamore Lake
Shelby
- Kings Mountain Reservoir
Top 3 tips for taking kids fishing in NC
1. Make sure that the goal is to have fun. Catching fish is a bonus.
2. Keep it simple. Simple tackle, techniques and locations.
3. Keep the focus on the kids. Be a hero by helping them enjoy the day.
Click here for more tips and details for a successful kids day fishing.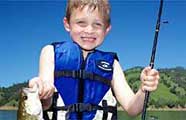 Kids, fishing and smiles naturally go together. Take a kid fishing and you just might change the course of their life. Then take pictures and send us one of them holding their prized catch. We will happily post it on our NC kids fishing photos page.
Kids fishing locations and information, by state.
Help us identify other youth fishing spots in NC.
If you are aware of a great place to take kids fishing in your area, please let us know. We can add it to our list. Every kid that catches a fish there will appreciate the fact that you made the effort.
Ideas and locations to take kids fishing in North Carolina.