Taking Kids Fishing In Arizona
Ideas and locations to take kids fishing in AZ.
By Rick Seaman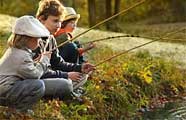 Fishing and the great outdoors offers kids an alternative to many influences they encounter in their busy lives today. A single fishing trip could be the turning point in a young life, and we encourage you to invest the time in Arizona kids. The rewards are endless and it takes so little effort.
Arizona provides fantastic opportunities for kids to experience the joy of fishing. Several fish species can be targeted, making it exciting for young anglers. One popular species for kids to catch is catfish, particularly channel catfish, which are commonly stocked in urban fishing locations across the state. Catfish have a reputation for being hard fighters, making them a thrilling catch for young anglers. Other species that kids can target include sunfish, such as bluegill and redear sunfish, which can be found in urban ponds and lakes.
Arizona's urban fishing program offers easily accessible fishing opportunities for kids in a convenient and safe environment. These urban fishing locations are stocked with a variety of fish species, ensuring that young anglers have a good chance of success. Some popular urban fishing locations in Arizona include Steele Indian School Park Pond in Phoenix, Green Valley Lakes in Payson, and Fain Lake in Prescott Valley.
Various urban fishing spots may be equipped with amenities such as fishing docks, fishing piers, and picnic areas, providing a family-friendly atmosphere for a fun-filled fishing outing. The Arizona Game and Fish Department organizes events and workshops throughout the year, specifically tailored to introducing kids to fishing. These events often provide loaner fishing equipment and expert guidance, making it easier for kids to get started with fishing.
Fishing is not only a fun outdoor activity for kids but also an opportunity to develop patience, hand-eye coordination, and an appreciation for nature. Arizona's urban fishing program offers an ideal platform for kids to learn the basics of fishing, enjoy quality time with family, and create lifelong memories of reeling in their first fish.
Places in Arizona to take kids fishing
Consider these small lakes, ponds, creeks and urban fishing locations as places to take a kid fishing in the Grand Canyon State.
Avondale 623 333-2400
- Festival Fields Pond
- Friendship
Chandler 480 782-2752
- Desert Breeze Lake
- Veterans Oasis
Gilbert 480 503-6200
- Discovery
- Freestone
- Gilbert Regional Park Pond
- McQueen
- Water Ranch
Glendale 623 0930-2046
- Bonsall
Mesa 480 644-7529
- Greenfield
- Red Mountain Lake
- Riverview
Peoria 623 773-7000
- Paloma Park
- Pioneer Lake
- Rio Vista Pond
Phoenix 602 262-3111
- Alvord Lake
- Cortez Lake
- Desert West
- Encanto Park
- Papago Ponds
Prescott 928 777-1552
- Goldwater Lake
- Watson Lake Park
- Willow Lake Park
Scottsdale 480 312-3111
- Chaparral Lake
- Eldorado
Surprise 623 222-1000
- Surprise Lake
Tempe 480 350-4311
- Evelyn Hallman Pond
- Kiwanis Park
- Tempe Town Lake
Tucson 520 791-4873
- Kennedy Lake
- Lakeside Lake
- Patagonia Lake
- Sahuarita Lake
- Silverbell Lake

Top 3 tips for taking kids fishing in AZ
1. Make sure that the goal is to have fun. Catching fish is a bonus.
2. Keep it simple. Simple tackle, techniques and locations.
3. Keep the focus on the kids. Be a hero by helping them enjoy the day.
Click here for additional tips to create a successful day of fishing for kids.
Youngsters with their prized catch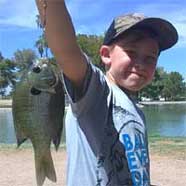 Chance Crowley, age 7, of Phoenix Arizona caught bluegill and catfish at Roadrunner Pond in Phoenix AZ. He used homemade stinkbait doughballs for the cats and hotdogs for the sunfish.
---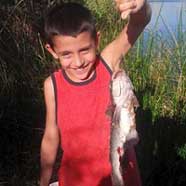 Noah Lent with a nice catfish caught on worms.
---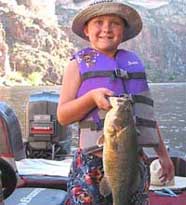 Morgan Hardt with his nice Canyon Lake Smallmouth.
---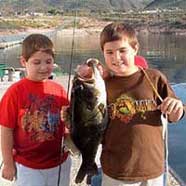 Brandon Correale (brown shirt), age 9, from Gilbert, AZ, a student at Power Ranch Elementary, caught this Largemouth Bass at the Roosevelt Lake Marina April 2, 2006. It weighed in at just over 13 pounds. He was assisted by his brother Dylan, 7 yrs old, in the red shirt. He caught the bass with night crawlers on his little Spiderman fishing pole.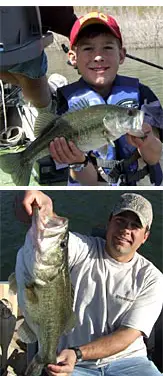 Blake Penrod (top) shows dad how it's done so dad catches a nice one too. This is what fishin is all about!
---
Tyler Cain with a real nice bass from Lower Lake Pleasant.
---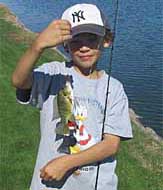 ---
Kids, fishing and smiles naturally go together. Take a kid fishing and you just might change the course of their life. Then take pictures and send us one of them holding their prized catch. We will happily post it here.
Kids fishing locations and information, by state.