Taking Kids Fishing In Washington State
Ideas and locations to take kids fishing in WA.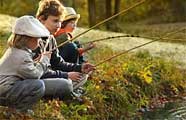 Fishing and the great outdoors offers kids an alternative to many influences they encounter in their busy lives today. A single fishing trip could be the turning point in a young life. We encourage you to invest the time in Washington kids. The rewards are endless and it takes so little effort. The purpose of this page is to share the basics about taking kids fishing, urban fishing locations and tips to make it fun by keeping it simple.
Washington state offers a fantastic opportunity for kids to experience the joys of fishing. With a variety of fish species and accessible urban fishing locations, children can develop a love for angling and the outdoors.
Kids Fishing Video
Several fish species are well-suited for kids' fishing experiences in Washington. Rainbow trout, bluegill, and sunfish are among the popular species often stocked in urban fishing areas, providing ample opportunities for young anglers to catch their first fish. These species are known for their willingness to bite and can be easily targeted using simple and lightweight fishing gear.
Urban fishing locations in Washington offer convenient and family-friendly environments for kids to cast their lines. Green Lake in Seattle, Lincoln Park Pond in West Seattle, and Luther Burbank Park on Mercer Island are just a few examples of urban fishing areas that are easily accessible to families. These locations often have fishing piers, fishing platforms, or easily accessible shorelines, providing a safe and enjoyable fishing experience for young anglers.
To enhance the experience, the Washington Department of Fish and Wildlife often organizes special events and fishing derbies aimed at children. These events offer educational activities, fishing clinics, and prizes, creating a fun and supportive atmosphere for kids to learn and enjoy fishing.
When introducing kids to fishing in urban areas, it is essential to ensure they have appropriate fishing gear, such as lightweight rods and reels suitable for their age and skill level. Using small hooks and simple bait like worms or pieces of dough can increase their chances of success and keep the fishing experience enjoyable.
Fishing is a wonderful way for kids to connect with nature, learn patience and concentration, and create lasting memories with their families. With a variety of fish species and easily accessible urban fishing locations, Washington state provides an ideal setting for kids to develop their angling skills and foster a lifelong love for the outdoors.

Fun places in Washington to take kids fishing
Consider these small lakes, ponds, creeks and urban fishing locations as places to take a kid fishing in the Evergreen State.
Alder Lake
- Alder Lake
Bremerton
- Belfair State Park
- Kitsap Lake Park
Everett
- Hauge Homestead Park
- Lake Roesiger Park
- Lowell Riverfront Park
- Rotary Park
Kennewick
- Lake Sacajawea Park
Marysville
- Wenberg State Park
Oroville
- Palmer Lake
Seattle
- Briscoe Park
- Dash Point State Park
- Lake Meridian Park
- Fairview Park
- Mill Pond
- Old Fishing Hole
- Steel Lake Park
- Van Doren's Landing Park
Silver Creek
- Mayfield Lake
Spokane
- High Bridge Park
- Liberty Lake
- Riverfront Park
- Wentel Grant Park
Tacoma
- Ohop Lake
- Wapato Lake
Wenatchee
- Lake Wenatchee Park
Washington offers many opportunities for kids to fish and experience the thrill of the "tap-tap-tap". Watch the eyes of a youth light up no matter how big or small their catch may be. You have the opportunity to experience it with them and share their joy.
Top 3 tips for taking kids fishing in WA
1. Make sure that the goal is to have fun. Catching fish is a bonus.
2. Keep it simple. Simple tackle, techniques and locations.
3. Keep the focus on the kids. Be a hero by helping them enjoy the day.
Click here for additional tips to create a successful day of fishing for kids.
Youngsters with their prized catch
---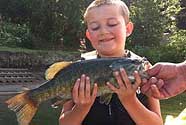 Degan Kidwell shows off a real nice bass he caught on the Pend Orielle River. Degan would "cast his minnow-shaped lure out, reel it in until it was right in front of him, let it down until he couldn't see it, reeled it up until he could hardly see it and move it around and he would just watch a fish eat it."
---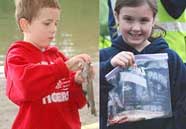 7-Year old, Adin Rees and 10-year old, Sophie Rees show off trout they caught in a derby at Lake Wilderness.
---
Kids, fishing and smiles naturally go together. Take a kid fishing and you just might change the course of their life. Then take pictures and send us one of them holding their prized catch. We will happily post it here.
Kids fishing locations and information, by state.
Help us identify other youth fishing spots in WA.
If you are aware of a great place to take kids fishing in your area, please let us know. We can add it to our list. Every kid that catches a fish will appreciate the fact that you made the effort.
WASHINGTON