Taking Kids Fishing In Missouri
Ideas and locations to take kids fishing in MO.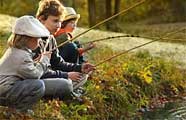 Fishing and the great outdoors offers kids an alternative to many influences they encounter in their busy lives today. A single fishing trip could be the turning point in a young life, and we encourage you to invest the time in Missouri kids. The purpose of this page is to share the basics about taking kids fishing and tips to make it fun by keeping it simple. The rewards are endless and it takes so little effort.
Missouri offers fantastic opportunities for taking kids fishing and experience the joys of angling. Several fish species are commonly targeted by young anglers, providing them with exciting fishing adventures. One popular species is bluegill, a panfish known for its willingness to bite and spirited fights. Bluegill can be found in many of Missouri's urban fishing locations, making them a great target for kids due to their abundance and accessibility.
Kids Fishing Video
Another popular species for kids to fish for in Missouri is catfish. Channel catfish, in particular, are commonly stocked in urban fishing locations, providing young anglers with the chance to reel in some impressive catches. Catfish are known for their size and strength, making them an exciting fish to target. Fishing for catfish can be a memorable experience for kids, and Missouri's urban fishing spots offer convenient access for families looking to spend quality time by the water.
Crappie is another species that kids can target in Missouri. Black crappie and white crappie are commonly found in urban fishing locations and offer a fun and rewarding fishing experience. Crappie can be caught using simple techniques like bobber fishing with small jigs or live bait. They are known for their delicious meat, and catching a few crappie can provide a sense of accomplishment for young anglers.
Urban fishing locations in Missouri are specifically designed to provide a safe and enjoyable fishing experience for kids. These areas often have well-maintained fishing piers, easy access to the water, and facilities such as restrooms and picnic areas. Some popular urban fishing spots in Missouri include Forest Park in St. Louis, Loose Park Pond in Kansas City, and Lake Springfield in Springfield.
Introducing kids to fishing in Missouri's urban fishing locations allows them to develop a love for the outdoors, learn about aquatic ecosystems, and experience the thrill of catching fish. It's a wonderful way for families to bond and create lasting memories. Before heading out, make sure to check the fishing regulations and any specific rules or requirements for each urban fishing location to ensure a safe and enjoyable experience for everyone involved.

Places in Missouri to take kids fishing
Consider these small lakes, ponds, creeks and urban fishing locations as places to take a kid fishing in the Show Me State.
Branson
- Table Rock State Park
Clifton Hill
- Thomas Hill Reservoir
Kansas City
- Alex George Park
- Chaumiere Park
- Fleming Park
- Lake of the Woods
- Penn Valley Park
- Swope Park
Saint Louis
- Bee Tree Park
- Benton Park
- Carondelet Park
- Creve Coeur Park
- Fairground Park
- Forest Park
- Hyde Park
- Lafayette Park
- New Ballwin Park
- Queeny Park
- Spanish Lake Park
- Suson Park
- Tilles Park
Top 3 tips for taking kids fishing in MO
1. Make sure that the goal is to have fun. Catching fish is a bonus.
2. Keep it simple. Simple tackle, techniques and locations.
3. Keep the focus on the kids. Be a hero by helping them enjoy the day.
Click here for additional tips to create a successful day of fishing for kids.
Kids Fishing Photos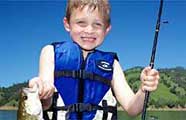 Kids, fishing and smiles naturally go together. Take a kid fishing and you just might change the course of their life. Then take pictures and send us one of them holding their prized catch. We will happily post it here.
Kids fishing locations and information, by state.
Help us identify other youth fishing spots in MO.
If you are aware of a great place to take kids fishing in your area, please let us know. We can add it to our list. Every kid that catches a fish will appreciate the fact that you made the effort.
MISSOURI