Guide To Taking Kids Fishing In Colorado
Ideas and locations to take kids fishingin CO.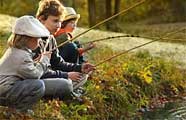 Fishing and the great outdoors offers kids an alternative to many influences they encounter in their busy lives today. A single fishing trip could be the turning point in a young life, and we encourage you to invest the time in kids. The rewards are endless and it takes so little effort.

Places in Colorado to take kids fishing
Consider these small lakes, ponds, creeks and urban fishing locations as places to take a kid fishing.
Aurora
- Aurora Reservoir
Boulder
- Boulder Reservoir
- Fairgrounds Lake
- Gross Reservoir
- Harper Lake
- Lagerman Reservoir
- Pella Crossing
- Stearns Lake
- Walden Ponds
- Walker Ranch
Burlington
- Browns Lake
Colorado Springs
- Memorial Park
- Rampart Reservoir
Denver
- Arvada Reservoir
- Bear Creek Lake Park
- Berkeley Park Lake
- Birdland Lake
- Brighton City Park
- Garland Park
- Huston Lake Park
- Jewel Park Pond
- Lake Arbor
- Overland Pond Park
- Rocky Mountain Lake Park
- Quincy Reservoir
- Sloan's Lake Park
- Ward Road Pond
- Washington Park
Durango
- Memorial Park
- Rank Park
- Riverfront Park
- Santa Rita Park
- Schneider Park
Fort Collins
- Horsetooth Reservoir
- Swede Lake
Fountain
- Willow Springs Ponds, in Fountain Creek Regional Park
Granby
- Shadow Mountain Lake
Loveland
- Carter Lake
Pueblo
- Lake Pueblo State Park
Ice fishing can also be fun for kids. Check here for a list of favorite ice fishing lakes in the state.
Click here for additional tips to create a successful day of fishing for kids.
Kids Fishing Video
Additional Information
Visit Colorado Parks & Wildlife recommendations for places to take kids fishing in the state of CO.
Youngsters with their prized catch
---
Michael Snider
Holds a stringer of catfish he caught on worms at Geneva Lake in Littleton Colorado.
---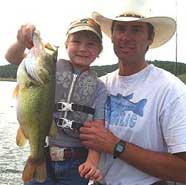 Colter Cordell Carnley
Atage 6, Colter shows off a nice bass he caught all by himself at Echo Lake at Pagosa Springs, Colorado.
---
Michael Martinez Snider
This 5 years old, caught a nice rainbowtrout using Captain America powerbaitat Centennial Lake in Colorado.
---
Take a kid fishing and bring your camera!
Kids fishing locations and information, by state.
Help us identify youth fishing spots in CO.
If you are aware of a great place to take kids fishing in your area, please let us know. We can add it to our list. Every kid that catches a fish will appreciate the fact that you made the effort.
COLORADO