Taking Kids Fishing In Colorado
Ideas and locations to take kids fishingin CO.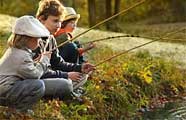 Fishing and the great outdoors offers kids an alternative to many influences they encounter in their busy lives today. A single fishing trip could be the turning point in a young life, and we encourage you to invest the time in kids. The rewards are endless and it takes so little effort. The purpose of this page is to share the basics about taking kids fishing and tips to make it fun by keeping it simple.
Colorado provides excellent opportunities for kids to experience the joy of fishing and develop a lifelong appreciation for the outdoors. Various fish species can be found in kid-friendly fishing locations throughout the state, offering young anglers the chance to reel in their first catch.
Kids Fishing Video
Trout, catfish and sunfish are often the primary target for kids' fishing experiences in Colorado. Rainbow trout, brown trout, and cutthroat trout can be found in many stocked lakes, ponds, and reservoirs specifically designated for youth fishing. These fish are known for their willingness to bite and put up a good fight, ensuring an exciting experience for young anglers.
Urban fishing locations are particularly popular for kids' fishing in Colorado. These easily accessible areas are often stocked with fish, making it easier for children to have a successful and enjoyable fishing outing. Places like the Cherry Creek Reservoir in Denver, Prospect Ponds in Fort Collins, and Quail Lake in Colorado Springs are just a few examples of urban fishing spots where kids can cast their lines and have a chance to catch trout, bass, bluegill, and catfish.
Many of these urban fishing locations also offer amenities such as fishing piers, docks, and picnic areas, making them ideal for family outings. Fishing clinics and events are often organized by local authorities or fishing organizations to provide educational opportunities and introduce kids to the sport.
When taking kids fishing in Colorado, it is essential to remember safety and conservation. Ensuring that kids wear appropriate safety gear, such as life jackets, and teaching them about catch-and-release practices helps foster responsible fishing habits. Additionally, obtaining the necessary fishing licenses and familiarizing yourself with the fishing regulations specific to each location is crucial to abide by the law and protect fish populations.
Colorado's urban fishing locations provide a fantastic setting for kids to experience the thrill of fishing and connect with nature. With well-stocked waters and family-friendly amenities, these locations offer a great introduction to the joys of angling, creating lasting memories and instilling a love for the outdoors in young anglers.

Places in Colorado to take kids fishing
Consider these small lakes, ponds, creeks and urban fishing locations as places to take a kid fishing.
Aurora
- Aurora Reservoir
Boulder
- Boulder Reservoir
- Fairgrounds Lake
- Gross Reservoir
- Harper Lake
- Lagerman Reservoir
- Pella Crossing
- Stearns Lake
- Walden Ponds
- Walker Ranch
Burlington
- Browns Lake
Colorado Springs
- Memorial Park
- Rampart Reservoir
Denver
- Arvada Reservoir
- Bear Creek Lake Park
- Berkeley Park Lake
- Birdland Lake
- Brighton City Park
- Garland Park
- Huston Lake Park
- Jewel Park Pond
- Lake Arbor
- Overland Pond Park
- Rocky Mountain Lake Park
- Quincy Reservoir
- Sloan's Lake Park
- Ward Road Pond
- Washington Park
Durango
- Memorial Park
- Rank Park
- Riverfront Park
- Santa Rita Park
- Schneider Park
Fort Collins
- Horsetooth Reservoir
- Swede Lake
Fountain
- Willow Springs Ponds, in Fountain Creek Regional Park
Granby
- Shadow Mountain Lake
Loveland
- Carter Lake
Pueblo
- Lake Pueblo State Park
Ice fishing can also be fun for kids. Check here for a list of favorite ice fishing lakes in the state.
Click here for additional tips to create a successful day of fishing for kids.
Additional Information
Visit Colorado Parks & Wildlife recommendations for places to take kids fishing in the state of CO.
Youngsters with their prized catch
---
Michael Snider
Holds a stringer of catfish he caught on worms at Geneva Lake in Littleton Colorado.
---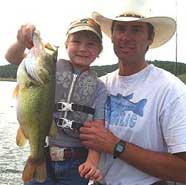 Colter Cordell Carnley
Atage 6, Colter shows off a nice bass he caught all by himself at Echo Lake at Pagosa Springs, Colorado.
---
Michael Martinez Snider
This 5 years old, caught a nice rainbowtrout using Captain America powerbaitat Centennial Lake in Colorado.
---
Take a kid fishing and bring your camera!
Kids fishing locations and information, by state.
Help us identify youth fishing spots in CO.
If you are aware of a great place to take kids fishing in your area, please let us know. We can add it to our list. Every kid that catches a fish will appreciate the fact that you made the effort.
COLORADO