Arizona Fishing Article
Winter Bass Fishing At Apache Lake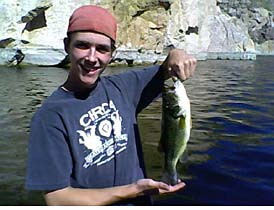 Passing either Roosevelt to the north or Canyon to the south, makes going the extra mile (or so) to Apache Lake hard to justify. Not so, my friend. The lake experienced a golden algae bloom a few years ago and lost most all of their largemouth and smallmouth population. But things have changed. Thanks to the efforts of the Arizona Game and Fish Department and a few very dedicated local bass fishing organizations, the lake is now up and running once more. Three to five-pound largemouth are showing up and the latest dock talk is a few reports of even bigger fish (I didn't see em).
Apache lake also has a population of Walleye. They frequently attack crankbaits in the summer, but slow trolling rooster tails or large spinners is a better bet for winter months. They like the cold and deep water and are excellent table fare.
The Apache Lake Resort is a great place to stay and they offer room specials from time to time.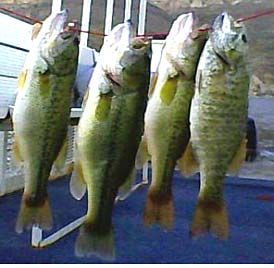 For bass, a medium green worm, curly tail, jigged slowly in 20-30 feet works well. Drop-shotting is always a hit. Summer is all about crankbaits, but we all know that. The water temperature was 45-50 at the lower end and about 5-10 degrees cooler up around burnt corral. Through the winter, the lower end of the lake is my choice.
Apache lake, Good place to fish!
ARIZONA



Article about fishing for largemouth and smallmouth bass at Apache Lake in Arizona.