Fishing At Alamo Lake
AKA: Lake Alamo
What to fish for...
Guide to fishing for largemouth bass, channel catfish, flathead catfish, black crappie, bluegill, redear sunfish and tilapia at Alamo Lake in Arizona.
By Rick Seaman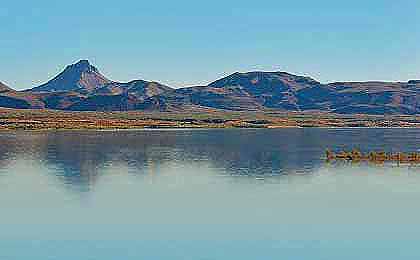 Located on the Bill Williams River in northwest Arizona, Alamo Lake is an easy 45 minute drive north on Alamo Dam Road from highway 60 at Wenden, AZ. When full, Alamo Lake is a 2,700-acre reservoir. However, the lake level fluctuates based on rainfall in the watershed. The Alamo State Park offers camping facilities with hookups, rest rooms and showers.
The purpose of this page is to deliver an overview of this lake, the fishing options, and area amenities. Our goal is to provide info to first time visitors, as well as beginner and novice anglers. We gathered details from personal experience, numerous trusted websites that each offer select bits of information, and videos of fishing activity on the lake. These websites include the Arizona Game and Fish Department, marinas at the lake, campgrounds, boat rental agencies and others. By consolidating this information to one page it allows visitors to see the entire picture, all in one place.
Alamo Lake, located in western Arizona, is a renowned destination for fishing enthusiasts seeking a thrilling and rewarding angling experience. This expansive lake offers abundant opportunities to catch a variety of fish species, making it a popular spot among both locals and visitors.
Lake Video
One of the main attractions of Alamo Lake is its impressive bass fishing. The lake is home to an excellent population of largemouth bass. Anglers can test their skills and techniques while targeting these prized game fish. Whether you prefer topwater lures, soft plastics, or crankbaits, Alamo Lake provides ample opportunities to reel in some impressive bass.
Bass fishing at Alamo Lake
Alamo Lake in Arizona is a renowned destination for bass fishing enthusiasts looking for a thrilling angling experience. The lake boasts an impressive population of both largemouth and smallmouth bass, making it a prime spot for bass fishing. Anglers can test their skills and techniques while targeting these feisty game fish, known for their aggressive strikes and powerful fights. Whether you prefer casting topwater lures in the early morning or working jigs and crankbaits along the rocky shorelines, Alamo Lake offers plenty of opportunities to hook into some trophy-sized bass. With its clear waters and ample fishing grounds, Alamo Lake provides an exciting and rewarding bass fishing experience for anglers of all levels.
In addition to bass, Alamo Lake boasts a diverse fish population. Catfish, such as channel catfish and flathead catfish, can be found in the lake's depths. Crappie and sunfish are also present, adding to the variety of species anglers can target. This diversity ensures that there is always something biting, regardless of your fishing preferences.
Primary fish species residing in Alamo Lake
Click images for fishing tips and details about each species.

Bass Fishing At Alamo Lake
The quantity and quality of the bass population varies from year to year, based on water levels in prior years. An advantage of the fluctuating water level is the abundance of brush and vegetation in rising lake levels. This plant matter enriches the water with nutrients and promotes growth of all levels of the food chain. Topwater, spinnerbaits and crankbaits are excellent choices when the bass are shallow. As the bass move to deeper water, as they do particularly in the heat of summer, jigs, spoons and drop shots are consistent producers.
Other Fishing
Plenty of catfish, crappie and a variety of sunfish also populate this lake. The annual, spring spawn moves crappie to the upper end of the lake where minnows and small jigs catch their share of nice crappie, many over two pounds. Catfish prefer the river channels and Alamo Lake often serves up some giants.
Alamo Lake Amenities
Marina: NO
Boat Rental: NO
Boat Launch Ramp: YES
Campgrounds: YES
RV Hookups: YES
Lodging: NEARBY
Convenience Store: NO
Bait & Tackle: NO
Restaurant: NEARBY
Today's Weather & Forecast
Boating is a popular activity at Alamo Lake, offering anglers and recreational enthusiasts the chance to explore the lake's vast waters. Both motorized and non-motorized boats are allowed, providing a range of options for boaters. Anglers can cruise around the lake, discover new fishing spots, and take advantage of the lake's ample fishing grounds.
Boat Launch Ramps & Landings
Cholla Launch Ramp
Located mid-lake on the east side of the lake on Cholla Road.
Main Launch Ramp
This is a paved ramp, located on the southeast corner of the lake near the Alamo Lake Visitor Center.
Click here for a Arizona Fishing License.
Camping facilities are available near Alamo Lake, making it an ideal destination for anglers who want to fully immerse themselves in the outdoor experience. The lake features a campground with sites suitable for both tents and RVs. Amenities such as picnic tables, fire pits, and restrooms are provided, ensuring a comfortable camping experience.
There are three main areas to camp: the main ramp campground (by the dam), Cholla Campground (mid lake) and Browns Crossing (in the upper end of the lake) which has no facilities and is often referred to as the "free zone".
Campgrounds & RV Parks Nearby
Alamo Lake State Park Campground - 928 669-2088
Other primitive camping areas are available near the lake.
Alamo Lake AZ Map - Fishing & Camping Areas
Contact Information
Alamo Lake
Alamo Lake State Park
Alamo Rd
Wenden, AZ 85357
928 669-2088
Fishing lakes in each state.
Alamo Lake in Arizona.
ARIZONA



Information about camping and fishing lakes in AZ.
Alamo offers great bass fishing for anglers in the western part of the state.
Fishing at Alamo Lake, in Arizona.