Fishing At Lake Havasu
What to fish for...
Guide to fishing for largemouth bass, smallmouth bass, channel catfish, flathead catfish, black crappie, rainbow trout, bluegill, redear sunfish and striped bass at Lake Havasu in Arizona.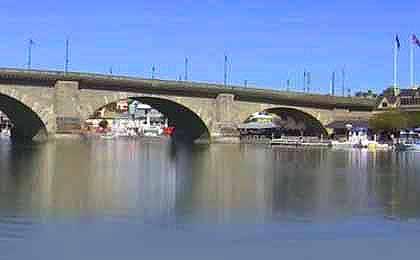 Located on the Colorado River along the Arizona-California border, Lake Havasu is a 20,000-acre impoundment - a vacation paradise for water sport enthusiasts. Lake Havasu City is home to the world-famous London Bridge which attracts vacationers and tourists from all over the world. Resorts, restaurants and night spots line the streets near the lake.
Lake Havasu, located on the Colorado River, is a premier destination for fishing enthusiasts seeking a diverse angling experience. The lake is renowned for its abundance of fish species, making it a favorite among anglers of all levels. One of the prized catches in Lake Havasu is the smallmouth bass, which draws anglers from far and wide. The lake also boasts other popular sport fish such as largemouth bass, striped bass, trout, catfish, and panfish, ensuring anglers have a variety of species to target.
Lake Havasu in Arizona is a paradise for smallmouth bass fishing enthusiasts, offering an exhilarating angling experience. The lake is known for its thriving population of smallmouth bass, attracting anglers from all over the country. Smallmouth bass in Lake Havasu are highly prized for their aggressive strikes, acrobatic fights, and impressive size. Anglers can target these feisty fish using a variety of techniques, including casting crankbaits, working jigs, or using finesse techniques with soft plastics. The rocky shorelines, submerged structures, and clear waters of Lake Havasu provide the ideal habitat for smallmouth bass to thrive, making it a haven for anglers seeking these prized game fish. Whether you're a seasoned angler looking for a trophy-sized smallmouth or a beginner wanting to experience the thrill of catching these fish, Lake Havasu offers ample opportunities for an exciting and rewarding smallmouth bass fishing adventure.
Boating is a major attraction at Lake Havasu, with its expansive waters and scenic beauty. Whether you own a boat or rent one from the marina, the lake provides ample space for cruising, water skiing, and exploring. Anglers can easily access different parts of the lake to find their preferred fishing spots. The calm coves, rocky points, and submerged structures make for excellent fishing grounds, allowing anglers to cast their lines with confidence.
Camping options abound near Lake Havasu, allowing anglers to extend their fishing adventure and immerse themselves in the natural surroundings. Several campgrounds offer amenities such as RV hookups, tent sites, picnic areas, and restroom facilities. Whether you prefer camping in a tent, bringing your RV, or renting a cabin, there are accommodations to suit every preference. Camping near Lake Havasu provides the opportunity to enjoy beautiful sunsets, starry nights, and easy access to the lake for early morning or late evening fishing excursions.
Lake Havasu's reputation as a fishing paradise extends beyond its fish species and boating opportunities. The lake is known for its annual fishing tournaments and events, attracting anglers from all over the country. These events offer not only exciting competition but also the chance to learn from experienced anglers and connect with fellow fishing enthusiasts.
With its diverse fish population, expansive waters, and camping amenities, Lake Havasu offers an unforgettable fishing experience in the picturesque Arizona landscape. Whether you're targeting bass, catfish, or other sport fish, exploring the lake by boat, or enjoying the camping facilities, Lake Havasu provides endless opportunities for anglers to create lasting memories in the great outdoors.
Jet ski, houseboat and pleasure boat rentals are available throughout the area. Arizona travelers access Lake Havasu off State Highway 95 at Parker, Cattail Cove State Park and Lake Havasu City.
Primary fish species residing in Lake Havasu
Click images for fishing tips and details about each species.

Smallmouth Bass Fishing at Lake Havasu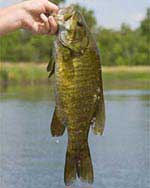 Smallmouth bass were introduced into Lake Havasu and they are flourishing. Small crankbaits, jerkbaits, worms and jigs will catch smallmouth here. The water is quite clear, so light line and long casts may be needed to sneak up on these savvy bass. When the bite is slow throughout the shallow water column, look for smallies in the deeper regions of the lake - often 35 to 50 feet deep.
Lake Havasu Amenities
Marina: YES
Boat Rental: YES
Boat Launch Ramp: YES
Campgrounds: YES
RV Hookups: YES
Lodging: YES
Convenience Store: YES
Bait & Tackle: YES
Restaurant: YES
Today's Weather & Forecast
Fishing Boat Rentals
London Bridge Watercraft Rentals
Rentals: Pleasure, pontoon and fishing boats
928 453-8883
Wet Monkey Powersports
Rentals: Offering Bass boats, fishing boats and pontoons
928 855-2022
Whett Rods Boat Rental
Rentals: Pontoon boats and kayaks for rent
928 412-9248
Marinas
Lake Havasu Marina
1100 McCulloch Blvd N
Lake Havasu City, AZ 86403
928 855-2159
Stonebridge Pier Marina
501 English village Suite 423
Lake Havasu City, AZ 86403
928 412-5287
Boat Launch Ramps & Landings
Havasu Springs Resort
2581 AZ-95
Parker, AZ 85344
Paved launch ramp and parking at the southern tip of the lake.
928 667-3361
Lake Havasu Marina Fuel Dock & Launch
Paved boat launch ramp and parking at the south end of the London Bridge Channel, on the island.
Lake Havasu State Park
699 London Bridge Rd
Lake Havasu City, AZ 86403
Multiple paved ramps with plenty of parking, two miles north of London Bridge on the east side of the lake.
877 697-2757
Site Six Launch Ramp
Beachcomber Blvd
Lake Havasu City, AZ 86403
Paved ramp and parking, located at the southwest tip of the Island.
928 453-8686
Click here for a Arizona Fishing License.
Click here for a California Fishing License.
Campgrounds & RV Parks Nearby
Lake Havasu State Park Campground - 928 855-2784
Crazy Horse Campground - 928 855-4033
Sam's Beachcomber RV Resort - 928 453-1550
Campbell Cove RV Resort - 928 854-7200
D-J's RV Park - 928 764-3964
Havasu Falls RV Resort - 877 843-3255
Havasu RV Resort - 928 764-2066
Prospectors RV Resort & Spa - 928 764-2000
Lake Havasu AZ Map - Fishing & Camping Areas
Lake Video
Contact Information
Lake Havasu
Lake Havasu State Park
699 London Bridge Rd
Lake Havasu City, AZ 86403
928 855-2784
Fishing lakes in each state.
Lake Havasu in Arizona.
ARIZONA



Information about camping and fishing lakes in AZ.
Havasu on the Colorado River, along the AZ-CA border, offers great smallmouth bass fishing plus boat, jet ski and houseboat rentals.
Fishing at Lake Havasu, in Arizona.