Choose From The Best Fishing Guides In Arizona
Hire a guide to take you fishing in AZ.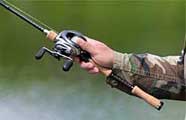 Hire a fishing guide to fish for largemouth bass, smallmouth bass, channel catfish, flathead catfish, blue catfish, black crappie, white crappie, walleye, rainbow trout, cutthroat trout, brook trout, brown trout, bluegill, hybrid sunfish, redear sunfish, rock bass, tilapia, white bass, yellow bass, yellow perch, stripers and northern pike in local lakes.
The Arizona Fishing Guides - 480 772-8460
Josh Bertrand - [email protected]
Largemouth Bass, Smallmouth Bass, Striped Bass, Rainbow Trout, Brown Trout, Apache Trout Guided trips statewide with the finest equipment and most highly requested in skilled guides in the state.
Other Local Guides
For the ultimate fishing experience, hire a professional guide. They know the AZ fishery inside out and have determined the best techniques for catching fish at various times of the year.
The Hook Up - 623-412-3474
Contact Ben Koller - [email protected]
We offer guided bass fishing trips on Lake Pleasant, Saguaro, Canyon, and Bartlett. We also offer guided fly fishing tours for Rainbow, Brown, and Apache trout to the gorgeous lakes and streams of Sedona, the Mogollon Rim, and the White Mountains. Our full time licensed fishing guides are experts in giving first hand instruction. Private fly fishing lessons and corporate charters.
Ambassador Guides & Outfitters - 800 256-7596
Bill McBurney - [email protected]
Focus Species: striped bass, smallmouth & largemouth.
Offering guided trips on Lake Powell. Bill McBurney specializes in "fly rodding" for stripers and smallmouth. With the largest Blue Boat on the Lake, your trip will be a memorable one. Spin tackle provided, fly tackle can be rented. Discounts on lodging available as well. Camping and Fishing excursions available including Houseboat Fishing trips. Serving the area since 1979.
Diablo Canyon Outfitters - 602 810-6804
Robert A. Frost - [email protected]
Focus Species: Crappie, largemouth bass and northern pike. Specializing in bass and crappie fishing trips on Roosevelt Lake. Night fishing on Roosevelt, Canyon and Saguaro. You will fish out of a Professionally Rigged 19' boat. I specialize in teaching crappie fishing using personalized techniques and patterns. I also specialize in catching big bass and I'll show you how it's done.
Arizona Fishing Guide Services
In addition to catching fish, guides teach you techniques which you will use over a lifetime of fishing. Learn tips on rods, reels, line, knots, lures, hook types, techniques and much more...all by spending the day in a boat with a local guide.

Fishing guide information for other states.
ARIZONA