Fishing At Lake Mary
AKA: Upper Lake Mary & Lower Lake Mary
What to fish for...
Guide to fishing for largemouth bass, channel catfish, black crappie, walleye, rainbow trout, bluegill, green sunfish, yellow bass, yellow perch and northern pike at Lake Mary in Arizona.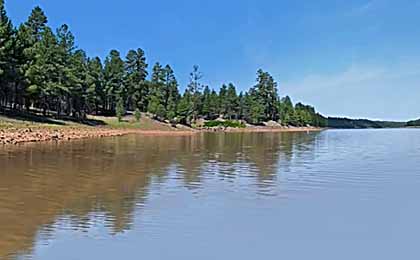 Two lakes, collectively known as Lake Mary, are actually two separate lakes - Upper and Lower Lake Mary. The lakes and campgrounds are conveniently located 15 miles southeast of Flagstaff, AZ. When full, Upper Lake Mary is a 600-acre lake. The upper lake is the primary fishery, and has no limit on horsepower for boats - so it it also available for water skiing and other water sports. Canoes, kayaks and smaller boats are also a great way to enjoy this body of water. Two boat ramps are available for public use. Within short walks from parking, there is plenty of access for fishing from shore. Bass, catfish, walleye, trout and northern pike are the primary species. Under ideal conditions, some winters allow for ice fishing - but not all winters deliver safe ice.
Lake Mary, located in Arizona, is a picturesque destination that offers a variety of outdoor activities for visitors to enjoy. Fishing is a popular pastime at Lake Mary, as it is home to a diverse range of fish species. Anglers can cast their lines in search of rainbow trout, brown trout, northern pike, and various types of sunfish. Whether you prefer fly fishing or traditional bait and lure techniques, the tranquil waters of Lake Mary provide ample opportunities for a successful fishing trip.
Northern pike fishing at Lake Mary in Arizona is an exciting and rewarding experience for anglers seeking a thrill. While the lake is known for its diverse fish species, northern pike are a prized catch for many fishing enthusiasts. These aggressive predators can grow to impressive sizes and put up a formidable fight when hooked. With its ample underwater vegetation and favorable conditions, Lake Mary provides an ideal habitat for northern pike. Anglers can employ a variety of techniques, such as casting large lures, trolling with spinnerbaits, or using live bait to entice these powerful fish. The exhilaration of battling a northern pike, combined with the serene beauty of Lake Mary's surroundings, creates an unforgettable fishing adventure that anglers cherish.
Rainbow trout fishing at Lake Mary in Arizona is a favorite pastime for anglers of all ages and skill levels. The lake is renowned for its abundant population of rainbow trout, offering fantastic opportunities for anglers to reel in these vibrant and delicious fish. Whether you're casting from the shoreline or fishing from a boat, Lake Mary provides an ideal setting for catching rainbow trout. Anglers can utilize a variety of techniques such as fly fishing with nymphs or dry flies, using spinners or spoons, or even bait fishing with worms or PowerBait. The clear, cool waters of Lake Mary, along with its underwater structures and ample food sources, create an environment where rainbow trout thrive. The joy of landing a feisty rainbow trout, combined with the scenic beauty of the surrounding pine forests and mountains, makes rainbow trout fishing at Lake Mary a truly memorable experience.
In addition to fishing, Lake Mary is also a fantastic spot for boating enthusiasts. With its expansive size and clear waters, it's an ideal place to explore by boat. Whether you bring your own watercraft or rent one from a nearby marina, you can enjoy leisurely cruises, water skiing, or even paddleboarding. The serene ambiance of the lake, coupled with the breathtaking views of the surrounding pine forests, makes boating on Lake Mary a truly enjoyable experience.
For those who wish to spend more time in nature, Lake Mary offers excellent camping facilities. Several campgrounds are situated along the shores of the lake, providing both tent and RV camping options. Nestled among the tall pines, these campgrounds offer a peaceful retreat where you can relax and unwind. Wake up to the sound of birds chirping, go for a morning hike, or simply enjoy the tranquility of the lake. Camping at Lake Mary allows you to fully immerse yourself in the natural beauty of the area.
Lake Mary in Arizona is a fantastic destination for fishing, boating, and camping. Anglers can test their skills and try their luck at catching a variety of fish species. Boating enthusiasts can take in the scenic views while enjoying various water activities. Campers can experience the serenity of nature and create lasting memories in the beautiful surroundings. Whether you're an angler, a boater, or a camper, Lake Mary offers something for everyone who loves the outdoors.
Primary fish species residing in Lake Mary
Click images for fishing tips and details about each species.

Lake Mary Amenities
Marina: NO
Boat Rental: YES
Boat Launch Ramp: YES
Campgrounds: YES
RV Hookups: NO
Lodging: NEARBY
Convenience Store: YES
Bait & Tackle: YES
Restaurant: NO
Today's Weather & Forecast
Fishing Boat Rentals
Lake Mary Country Store & Fishing Boat Rentals
Rentals: Canoe, kayak and fishing boats for rent
928 774-1742
Marinas
Lake Mary Country Store & Fishing Boat Rentals
8510 Lake Mary Rd
Flagstaff, AZ 86005
928 774-1742
Boat Launch Ramps & Landings
Upper Lake Mary Boat Launch & Picnic Area
Two paved boat launch ramps and parking in the northwest corner of Upper Lake Mary, off Lake Mary Road.
928 526-0866
Click here for a Arizona Fishing License.
Campgrounds & RV Parks Nearby
Lake View Campground - 928 527-3600
Canyon Vista Campground - 928 526-0866
Pine Grove Campground - 877 444-6777
Lake Mary AZ Map - Fishing & Camping Areas
Lake Video
Contact Information
Lake Mary
Coconino National Forest
877 444-6777
Fishing lakes in each state.
Lake Mary in Arizona.
ARIZONA



Information about fishing lakes in Arizona
Catch northern pike on topwater lures for some exciting fishing nearby Flagstaff, AZ.
Fishing at Lake Mary, in Arizona.