Fishing At Patagonia Lake
AKA: Patagonia Reservoir
What to fish for...
Guide to fishing for largemouth bass, channel catfish, flathead catfish, black crappie, rainbow trout and bluegill at Patagonia Lake in Arizona.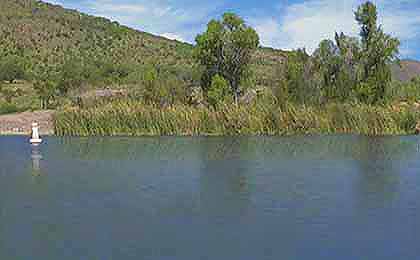 Located 15 miles north of Nogales, AZ, Patagonia Lake is a 260-acre lake offering a bass fishing destination to Southern Arizona anglers. Crappie, catfish, bluegill and stocked rainbow trout also swim these waters. An excellent boat launch ramp and marina make it an easy lake for boaters wishing to go fishing, water skiing or just sight seeing. Some of the lake shoreline is easily accessed for fishing from the bank. Small watercraft like canoes, kayaks and inflatable's can be launched from various locations around the lake.
Patagonia Lake, located in southern Arizona, is a renowned destination for fishing enthusiasts seeking a peaceful and picturesque fishing experience. Nestled amidst rolling hills and surrounded by the scenic beauty of the Patagonia Mountains, the lake offers a serene setting for anglers to cast their lines.
Patagonia Lake is home to a variety of fish species, making it an exciting destination for anglers of all skill levels. The lake is known for its excellent bass fishing, with largemouth bass being the primary species targeted by anglers. Other fish species found in the lake include crappie, sunfish, catfish, and rainbow trout. This diversity provides anglers with a range of fishing opportunities and techniques to explore.
Bass fishing at Patagonia Lake in Arizona is an exciting and rewarding experience for anglers. The lake is renowned for its excellent largemouth bass fishing, attracting anglers from near and far. The calm waters of Patagonia Lake provide the perfect habitat for bass, allowing them to grow to impressive sizes. Anglers can employ various techniques such as topwater lures, plastic worms, and crankbaits to entice these prized game fish. Patagonia Lake's bass population offers thrilling opportunities for both novice and experienced anglers alike, making it a must-visit destination for bass fishing enthusiasts in Arizona.
Boating is allowed at Patagonia Lake, with both motorized and non-motorized watercraft allowed. Anglers can launch their boats from the lake's boat ramps and explore the expansive waters in search of their favorite fishing spots. Whether you prefer cruising in a motorboat, paddling in a kayak, or leisurely drifting in a canoe, boating on Patagonia Lake enhances the fishing experience and allows anglers to reach deeper areas of the lake.
Camping facilities at Patagonia Lake offer a convenient option for anglers who want to extend their stay. The lake features a campground with both tent and RV sites, equipped with amenities such as picnic tables, fire rings, and restroom facilities. Camping near the lake allows anglers to fully immerse themselves in the natural beauty of the area, waking up to the sound of nature and having easy access to early morning or late evening fishing opportunities.
The scenic beauty surrounding Patagonia Lake adds to the overall fishing experience. Anglers can enjoy the breathtaking views of the Patagonia Mountains, the lush vegetation, and the calm waters of the lake. The tranquil ambiance of the area creates a peaceful and enjoyable fishing environment, allowing anglers to relax and connect with nature.
Patagonia Lake in Arizona offers a diverse fishing experience, abundant fish species, boating opportunities, and camping facilities. Whether you're casting for bass, angling for trout, or simply enjoying the serene beauty of the lake, Patagonia Lake provides a memorable fishing and outdoor adventure in a picturesque setting.
Primary fish species residing in Patagonia Lake
Click images for fishing tips and details about each species.

Patagonia Lake Amenities
Marina: YES
Boat Rental: YES
Boat Launch Ramp: YES
Campgrounds: YES
RV Hookups: YES
Lodging: NEARBY
Convenience Store: YES
Bait & Tackle: YES
Restaurant: NEARBY
Today's Weather & Forecast
Fishing Boat Rentals
Patagonia Marina
Rentals: Canoes, rowboats, paddle boats and pontoon boats.
520 287-2804
Marinas
Patagonia Marina
Patagonia Lake Rd
Rio Rico, AZ 85648
520 287-2804
Boat Launch Ramps & Landings
Patagonia Marina
Patagonia Lake Rd
Rio Rico, AZ 85648
Concrete boat launch ramp, paved parking and a dock.
520 287-2804
Click here for a Arizona Fishing License.
Campgrounds & RV Parks Nearby
Patagonia Lake State Park Campground - 520 287-6965
Patagonia RV Park Campground - 520 394-2491
Patagonia Lake AZ Map - Fishing & Camping Areas
Lake Video
Contact Information
Patagonia Lake
Patagonia Lake State Park
400 Patagonia Lake Rd
Nogales, AZ 85621
520 287-6965
Fishing lakes in each state.
Patagonia Lake in Arizona.
ARIZONA



Information about camping and fishing lakes in AZ.
Patagonia is a bass, trout and catfish oasis in the Southern AZ desert.
Fishing at Patagonia Lake, in Arizona.