Fishing At Fool Hollow Lake
AKA: Fools Hollow Lake
What to fish for...
Guide to fishing for largemouth bass, black crappie, walleye and rainbow trout at Fool Hollow Lake in Arizona.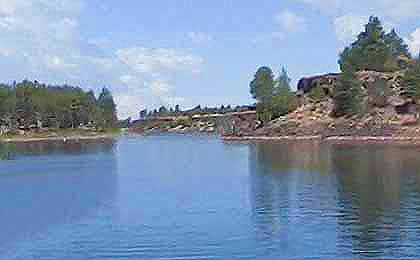 Conveniently located on the northeast outskirts of Show Low, AZ, Fool Hollow Lake is a great place for fishing and camping. This is a 150-acre lake with a nice mixture of fish species. The waters stay warm enough to support bass and crappie, yet cool enough for trout. There is plenty of camping at the lake and virtually any supplies, services and dining options easily available in Show Low. For boating, the lake has a 10-horsepower maximum limit. Canoes and kayaks are a nice option here. Much of the shoreline is available for fishing from the bank as well.
Fool Hollow Lake, situated in Show Low, Arizona, is a popular destination for anglers seeking a diverse fishing experience. The lake boasts a healthy population of fish species, making it an attractive spot for both novice and seasoned anglers. Fool Hollow Lake is known for its excellent trout fishing, with rainbow trout being the primary species targeted by anglers.
Trout fishing at Fool Hollow Lake is a thrilling experience, with the lake being regularly stocked by the Arizona Game and Fish Department. Anglers can try their luck using a variety of fishing techniques, including fly fishing, spin casting, and bait fishing. The lake's calm waters and scenic shoreline provide numerous fishing spots, allowing anglers to find their ideal location for casting a line.
In addition to trout, Fool Hollow Lake is also home to other fish species such as largemouth bass,walleye, and sunfish. These warm-water species provide additional angling opportunities, especially for those who enjoy targeting bass or panfish. Anglers can explore different areas of the lake and try various techniques to lure these fish.
Boating is a popular activity at Fool Hollow Lake, with both motorized and non-motorized boats allowed. Anglers can take advantage of the lake's boat ramps and launch their vessels for a day of fishing on the water. Whether it's cruising around the lake in a motorboat or peacefully paddling in a kayak, boating allows anglers to explore different areas and reach deeper parts of the lake.
For those who want to extend their stay, Fool Hollow Lake offers camping facilities. The lake features a campground with sites for both tents and RVs. The campground offers amenities such as picnic tables, fire rings, restrooms, and showers, providing a comfortable camping experience. Staying overnight allows anglers to make the most of their fishing adventure and immerse themselves in the natural beauty of the area.
Fool Hollow Lake in Arizona is a haven for anglers, offering a variety of fish species, boating opportunities, and camping facilities. Whether you're casting for trout, seeking bass, or simply enjoying the serene beauty of the lake, Fool Hollow Lake provides a memorable fishing experience in a picturesque setting.
Primary fish species residing in Fool Hollow Lake
Click images for fishing tips and details about each species.

Fool Hollow Lake Amenities
Marina: NO
Boat Rental: YES
Boat Launch Ramp: YES
Campgrounds: YES
RV Hookups: YES
Lodging: NEARBY
Convenience Store: NEARBY
Bait & Tackle: NEARBY
Restaurant: NEARBY
Today's Weather & Forecast
Fishing Boat Rentals
Fool Hollow Lake Recreation Area
Rentals: Canoe and kayak rentals in summer
928 537-3680
Boat Launch Ramps & Landings
Fool Hollow Lake Recreation Area
1500 Fools Hollow Rd
Show Low, AZ 85901
Paved ramp and parking located on the southwest corner of the lake.
928 537-3680
Click here for a Arizona Fishing License.
Campgrounds & RV Parks Nearby
Fools Hollow Campground - 928 537-3680
Fool Hollow Lake Recreation Area Campground - 928 537-3680
K-Bar RV Resort Campground - 928 537-2886
Venture In RV Resort - 928 537-4443
Fool Hollow Lake AZ Map - Fishing & Camping Areas
Lake Video
Contact Information
Fool Hollow Lake
Fool Hollow Lake Recreation Area
1500 N. Fool Hollow Lake
Show Low, AZ 85901
928 537-3680
Fishing lakes in each state.
Fool Hollow Lake in Arizona.
ARIZONA



Information about fishing lakes in Arizona
Fool Hollow serves up bass, walleye, trout and crappie in Eastern AZ.
Fishing at Fool Hollow Lake, in Arizona.