Fishing At Lake Pleasant
AKA: Pleasant Lake
What to fish for...
Guide to fishing for largemouth bass, channel catfish, black crappie, white crappie, bluegill, redear sunfish, tilapia, white bass and striped bass at Lake Pleasant in Arizona.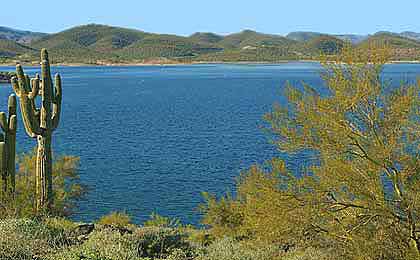 An oasis in the desert, Lake Pleasant is a 10,000-acre lake offering a variety of fishing and boating choices. Located 45 minutes northwest of Phoenix the lake can be accessed via 99th Avenue north from Sun City or via the Cave Creek Highway - west off US Highway 17 north from Phoenix. It is a popular day trip from Phoenix, Scottsdale and other valley cities. Camping, water skiing and swimming areas are scattered around the lake and are often used year round.
Lake Pleasant, located in Arizona, is a popular destination for fishing, boating, and camping enthusiasts. The lake offers a wide range of activities and amenities to cater to outdoor enthusiasts of all kinds. Fishing is a major attraction at Lake Pleasant, as it is home to a variety of fish species. Anglers can target game fish such as largemouth bass, striped bass, white bass, crappie, catfish, and sunfish. With its expansive waters and diverse fish population, Lake Pleasant provides ample opportunities for anglers to reel in a prized catch.
Bass fishing at Lake Pleasant in Arizona is a thrilling experience for anglers seeking to catch largemouth and striped bass. With its vast size and diverse underwater structures, including submerged vegetation, rocky points, and submerged trees, Lake Pleasant provides an ideal habitat for bass to thrive. Anglers can employ various techniques such as using topwater lures in the early morning or evening, working soft plastics along drop-offs and rocky structures, or trolling with crankbaits and spinnerbaits to entice strikes. The adrenaline rush of hooking into a feisty bass, combined with the scenic beauty of the surrounding desert landscape, makes bass fishing at Lake Pleasant a memorable adventure. Whether you're an experienced angler or a beginner, Lake Pleasant offers abundant opportunities to land impressive bass and create lasting fishing memories.
White bass fishing at Lake Pleasant in Arizona is an exciting endeavor for anglers looking for a fast-paced and action-packed fishing experience. Lake Pleasant is known for its thriving population of white bass, making it a prime destination for targeting these feisty and hard-fighting fish. Anglers can find success using various techniques such as jigging with spoons or vertical jigging, casting with small crankbaits or spinners, or even trolling with umbrella rigs or crankbaits. The white bass in Lake Pleasant are known for their aggressive nature and tendency to school up, providing anglers with plenty of opportunities for multiple hook-ups. The combination of the lake's expansive waters, the energetic nature of white bass, and the stunning desert backdrop creates an exhilarating white bass fishing adventure at Lake Pleasant.
Boating is a very popular activity at Lake Pleasant. The lake allows motorized boats, making it perfect for water sports, leisurely cruises, and fishing expeditions. Boaters can explore the vast expanse of the lake, take in the stunning desert scenery, and enjoy various water activities such as water skiing, wakeboarding, and tubing. Lake Pleasant is also equipped with marinas, boat rentals, and launch ramps, ensuring a convenient and enjoyable boating experience.
For those looking to extend their stay, Lake Pleasant offers camping facilities. There are several campgrounds available, providing both tent and RV camping options. The campgrounds offer amenities such as picnic tables, fire rings, restrooms, and even RV hookups. Camping at Lake Pleasant allows visitors to immerse themselves in the beauty of the desert landscape, enjoy breathtaking sunsets, and experience the tranquility of nature.
Lake Pleasant in Arizona is a versatile recreational destination that caters to fishing, boating, and camping enthusiasts. Anglers can enjoy a variety of fish species, boaters can revel in the vast waters and water sports opportunities, and campers can immerse themselves in the scenic beauty of the surroundings. Whether you're seeking an adrenaline-pumping fishing adventure, a day of boating fun, or a peaceful camping getaway, Lake Pleasant offers a memorable outdoor experience for all who visit.
Primary fish species residing in Lake Pleasant
Click images for fishing tips and details about each species.

Lake Pleasant Bass Fishing
Bass fishing at Lake Pleasant has been the primary attraction for decades, to angler at Lake Pleasant. This deep, clear, desert lake has produced monster strings of bass, and at times been a favorite of tournament anglers. It can also be very tough fishing at times and test the skills and patience of even the most experienced anglers. This is excellent topwater lake when the water is clear. Texas-style worms, jigs, spinnerbaits and crankbaits also catch their share of Lake Pleasant bass.
Other fishing in Lake Pleasant
The lake is also known for its populations of white bass and stripers. Both are schooling fish that feed on shad. If you locate a school (often 20 feet deep or deeper), the fishing can be excellent as long as you stay with the school. Spoons and shad-imitating lures work best. Striped bass can be caught as deep as the 100-foot range - especially during summer and winter. Other species in Lake pleasant include crappie, sunfish and catfish.
Lake Pleasant Amenities
Marina: YES
Boat Rental: YES
Boat Launch Ramp: YES
Campgrounds: YES
RV Hookups: YES
Lodging: NEARBY
Convenience Store: NO
Bait & Tackle: NO
Restaurant: YES
Today's Weather & Forecast
Fishing Boat Rentals
Pleasant Harbor Boat Rentals
Rentals: Power boats and pontoons for rent
855 690-0794
Scorpion Bay Marina
Rentals: Pontoons, sport boats and kayaks.
928 501-2628
Marinas
Pleasant Harbor Marina
40202 N 87th Ave
Peoria, AZ 85383
623 235-6130
Scorpion Bay Marina
10970 W, Peninsula Blvd
Peoria, AZ 85383
928 501-2628
Boat Launch Ramps & Landings
Boat Ramp At Pleasant Harbor Marina
40202 N 87th Ave
Peoria, AZ 85383
Paved boat ramp with dock, and paved parking up the hill.
623 235-6130
Castle Creek Boat Ramp
Paved boat launch ramp and parking, located in the northwest corner of the main body of the lake, in the mouth of Castle Creek.
Scorpion Bay Marina
10970 W, Peninsula Blvd
Peoria, AZ 85383
Semi-primitive launch ramp and un-paved parking.
928 501-2628
Click here for a Arizona Fishing License.
Campgrounds & RV Parks Nearby
Pleasant Harbor RV Campground - 928 501-5253
Desert Tortoise Campground - 602 506-2930
Roadrunner Campground - 928 501-1710
Lake Pleasant Regional Park Campground - 928 501-1710
Lake Pleasant AZ Map - Fishing & Camping Areas
Lake Video
Contact Information
Lake Pleasant
Lake Pleasant Regional Park
41835 N. Castle Hot Springs Rd.
Morristown, AZ 85342
928 501-1710
Fishing lakes in each state.
Lake Pleasant in Arizona.
ARIZONA



Information about fishing lakes in Arizona
Close to the Phoenix Metro area, Pleasant is an easy getaway for a quick fishing trip.
Fishing at Lake Pleasant, in Arizona.