Fishing At Lake Mohave
AKA: Mohave Lake
What to fish for...
Guide to fishing for largemouth bass, channel catfish, black crappie, rainbow trout, bluegill and striped bass at Lake Mohave in Arizona.
By Rick Seaman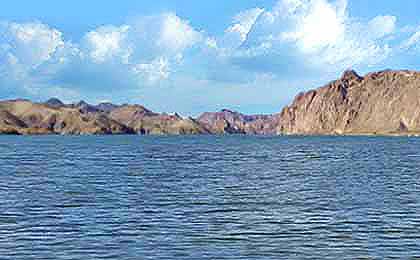 Lake Mohave, a 28,800-acre reservoir, is located on the Colorado River along the Arizona - Nevada border with Lake Mead to the north and Lake Havasu to the south. A nice variety of cold-water and warm-water fish species reside here offering a wide range of fishing opportunities.
The purpose of this page is to deliver an overview of this lake, the fishing options, and area amenities. Our goal is to provide info to first time visitors, as well as beginner and novice anglers. We gathered details from personal experience, numerous trusted websites that each offer select bits of information, and videos of fishing activity on the lake. These websites include the Arizona Game and Fish Department, marinas at the lake, campgrounds, boat rental agencies and others. By consolidating this information to one page it allows visitors to see the entire picture, all in one place.
Lake Mohave is a haven for fishing enthusiasts seeking a diverse angling experience. The lake offers a variety of fish species, making it a popular destination for both recreational and sport fishing. One of the prized catches in Lake Mohave is the striped bass, which draws anglers from far and wide. These hard-fighting fish are known for their size and thrilling battles, providing anglers with an exhilarating fishing experience. In addition to striped bass, the lake is also home to other species such as largemouth bass, smallmouth bass, trout, catfish, and panfish, ensuring anglers have plenty of opportunities to reel in their preferred catch.
Lake Video
Whether you're targeting striped bass, bass, catfish, or other species, Lake Mohave offers a diverse range of fishing opportunities in a picturesque setting. With its abundant fish populations, boating opportunities, and camping facilities, Lake Mohave is a perfect destination for anglers and outdoor enthusiasts looking for an unforgettable fishing experience in the Arizona landscape.
Arizona Side
Primary access to the lake on the Arizona side is at Katherine's Landing, five miles off Arizona Highway 68. Follow the Davis Dam road for about one mile to the Katherine's Landing turnoff.
Nevada Side
From Nevada, take I-95 to Searchlight, then east on Cottonwood Cove Rd to the lake. Or, I-95 to Palm Gardens, then east on Laughlin Highway to Nevada Telephone Cove Road - following it to Telephone Cove. Note there are several side roads off Telephone Cove Road to other lake access points.
Primary fish species residing in Lake Mohave
Click images for fishing tips and details about each species.

Bass fishing at Lake Mohave.
The water flows through this Colorado River lake so understanding current can play a role in your success. The water is often clear enough to see down 20 feet or more. The bass use depth, shade and positions out of the current as places to hold and feed. Long casts are important and the wind can certainly be your friend at is reduces the bass awareness of your presence. Jigs, spoons, worms and almost any bait that imitates baitfish or crawfish here. Topwater fishing can be excellent at times.
Other fishing in Lake Mohave
The lake is also known for its population of stripers, which are schooling fish that feed on shad. If you locate a school (often 20 feet deep or deeper), the fishing can be excellent as long as you stay with the school. Spoons and shad-imitating lures work best. Striped bass can be caught as deep as the 100-foot range - especially during summer and winter. Other species in Lake Mohave include crappie, trout, bluegill and catfish.
Lake Mohave Amenities
Marina: YES
Boat Rental: YES
Boat Launch Ramp: YES
Campgrounds: YES
RV Hookups: YES
Lodging: YES
Convenience Store: YES
Bait & Tackle: YES
Restaurant: YES
Today's Weather & Forecast
(Weather at Katherine Landing)
Boating is also an attraction at Lake Mohave, thanks to its expansive waters and stunning scenery. Whether you have your own boat or rent one from the marina, the lake offers ample space for cruising, water sports, and exploring. Anglers can easily navigate to various fishing spots, including rocky points, coves, and submerged structures, to find their preferred fishing grounds. The calm waters and picturesque surroundings make for an enjoyable boating experience on Lake Mohave.
Fishing Boat Rentals
Katherine Landing at Lake Mohave Marina
Rentals: Pontoons, runabouts and fishing boats
928 754-3245
Willow Beach Marina
Rentals: Kayak, canoe, pontoon and fishing boat rentals
928 767-4747
Marinas
Katherine Landing at Lake Mohave Marina
2690 Katherine Spur
Bullhead City, AZ 86429
928 754-3245
Willow Beach Marina
25804 N Willow Beach
Willow Beach, AZ 86445
928 767-4747
Boat Launch Ramps & Landings
Katherine Landing at Lake Mohave Marina
2690 Katherine Spur
Bullhead City, AZ 86429
Fee required to access the area. Paved ramp and parking with a dock.
928 754-3245
Princess Cove Launch Ramp
Located six miles north of Davis Dam, on the Arizona side of the lake, this launch ramp is paved, with paved parking and a dock.
Willow Beach Marina
25804 N Willow Beach
Willow Beach, AZ 86445
Paved boat launch ramp and parking with a dock.
928 767-4747
Click here for a Arizona Fishing License.
Click here for a Nevada Fishing License.
Camping facilities are available near Lake Mohave, providing anglers and outdoor enthusiasts with the opportunity to extend their stay and fully immerse themselves in the natural beauty of the area. Several campgrounds offer amenities such as RV hookups, tent sites, picnic areas, and restroom facilities. Camping near Lake Mohave allows anglers to relax and recharge after a day of fishing, enjoy the scenic views, and be ready for early morning or late evening fishing adventures.
Campgrounds & RV Parks Nearby
Cottonwood Cove Resort & Marina Campground - 702 297-1464
Davis Dam Campground - 928 754-7250
Lake Mohave Marina RV Campground - 928 754-3245
Katherine Landing North Campground - 702 293-8990
Lake Mohave AZ Map - Fishing & Camping Areas
Contact Information
Lake Mohave - Arizona Side
Lake Mohave Marina
2690 Katherine Spur
Bullhead City, AZ 86429
928 754-3245
Lake Mohave - Nevada Side
Cottonwood Cove Resort & Marina
10000 Cottonwood Cove Rd
Searchlight, NV 89046
702 297-1464
Fishing lakes in each state.
Lake Mohave in Arizona.
ARIZONA



Information about camping and fishing lakes in AZ.
Mohave Lake, along the Arizona border, offers great fishing plus boat, jet ski, pontoon boat and houseboat rentals.
Fishing at Lake Mohave, in Arizona.