Fishing At Bartlett Lake
AKA: Lake Bartlett, Bartlett Reservoir
What to fish for...
Guide to fishing for largemouth bass, smallmouth bass, channel catfish, flathead catfish, black crappie and bluegill at Bartlett Lake in Arizona.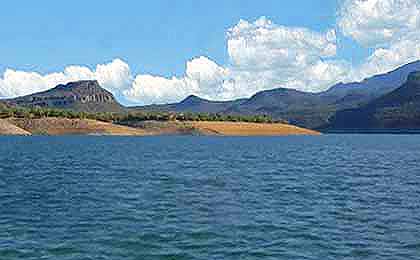 Located on the Verde River in central Arizona, Bartlett Lake is an easy 45-minute drive northeast of Carefree AZ. Head northeast from Carefree on the Cave Creek road to the Bartlett Dam Road turnoff. Amenities at this 2,800-acre lake include a marina and store, boat slips and boat rentals, paved boat launch and a sheriff station.
There are numerous camping areas located around the lake which are accessible by road, other camping ares are accessible only by boat.
Primary fish species residing in Bartlett Lake
Click images for fishing tips and details about each species.

Bass Fishing at Bartlett Lake.
Bass are the primary target of anglers heading to Bartlett Lake. This desert lake offers a variety of structure and cover. Much of the lake is comprised of flooded areas of de-composed granite. Other sections are strewn with giant boulders. The upper reaches of the river end of the lake offer brush and vegetation for bass and other species. The main food source for bass in Bartlett Lake are threadfin shad. Their secondary food source is crawfish (or crawdads). The water in the lake remains fairly clear unless water levels drop significantly, at which time the water gets murky from mud and silt on the lake bottom.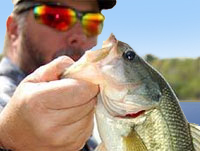 Once the water temperature rises around 60 degrees, the bass can be coaxed into taking topwater lures. Jigs, spoons and worms work year round - shallow in mild weather and deeper when the water gets very warm or very cold. When the bass are shallow, crankbaits and spinnerbaits catch a lot of bass.
Other fishing in Bartlett Lake
Crappie, bluegills and other panfish populate these waters and make fun fishing for kids and other anglers new to the sport. The lake also contains channel catfish throughout the lake, and monster flathead catfish are prevalent in the river end of the lake especially in the river entering the lake from Horseshoe Lake.
Bartlett Lake Amenities
Marina: YES
Boat Rental: YES
Boat Launch Ramp: YES
Campgrounds: YES (Primitive)
RV Hookups: NO
Lodging: NO
Convenience Store: YES
Bait & Tackle: YES
Restaurant: YES
Today's Weather & Forecast
Fishing Boat Rentals
Bartlett Lake Marina
Rentals: Offering pontoon boats and fishing boats for rent
480 221-0503
Marinas
Bartlett Lake Marina
20808 E Bartlett Dam Rd
Rio Verde, AZ 85263
480 221-0503
Boat Launch Ramps & Landings
Bartlett Lake Marina
20808 E Bartlett Dam Rd
Rio Verde, AZ 85263
Paved ramp, mid-lake at the marina.
480 221-0503
Rattlesnake Cove Boat launch
Dirt ramp, mid-lake on the west side of the lake, with a dock.
Addition Launching Options
There are numerous places along the west side of the lake, from Rattlesnake Cove to Bartlett Lake Flats, with primitive launch areas.
Click here for a Arizona Fishing License.
Campgrounds & RV Parks Nearby
Primitive campsites located along the west side of the lake. Other primitive places to camp are located in areas accessible via boat.
Bartlett Lake AZ Map - Fishing & Camping Areas
Bartlett Lake, located in Arizona, is a beloved destination for fishing enthusiasts and outdoor adventurers. With its serene waters and scenic desert landscape, Bartlett Lake offers a variety of activities for visitors to enjoy. Fishing is a major attraction at the lake, as it is home to a diverse range of fish species. Anglers can target popular game fish such as largemouth bass, smallmouth bass, catfish, crappie, and sunfish. Whether you're casting from the shoreline or fishing from a boat, Bartlett Lake provides ample opportunities to reel in a prized catch.
Bass fishing at Bartlett Lake in Arizona is an exciting and rewarding experience for anglers of all skill levels. Known for its healthy bass population, the lake offers ample opportunities to reel in largemouth and smallmouth bass. With its diverse underwater structure, including rocky points, submerged vegetation, and drop-offs, Bartlett Lake provides the perfect habitat for bass to thrive. Anglers can employ a variety of techniques, such as using topwater lures in the early morning, working Texas-rigged plastic worms along the bottom, or employing crankbaits and spinnerbaits to entice strikes. The challenge of outsmarting these powerful and elusive bass, combined with the picturesque desert scenery surrounding the lake, makes bass fishing at Bartlett Lake a truly memorable adventure.
In addition to fishing, Bartlett Lake is also a haven for boating enthusiasts. With its expansive size and calm waters, the lake is perfect for all types of watercraft. Boaters can enjoy leisurely cruises, water skiing, tubing, or simply relaxing and taking in the beautiful surroundings. The surrounding desert landscape and the views of the iconic saguaro cacti make boating at Bartlett Lake a truly unique experience.
For those who want to extend their stay and immerse themselves in nature, Bartlett Lake offers camping facilities. Several campgrounds are situated around the lake, providing both tent and RV camping options. Camping at Bartlett Lake allows visitors to enjoy the tranquility of the area and wake up to breathtaking views of the water and the desert landscape. Campers can engage in activities such as hiking nearby trails, birdwatching, or simply relaxing by the campfire under the starry night sky.
Bartlett Lake in Arizona is a paradise for fishing enthusiasts, with its diverse fish species and serene waters. Boating enthusiasts can enjoy the lake's vast expanse and scenic beauty, while campers can immerse themselves in the natural surroundings and create lasting memories. Whether you're an angler, a boater, or a camper, Bartlett Lake offers something for everyone who loves the outdoors.
Lake Video
Contact Information
Bartlett Lake
Bartlett Lake Marina
20808 Bartlett Dam Rd
Rio Verde, AZ 85263
480 221-0503
Fishing lakes in each state.
Bartlett Lake in Arizona.
ARIZONA



Information about camping and fishing lakes in AZ.
Bartlett offers great bass fishing, a marina and boat rentals.
Fishing at Bartlett Lake, in Arizona.