Guide To Fishing At Martinez Lake
AKA: Lake Martinez
What to fish for...
Fishing for largemouth bass, smallmouth bass, channel catfish, flathead catfish, black crappie, bluegill, green sunfish, redear sunfish, tilapia and striped bass at Martinez Lake in Arizona.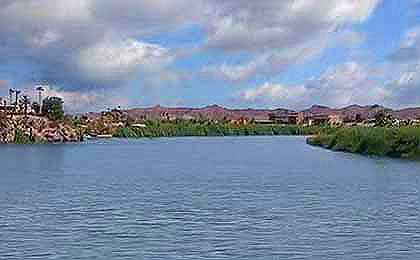 Located on the Colorado River along the Arizona-California border, north of Yuma AZ, Martinez Lake is easily accessed via the Imperial Dam Road west off US Highway 95. The lake is a 600-acre impoundment off the Colorado River, which meanders its way south to drain into the ocean.
Martinez Lake, in Arizona, is a popular destination for fishing enthusiasts seeking a variety of fish species and outdoor adventures. Situated on the Colorado River, Martinez Lake offers excellent angling opportunities throughout the year. Anglers can expect to catch a wide range of fish species, including largemouth bass, smallmouth bass, striped bass, catfish, and panfish.
Bass fishing is a major attraction at Martinez Lake, with both largemouth and smallmouth bass thriving in its waters. Anglers can target bass using various techniques, such as casting with soft plastics, working topwater lures, or using crankbaits. The river's structure, including submerged vegetation, rock formations, and drop-offs, provides ideal habitats for bass to thrive and offers exciting fishing opportunities.
Boating is a popular activity at Martinez Lake, allowing anglers to access different fishing spots and explore the river's scenic stretches. Whether you bring your own boat or rent one from the marina, the lake provides ample space for cruising, water sports, and fishing expeditions. The calm waters of Martinez Lake, surrounded by stunning desert landscapes, create a peaceful and enjoyable boating experience.
Camping facilities are available near Martinez Lake, providing anglers and outdoor enthusiasts with the opportunity to extend their fishing trip and immerse themselves in nature. Several campgrounds offer amenities such as RV hookups, tent sites, picnic areas, and restrooms. Camping near Martinez Lake allows anglers to enjoy beautiful sunsets, starry skies, and easy access to the water for early morning or late evening fishing excursions.
Martinez Lake is a haven for fishing, boating, and camping enthusiasts, offering a diverse range of fish species, scenic waterways, and outdoor recreational opportunities. Whether you're targeting bass or exploring the river's abundant wildlife, Martinez Lake provides a memorable experience for anglers and nature lovers alike.
Primary fish species residing in Martinez Lake
Click images for fishing tips and details about each species.

Bass Fishing at Martinez Lake, AZ.
If you like to fish current or venture into backwaters to find bass, Martinez Lake is your kind of place. The lake is a flooded area on the Arizona side of the Colorado River. Some bass are caught in the lake, but the vast majority of bass anglers venture up river from the lake itself to find bass in vegetation along the river banks. Use heavy line and prepare for a battle if you hook one of the bigger fish that live in this fast-moving current. They are strong and want to let you know it, once hooked.
Martinez Lake Amenities
Marina: YES
Boat Rental: YES
Boat Launch Ramp: YES
Campgrounds: YES
RV Hookups: YES
Lodging: YES
Convenience Store: YES
Bait & Tackle: YES
Restaurant: YES
Today's Weather & Forecast
Boat Launch Ramps & Landings
Martinez Lake Boat Launch Ramp at
The Martinez Lake Boat Shop
10402 E Cattail Way
Yuma, AZ 85365
One-lane, paved ramp with docks and limited parking.
928 783-4905
Click here for a Arizona Fishing License.
Campgrounds & RV Parks Nearby
MCCS Lake Martinez Recreation Area & RV Park - 928 269-2262
Fisher's Landing Resort Campground - 928 782-7049
Martinez Lake AZ Map - Fishing & Camping Areas
Lake Video
Contact Information
Martinez Lake
Fisher's Landing Resort & Campground
10882 Swede Way
Yuma, AZ 85636
928 782-7049
Fishing lakes in each state.
Martinez Lake in Arizona.
ARIZONA



Information about camping and fishing lakes in AZ.
Martinez offers back-water bass fishing plus a chance to fish current in the Colorado River.
Fishing at Martinez Lake, in Arizona.