Minnesota Fishing Article
Trout Fishing in Walleye Country
Here in north-central Minnesota when the subject of fishing comes up it usually centers on the walleye our state fish. When one thinks of trout we tend to think of the north shore or the trout streams of southeast Minnesota or even the blue ribbon waters of our western states. But we have some excellent trout fishing right here in north-central Minnesota in the heart of walleye country in a number of lakes that are stocked annually by the DNR and in several streams located throughout the region. Trout are stocked in both designated trout lakes that are managed specifically for trout and into lakes that are managed for other species as well. It is important to read the regulations before fishing because live minnows are not allowed when fishing designated stream trout lakes in addition to a trout stamp being needed when fishing designated stream trout lakes or whenever in passion of trout. Trout taken from the clear cold waters of these stocked stream trout lakes are excellent table fare and a downright blast to catch and it's easy for the young fisherman to enjoy as well.

Getting Started
It is relatively simple to find the closet lakes in your area stocked with trout by going to the Minnesota Department of Natural Resources web page. Once here click on the lake finder tab and click the stocking report species button and scroll down and click on trout and then click generate report. This will give you the counties where lakes and streams that have been stocked with trout by the DNR. From here you can identify those that you may want to try.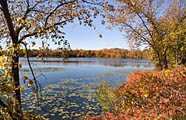 Techniques
You can use a number of methods to fish for trout from simply anchoring and using bait, trolling with long lines and small lures to using down riggers with flashers and small artificial lures. For the most part an angler doesn't need to run out and purchase several hundred dollars of new equipment to pursue trout here in the northland. To still fish for trout in these lakes an angler should have a light action rod spooled with light line of 4-pound test or less, my personal preference is a fluorocarbon line such as Berkley Vanish. This same outfit spooled with 6 or 8 pound test monofilament can also be used to long line for trout, simply tie on a small snap, swivel or use a rapala knot to attach a small spoon or plug and let out a 100 feet or so of line and troll around the lake concentrating on areas where you see fish rising or note suspended fish on your graph.
Rigs
When still fishing for trout off of the bottom first tie on a bobber stop with the bead above the stop towards the reel, this allows you to use a snap-on weight and adjust the length of your snell should you see fish higher off of the bottom. For bait there is a number of different artificial trout baits on the market you'll just have to experiment to find what works best for you, we like Berkley's power bait. At times depending on where the fish are in the water column we use a slip bobber rig experimenting with depth based on where we are seeing fish on the graph. During the spring and again in the fall when water temperatures are cooler one of my favorite methods is to long line small rapala lures behind the boat and troll at a speed of 1.5 to 2 miles per hour, many times you can target fish that you see rising or see suspended on your graph. When you catch a fish you will tend to catch more in the same area so work an area thoroughly before moving on. For down rigger fishing I most often use a set of smaller cowbells with an attached 2 – 3 foot monofilament leader to which I attach a small rapala minnow lure usually in a trout pattern and troll about 2 miles per hour.
Location
Trout are a cold-water fish and therefore water temperature many times will dictate location along with food sources. As a general rule of thumb in spring and fall the fish will tend to be shallower while moving deeper during the summer. On some of our bigger stream trout lakes fish seem to suspend quite often and the use of a graph to identify the location of fish helps immensely.
So if your looking for a new challenge this summer give trout fishing a try I think you'll enjoy it.
Contact Doug Harthan by visiting his website, Front 20 Outfitters, LLC
Fishing in all states
MINNESOTA


Article about fishing for trout in Minnesota.