Fishing At American Falls Reservoir
AKA: American Falls Lake
What to fish for...
Guide to fishing for largemouth bass, smallmouth bass, rainbow trout, cutthroat trout, brown trout and yellow perch at American Falls Reservoir in Idaho.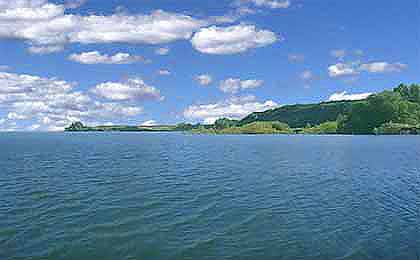 At an elevation over 4,000 feet above sea level, American Falls Reservoir is located in the southeast part of the state, at American Falls, ID. Covering 55,200 surface acres, this lake has over 100 miles of shoreline to explore and fish.
The purpose of this page is to deliver an overview of this lake, the fishing options, and area amenities. Our goal is to provide info to first time visitors, as well as beginner and novice anglers. We gathered details from personal experience, numerous trusted websites that each offer select bits of information, and videos of fishing activity on the lake. These websites include the Idaho Fish and Game, marinas at the lake, campgrounds, boat rental agencies and others. By consolidating this information to one page it allows visitors to see the entire picture, all in one place.
Lake Video
Located in southeastern Idaho, American Falls Reservoir is a fantastic destination for fishing enthusiasts. This expansive reservoir spans over 56 square miles, offering ample opportunities for anglers to enjoy their favorite pastime. The reservoir is known for its diverse fish populations, with several popular species attracting both local and visiting anglers.
One of the most sought-after fish species in American Falls Reservoir is walleye. Anglers are drawn to the reservoir's walleye population due to their size and aggressive nature. Walleye fishing can be particularly productive during the spring and fall seasons when the fish are actively feeding. Additionally, anglers can target other popular species such as rainbow trout, yellow perch, smallmouth bass, and catfish.
Whether you're casting a line for walleye, enjoying a day of boating, or camping by the reservoir's shore, American Falls Reservoir provides a delightful experience for fishing and outdoor enthusiasts. It's a place where you can connect with nature, indulge in recreational activities, and create lasting memories.
The lake has no HP restrictions for boat motors and is open year round. Most of the shoreline is surrounded by farm land, with a few areas accessible for fishing from the bank. A nice mixture of fish species includes bass, trout and perch. Rainbow trout are the primary species stocked in the lake annually. Along with several primitive areas for launching canoes and kayaks, there are several boat ramps for launching larger boats. Marina services, camping, lodging stores and fishing tackle are available at or nearby the lake.

Primary fish species residing in American Falls Reservoir
Click images for fishing tips and details about each species.
American Falls Lake Amenities
Marina: YES
Boat Rental: NO
Boat Launch Ramp: YES
Campgrounds: YES
RV Hookups: YES
Lodging: YES
Convenience Store: YES
Bait & Tackle: NEARBY
Restaurant: YES
Today's Weather & Forecast
Beyond fishing, American Falls Reservoir is also a popular spot for boating enthusiasts. With its vast expanse of water, visitors can enjoy cruising along the reservoir, water skiing, or simply exploring the numerous bays and inlets. Boating allows anglers to access various fishing spots and cover larger areas in search of their preferred species.
Fishing Boat Rentals
Willow Bay Resort
Rentals: Fishing boats and pontoon boats
208 226-2688
Public Boat Launch Ramps & Landings
Sportmans Park Boat Launch Ramp
Located mid lake, west side, off E 1700 S, this is a two-lane, concrete ramp with a dock and paved parking.
Willow Bay Resort Boat Launch Ramp
Located in the southeast corner of the lake, east side, off Marina Road, this is a two-lane, concrete ramp with a dock and paved parking.
Marinas
Willow Bay Resort
2700 Marina Rd
American Falls, ID 83211
208 226-2688
Click here for a Idaho Fishing License.
For those looking to extend their stay, American Falls Reservoir offers several camping options. There are both developed campgrounds and primitive camping areas available, providing visitors with a range of choices to suit their preferences. Camping near the reservoir allows anglers and outdoor enthusiasts to immerse themselves in the natural beauty of the surrounding landscape and enjoy the tranquility of the area.
Campgrounds & RV Parks Nearby
Sportsman's Park Campground - 208 397-3000
Willow Bay Campground - 208 226-2688
Massacre Rocks State Park Campground - 208 548-2672
Indian Springs Resort & RV Park - 208 226-7700
Lodging Nearby
Fairview Inn - 208 226-2060
Falls Motel - 208 226-9658
American Falls Reservoir ID Map - Fishing & Camping Areas
Contact Information
American Falls Reservoir
Willow Bay Recreation Area
2830 Marina Rd
American Falls, ID 83211
208 226-2688
Fishing lakes in each state.
American Falls Lake in Idaho.
IDAHO


Information about fishing lakes in Idaho
American Falls Reservoir offers bass, trout and perch fishing in the southeast part of Idaho.
Fishing on American Falls Reservoir.