Fishing At Salmon Falls Creek Reservoir
AKA: Salmon Falls Creek Lake
What to fish for...
Guide to fishing for smallmouth bass, channel catfish, black crappie, white crappie, walleye, rainbow trout, cutthroat trout, brown trout, bluegill, pumpkinseed sunfish, yellow perch, chinook salmon and kokanee salmon at Salmon Falls Creek Reservoir in Idaho.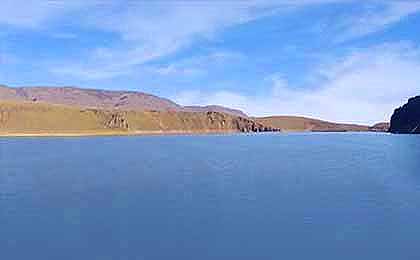 Considered the premier walleye fishery in Idaho, Salmon Falls Creek Reservoir is a 2,700-acre lake in the southern part of the state with great fishing for a variety of fish species. It is 14 miles long with over 30 miles of shoreline.
The purpose of this page is to deliver an overview of this lake, the fishing options, and area amenities. Our goal is to provide info to first time visitors, as well as beginner and novice anglers. We gathered details from personal experience, numerous trusted websites that each offer select bits of information, and videos of fishing activity on the lake. These websites include the Idaho Fish and Game, marinas at the lake, campgrounds, boat rental agencies and others. By consolidating this information to one page it allows visitors to see the entire picture, all in one place.
Lake Video
Falls Creek Reservoir, located in the scenic mountains of central Idaho, is a hidden gem for fishing enthusiasts. This picturesque reservoir offers a tranquil setting and excellent angling opportunities. Anglers are drawn to Falls Creek Reservoir for its diverse fish populations and the chance to catch some of Idaho's popular fish species.
One of the prized catches in Falls Creek Reservoir is the rainbow trout. This reservoir is known for its healthy rainbow trout population, providing anglers with exciting fishing experiences. These vibrant and hard-fighting trout can be caught using various techniques such as fly fishing, spin casting, or bait fishing. Additionally, the reservoir is home to other popular species such as brook trout and tiger trout, offering anglers a variety of fishing options.
Falls Creek Reservoir is a hidden treasure that captivates anglers and outdoor enthusiasts with its natural beauty and recreational opportunities. Whether you're casting a line for rainbow trout, cruising the reservoir's waters, or camping under starlit skies, Falls Creek Reservoir promises a memorable experience. Its diverse fish populations, boating amenities, and picturesque camping areas make it a must-visit destination for those seeking outdoor adventures in central Idaho.

Primitive camping is available at spots around the lake, including Grey's Landing, Crappie Point, Luds Point, Norton Canyon, Saddle Point, Whiskey Slough and various unnamed spots along both sides of the lake and river below the dam. There is a RV park six miles east of the Salmon Falls Dam.

Primary fish species residing in Salmon Falls Creek Reservoir
Click images for fishing tips and details about each species.
Salmon Falls Creek Reservoir Amenities
Marina: NO
Boat Rental: NO
Boat Launch Ramp: YES
Campgrounds: YES
RV Hookups: NEARBY
Lodging: NO
Convenience Store: NEARBY
Bait & Tackle: NO
Restaurant: NO
Today's Weather & Forecast
While Falls Creek Reservoir is primarily a fishing destination, it also offers opportunities for boating enthusiasts. The calm waters of the reservoir are perfect for leisurely boat rides, kayaking, or canoeing. Boaters can explore the reservoir, reach different fishing spots, and enjoy the serene surroundings while being surrounded by the beauty of nature.
Public Boat Launch Ramps & Landings
Lud Drexler Park Boat Launch Ramp
Located in the northeast corner of the lake, off 3 Creek Road, this is a two-lane, concrete ramp with docks and paved parking.
Click here for a Idaho Fishing License.
Camping is a popular activity for those looking to fully immerse themselves in the natural beauty of Falls Creek Reservoir. The area offers several campgrounds, both developed and primitive, allowing visitors to set up their tents or park their RVs amidst the stunning scenery. Camping near Falls Creek Reservoir provides anglers and outdoor enthusiasts with the opportunity to wake up to breathtaking views, enjoy campfire evenings, and take advantage of early morning fishing sessions.
Campgrounds & RV Parks Nearby
Lud Drexler Park - 208 677-6600
Rogerson RV Park - 208 655-4277
Salmon Falls Creek Reservoir ID Map - Fishing & Camping Areas
Contact Information
Salmon Falls Creek Reservoir
Lud Drexler Park
98 Salmon Dam Rd
Rogerson, ID 83302
208 677-6600
Fishing lakes in each state.
Salmon Falls Creek Reservoir in ID
IDAHO


Fishing for walleye, smallmouth bass, white crappie, rainbow trout, cutthroat trout, bluegill, pumpkinseed and yellow perch in southern ID.
Salmon Falls Creek Reservoir, in Idaho.