Fishing At Henrys Lake
What to fish for...
Guide to fishing for rainbow trout, cutthroat trout and brook trout at Henrys Lake in Idaho.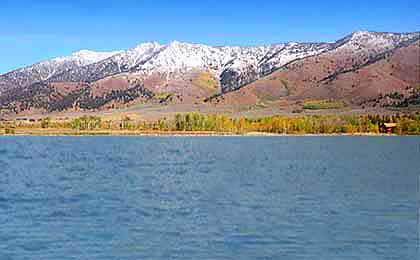 Known for larger than average trout, Henrys Lake is a 6,000-acre anglers paradise lake in the northeast corner of the lower part of Idaho. Shaped like a bowl, this big lake only has about 25 miles of shoreline. This is trout country offering rainbow, brook and cutthroat trout, all of which are regularly stocked in the lake.
The purpose of this page is to deliver an overview of this lake, the fishing options, and area amenities. Our goal is to provide info to first time visitors, as well as beginner and novice anglers. We gathered details from personal experience, numerous trusted websites that each offer select bits of information, and videos of fishing activity on the lake. These websites include the Idaho Fish and Game, marinas at the lake, campgrounds, boat rental agencies and others. By consolidating this information to one page it allows visitors to see the entire picture, all in one place.
Lake Video
Henrys Lake, situated in southeastern Idaho, is a renowned destination for fishing enthusiasts. This picturesque lake, nestled amidst the stunning landscapes of the Henrys Lake Mountains, offers a serene setting and exceptional angling opportunities. Anglers from near and far are drawn to Henrys Lake for its abundance of fish species and the chance to catch some of Idaho's most popular fish.
One of the prized catches in Henrys Lake is the native Yellowstone cutthroat trout. Known for their brilliant colors and impressive size, these trout provide an exhilarating angling experience. Henrys Lake is also famous for its hybrid trout, known as "Henrys Lake cutthroats," which are a cross between Yellowstone cutthroat and rainbow trout. These hybrids are highly sought after by anglers for their aggressive nature and impressive fight.
In addition to cutthroat trout, Henrys Lake is home to other popular species such as brook trout, brown trout, and kokanee salmon. Anglers can choose from a variety of fishing techniques, including fly fishing, trolling, or casting lures, to target these sought-after species. The lake's shallow water and abundant weed beds create ideal habitats for these fish, making Henrys Lake a prime location for angling.
Henrys Lake is truly a paradise for anglers, offering a picturesque setting and a wealth of fish species to target. Whether you're casting a line for cutthroat trout, quietly exploring the lake's waters by boat, or spending nights under the starry sky at a campsite, Henrys Lake promises an unforgettable fishing and outdoor experience. Its diverse fish populations, non-motorized boating opportunities, and scenic camping areas make it a must-visit destination for those seeking angling adventures in southeastern Idaho.
Check the special fishing restrictions before fishing here. At an elevation 6,470 feet above sea level, ice fishing in winter is a popular activity. Henry's Lake State Park has camping, places for fishing from the bank and a boat launch ramp. Additional boat launch ramps are located around the lake, including at Jared's Wild Rose Ranch Resort. There is no boat-motor HP restrictions for pleasure or fishing boats. There are plenty of places to portage a canoe or kayak as well. Typical marina services, campgrounds, RV parks, stores, restaurants, lodging and other amenities are all available at the lake.

Primary fish species residing in Henrys Lake
Click images for fishing tips and details about each species.
Henry's Lake Amenities
Marina: YES
Boat Rental: YES
Boat Launch Ramp: YES
Campgrounds: YES
RV Hookups: YES
Lodging: YES
Convenience Store: YES
Bait & Tackle: YES
Restaurant: YES
Today's Weather & Forecast
While boating is allowed on Henrys Lake, it is limited to small, non-motorized boats. Anglers can utilize canoes, kayaks, or rowboats to explore the lake's tranquil waters. This provides a unique opportunity to quietly navigate the lake and access prime fishing areas that are not easily reached from the shore. The absence of motorized boats ensures a peaceful and undisturbed fishing experience.
Public Boat Launch Ramps & Landings
Bill Frome Memorial County RV Park Boat Ramp
Located mid lake, west side, off Hentys Lake Road, this is a two-lane, concrete ramp with a dock and gravel parking.
Henrys Lake Boat Access
Located in the southwest corner of the lake, off Red Rock Road, this is a one-lane, gravel launch with gravel parking.
Henrys Lake Marina Boat Launch Ramp
Located in the southeast corner of the lake, off Henrys Lake State Park Road, this is a three-lane, concrete ramp with a dock and paved parking.
Marinas
Henrys Lake Marina
3917 E. 5100 N.
Island Park, ID 83429
Summer 208 558-7532
Winter 208 558-7368
Click here for a Idaho Fishing License.
Camping is a popular option for those looking to fully immerse themselves in the natural beauty of Henrys Lake. The area offers several campgrounds, including both developed and primitive sites, where visitors can set up their tents or park their RVs. Camping near Henrys Lake allows anglers and outdoor enthusiasts to enjoy breathtaking lake views, soak in the tranquility of the surroundings, and be in close proximity to the prime fishing spots along the shoreline.
Campgrounds & RV Parks Nearby
Henrys Lake State Park Campground - 208 558-7532
Lodging Nearby
Jared's Wild Rose Ranch Resort - 208 558-7201
Drift Lodge - 208 558-0152
Henry's Lake Front Rental Cabin - 208 558-9675
Redrock Retreat - 208 360-7224
Henrys Lake ID Map - Fishing & Camping Areas
Contact Information
Henrys Lake
Jared's Wild Rose Ranch Resort
3778 ID-87
Island Park, ID 83429
208 558-7201
Fishing lakes in each state.
Henry's Lake in Idaho.
IDAHO


Information about fishing lakes in Idaho
Henry's Lake offers rainbow, brook and cutthroat trout fishing in northeast Idaho.
Fishing on Henrys Lake.