Fishing At Deadwood Reservoir
AKA: Deadwood Lake
What to fish for...
Guide to fishing for Rainbow trout, cutthroat trout, Atlantic salmon, chinook salmon and kokanee salmon at Deadwood Reservoir in Idaho.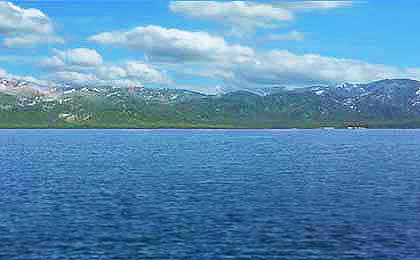 In the rugged wild of Idaho sits Deadwood Reservoir, a 3,000-acre lake in the central part of the state, 12 miles north of Lowman. The lake is about 4 miles long, with over 20 miles of shoreline. All of the east side, and some of the northwest and southwest sides of the reservoir have road access, some of which presents opportunity for fishing from the bank.
The purpose of this page is to deliver an overview of this lake, the fishing options, and area amenities. Our goal is to provide info to first time visitors, as well as beginner and novice anglers. We gathered details from personal experience, numerous trusted websites that each offer select bits of information, and videos of fishing activity on the lake. These websites include the Idaho Fish and Game, marinas at the lake, campgrounds, boat rental agencies and others. By consolidating this information to one page it allows visitors to see the entire picture, all in one place.
Lake Video
Deadwood Reservoir, located in the rugged wilderness of central Idaho, is a pristine destination for fishing enthusiasts. This remote reservoir offers a serene and untouched fishing experience, surrounded by breathtaking mountain vistas. Anglers are drawn to Deadwood Reservoir for its abundance of fish species and the opportunity to catch some of Idaho's popular fish.
One of the prized catches in Deadwood Reservoir is the native cutthroat trout. Anglers can find both Yellowstone cutthroat trout and rainbow trout in these crystal-clear waters. The reservoir is renowned for its healthy trout populations, providing an exciting and rewarding fishing experience. Fly fishing is particularly popular in Deadwood Reservoir, as anglers can cast their lines in the quiet serenity of this remote wilderness.
Deadwood Reservoir is a true hidden gem in Idaho, captivating anglers and outdoor enthusiasts with its untouched beauty and abundant fish populations. Whether you're casting a line for cutthroat trout, exploring the reservoir's calm waters by boat, or spending nights under the starry sky at a campsite, Deadwood Reservoir promises an unforgettable wilderness experience. Its secluded location, diverse fish species, and scenic camping areas make it a must-visit destination for those seeking solitude and exceptional fishing opportunities in central Idaho.
Much of the camping areas in the upper (north) end of the lake are near the water while Cozy Cove Campground sits on a bluff overlooking the lake. This is trout and salmon country with plenty of catching, and an occasional trophy. Trolling is very popular. Boat launch ramps are available on the north, east and south sides of the lake.

Primary fish species residing in Deadwood Reservoir
Click images for fishing tips and details about each species.
Deadwood Reservoir Amenities
Marina: NO
Boat Rental: NO
Boat Launch Ramp: YES
Campgrounds: YES
RV Hookups: NO
Lodging: NO
Convenience Store: NO
Bait & Tackle: NO
Restaurant: NO
Today's Weather & Forecast
While Deadwood Reservoir is primarily known for fishing, it also offers opportunities for boating enthusiasts. Visitors can bring their own boats or rent from nearby outfitters to explore the reservoir's scenic waters. Boating on Deadwood Reservoir provides a unique perspective of the surrounding mountains and allows anglers to access prime fishing spots that are not easily reached from the shore.
Public Boat Launch Ramps & Landings
Cozy Cove Boat Launch
Located in the southeast corner of the lake, off Scott Mountain Road, this is a primitive gravel ramp with gravel parking.
Howers Campground Boat Launch Ramp
Located in the northeast corner of the lake, off Forest Road 55JA, this is a primitive gravel ramp with gravel parking.
Click here for a Idaho Fishing License.
Camping near Deadwood Reservoir is a fantastic way to fully immerse yourself in the natural beauty of the area. The reservoir offers several campsites nestled along its shores, providing campers with stunning views and a tranquil atmosphere. Camping in this remote wilderness allows visitors to disconnect from the hustle and bustle of everyday life, waking up to the sounds of nature and enjoying star-filled nights around a campfire.
Campgrounds & RV Parks Nearby
Cozy Cove Campground - 208 373-4100
Howers Campground - 208 373-4100
Barney's Campground - 208 373-4100
Riverside Campground - 208 373-4100
Deadwood Reservoir ID Map - Fishing & Camping Areas
Contact Information
Deadwood Reservoir
Cozy Cove Campground
Boise National Forest, Forest Rd 555F
Garden Valley, ID 83622
208 373-4100
Fishing lakes in each state.
Deadwood Reservoir in ID
IDAHO


Fishing for trout and salmon in central ID.
Deadwood Reservoir, in Idaho.