Fishing At Dworshak Reservoir
AKA: Dworshak Lake
What to fish for...
Guide to fishing for smallmouth bass, black crappie, rainbow trout, cutthroat trout, kokanee salmon and steelhead at Dworshak Reservoir in Idaho.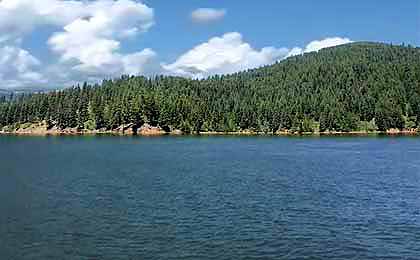 Extending more than 50 miles, Dworshak Reservoir covers 16,500 surface acres providing excellent fishing lake in the northwest part of the state. Much of the 175 miles of shoreline is mostly accessible by boat.
The purpose of this page is to deliver an overview of this lake, the fishing options, and area amenities. Our goal is to provide info to first time visitors, as well as beginner and novice anglers. We gathered details from personal experience, numerous trusted websites that each offer select bits of information, and videos of fishing activity on the lake. These websites include the Idaho Fish and Game, marinas at the lake, campgrounds, boat rental agencies and others. By consolidating this information to one page it allows visitors to see the entire picture, all in one place.
Lake Video
Dworshak Reservoir, located in northern Idaho, is a premier destination for fishing enthusiasts. This vast reservoir, nestled amidst the picturesque Clearwater National Forest, offers a serene setting and excellent angling opportunities. Anglers are drawn to Dworshak Reservoir for its diverse fish populations and the chance to catch some of Idaho's popular fish species.
One of the prized catches in Dworshak Reservoir is the trophy-sized kokanee salmon. These landlocked sockeye salmon provide an exhilarating angling experience, known for their acrobatic jumps and tenacious fights. The reservoir is also home to other popular species such as rainbow trout, smallmouth bass, and catfish. Anglers can choose from a variety of fishing techniques, including trolling, fly fishing, and bait fishing, to target these sought-after species.
Dworshak Reservoir is a true paradise for anglers and outdoor enthusiasts, showcasing the best of Idaho's natural beauty. Whether you're casting a line for kokanee salmon, cruising the reservoir's tranquil waters, or camping under the starry night sky, Dworshak Reservoir promises an unforgettable experience. Its diverse fish populations, ample boating opportunities, and picturesque camping areas make it a must-visit destination for those seeking outdoor adventures in northern Idaho.
There are roads surrounding the lake, some primitive, that do provide some access for fishing from the bank. Shoreline fishing is available along sections of the roads that run close to the lake, at both ends of Dent Bridge, and the campgrounds and boat launch ramps. Fishing and pleasure boats are welcome as are pontoon boats, canoes and kayaks. The lake has no restrictions on boat motor HP. At an elevation of only 1,600 feet above sea level, the waters are ideal for both warm-water and cold-water fish species. Trout, salmon, steelhead, crappie and bass are favorites here and the lake receives annual stockings of rainbow trout.

Primary fish species residing in Dworshak Reservoir
Click images for fishing tips and details about each species.
Dworshak Reservoir Amenities
Marina: NO
Boat Rental: NO
Boat Launch Ramp: YES
Campgrounds: YES
RV Hookups: YES
Lodging: YES
Convenience Store: NO
Bait & Tackle: NO
Restaurant: NO
Today's Weather & Forecast
Beyond fishing, Dworshak Reservoir offers ample opportunities for boating enthusiasts. With its expansive waters and stunning scenery, boaters can enjoy leisurely cruises, engage in water sports, or explore the reservoir's secluded coves and bays. Whether you prefer motorized boats, kayaks, or canoes, Dworshak Reservoir provides plenty of space for recreational boating activities and the chance to discover hidden gems along its shoreline.
Public Boat Launch Ramps & Landings
Big Eddy Boat Launch Ramp
Located in the southwest section of the lake, off Viewpoint Road, this is a two-lane, concrete ramp with a dock and paved parking.
Bruce's Eddy Boat Launch Ramp
Located in the southwest corner of the lake, off A Road, this is a four-lane, concrete ramp with a dock and paved parking.
Canyon Creek Boat Launch Ramp
Located mid lake, southeast side, off Canyon Creek Road, this is a one-lane, concrete ramp with a dock and paved parking.
Dent Acres Boat Launch Ramp
Located mid lake, northwest section, north side, off Old Dent Road, this is a four-lane, concrete ramp with a dock and paved parking.
Freeman Creek Boat Launch Ramp
Located mid lake, west side, off Three Meadows Road, this is a two-lane, concrete ramp with a dock and paved parking.
Marinas
Big Eddy Lodge and Marina
3286 Viewpoint Rd
Ahsahka, ID 83520
208 476-5994
Click here for a Idaho Fishing License.
Camping is a popular activity for those looking to fully immerse themselves in the natural beauty of Dworshak Reservoir. The area offers several campgrounds with beautiful lakefront views, where visitors can set up tents or park their RVs. Camping near Dworshak Reservoir allows anglers and outdoor enthusiasts to wake up to breathtaking sunrises over the water, enjoy peaceful evenings around a campfire, and have easy access to prime fishing spots along the shoreline.
Campgrounds & RV Parks Nearby
Dworshak State Park Campground - 888 922-6743
Freeman Creek Campground - 208 476-3132
Dent Acres Campground - 208 476-1255
Lodging Nearby
Best Western Lodge at River's Edge - 208 476-9999
Helgeson Place Hotel Suites - 208 476-5729
White Pine Motel - 208 476-7093
Dworshak Reservoir ID Map - Fishing & Camping Areas
Contact Information
Dworshak Reservoir
Dworshak State Park
9934 Freeman Creek
Lenore, ID 83541
888 922-6743
Fishing lakes in each state.
Dworshak Reservoir in Idaho.
IDAHO


Information about fishing lakes in Idaho
Dworshak Reservoir offers trout, salmon, steelhead, crappie and bass fishing in northwest Idaho.
Fishing on Dworshak Reservoir.