Fishing At Arrowrock Reservoir
AKA: Arrowrock Lake
What to fish for...
Guide to fishing for smallmouth bass, rainbow trout, yellow perch and kokanee salmon at Arrowrock Reservoir in Idaho.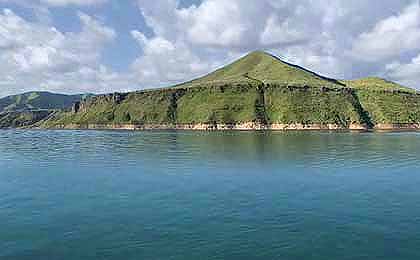 Bring the kids, the dog and the neighbors to Arrowrock Reservoir for a great time camping and fishing at this 3,000-acre lake in the southwest part of the state, 12 miles east of Boise, ID. There are over 50 miles of mostly steep shoreline, limiting access for camping and fishing to only a few areas which include the campgrounds and a few primitive areas at the river end of the lake.
The purpose of this page is to deliver an overview of this lake, the fishing options, and area amenities. Our goal is to provide info to first time visitors, as well as beginner and novice anglers. We gathered details from personal experience, numerous trusted websites that each offer select bits of information, and videos of fishing activity on the lake. These websites include the Idaho Fish and Game, marinas at the lake, campgrounds, boat rental agencies and others. By consolidating this information to one page it allows visitors to see the entire picture, all in one place.
Lake Video
Situated just east of Boise, Idaho, Arrowrock Reservoir is a hidden gem for fishing enthusiasts. This stunning reservoir, nestled in a rugged canyon, offers a peaceful escape and excellent angling opportunities. Anglers are drawn to Arrowrock Reservoir for its thriving fish populations and the chance to reel in some of Idaho's most sought-after species.
One of the popular fish species found in Arrowrock Reservoir is the kokanee salmon. These landlocked sockeye salmon provide a thrilling fishing experience, known for their acrobatic leaps and fierce fights. Anglers can also target rainbow trout and smallmouth bass, both of which inhabit the reservoir's waters. With its cool, deep waters, Arrowrock Reservoir creates an ideal habitat for these species, ensuring a rewarding fishing trip for those who cast their lines.
Arrowrock Reservoir is a hidden treasure that combines exceptional fishing, boating, and camping experiences. Its abundant fish populations, picturesque setting, and recreational amenities make it an ideal destination for those seeking outdoor adventures in Idaho. Whether you're angling for kokanee salmon, cruising the reservoir's waters, or unwinding at a campsite, Arrowrock Reservoir promises a memorable escape into nature.
The water level fluctuates often, check here for current levels. Most anglers arrive in search of the good fishing for rainbow trout and kokanee salmon, others enjoy the good fishing for bass and perch. Although there are few amenities at the lake, Boise is only 12 miles away. This is a lovely, outdoor setting with the benefit of great fishing.

Primary fish species residing in Arrowrock Reservoir
Click images for fishing tips and details about each species.
Arrowrock Reservoir Amenities
Marina: NO
Boat Rental: NO
Boat Launch Ramp: YES
Campgrounds: YES
RV Hookups: NO
Lodging: YES
Convenience Store: NO
Bait & Tackle: NO
Restaurant: NO
Today's Weather & Forecast
In addition to fishing, Arrowrock Reservoir offers a haven for boating enthusiasts. The calm, expansive waters beckon boaters to embark on leisurely cruises, enjoy water sports, or simply relax while taking in the scenic surroundings. The reservoir's tranquil atmosphere, framed by towering cliffs and pristine wilderness, creates an idyllic setting for a day on the water.
Public Boat Launch Ramps & Landings
Dutch Creek Boat Launch Ramp
Located in the northwest section of the lake, north side, off Forest Road 268AR, this is a two-lane, concrete ramp with gravel parking.
Click here for a Idaho Fishing License.
For those seeking to extend their adventure, Arrowrock Reservoir provides opportunities for camping. Several campgrounds in the area offer serene and well-maintained facilities, allowing visitors to immerse themselves in the natural beauty of the reservoir and its surrounding landscapes. Camping near Arrowrock Reservoir provides anglers and outdoor enthusiasts with the chance to wake up to breathtaking views, enjoy peaceful evenings under starlit skies, and make the most of their time in this tranquil setting.
Campgrounds & RV Parks Nearby
Cottonwood Campground - 208 587-7961
Willow Creek Campground - 206 587-7961
Badger Creek Campground - 208 392-6681
Irish Point Dispersed Campground - 208 587-7961
Arrowrock Reservoir ID Map - Fishing & Camping Areas
Contact Information
Arrowrock Reservoir
Cottonwood Campground
Boise National Forest, NF-377
Boise, ID 83716
208 587-7961
Fishing lakes in each state.
Arrowrock Reservoir in ID
IDAHO


Fishing for rainbow trout and kokanee salmon in southwest ID.
Arrowrock Reservoir, in Idaho.