Fishing At Brownlee Reservoir
AKA: Brownlee Lake
What to fish for...
Guide to fishing for largemouth bass, smallmouth bass, channel catfish, black crappie, white crappie, rainbow trout, bluegill, pumpkinseed sunfish and yellow perch at Brownlee Reservoir in Idaho.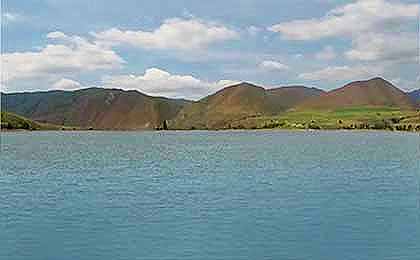 Spanning over 50 miles of the Snake River, Brownlee Reservoir is an 11,000-acre fishing paradise along the Idaho-Oregon state line. Much of the 190 miles of shoreline is not accessible due to steep mountain terrain and no roads.
The purpose of this page is to deliver an overview of this lake, the fishing options, and area amenities. Our goal is to provide info to first time visitors, as well as beginner and novice anglers. We gathered details from personal experience, numerous trusted websites that each offer select bits of information, and videos of fishing activity on the lake. These websites include the Idaho Fish and Game, marinas at the lake, campgrounds, boat rental agencies and others. By consolidating this information to one page it allows visitors to see the entire picture, all in one place.
Lake Video
Nestled in the picturesque Hells Canyon on the Idaho-Oregon border, Brownlee Reservoir is a prime destination for fishing enthusiasts. This sprawling reservoir stretches along the Snake River, offering a serene setting and excellent angling opportunities. Anglers flock to Brownlee Reservoir for its diverse fish populations and the chance to reel in some of Idaho's most sought-after species.
One of the prized catches in Brownlee Reservoir is the smallmouth bass. These feisty and hard-fighting fish provide an exciting angling experience. The reservoir's rocky shoreline and submerged structures create ideal habitats for smallmouth bass to thrive. Anglers can also target other popular species such as crappie, catfish, and rainbow trout. With its varied fish populations, Brownlee Reservoir caters to anglers of all preferences and skill levels.
With its stunning location, abundant fish populations, and recreational amenities, Brownlee Reservoir captivates anglers and outdoor enthusiasts alike. Whether you're targeting smallmouth bass, cruising the reservoir's waters, or camping under starry skies, Brownlee Reservoir promises an unforgettable experience. Its beauty, tranquility, and angling opportunities make it a must-visit destination for those seeking a memorable outdoor adventure in Idaho.
Steck Park and Woodhead Park are the primary access points from the Idaho side. Camping, boat ramps and other amenities are available in both areas. The lake is situated at an elevation of just over 2,000 feet above sea level, offering a wide variety of both warm-water and cold-water fish species. Bass, crappie, catfish, trout and sunfish all reside here and flourish during different seasons. This waterway has no motor HP restrictions and is a great destination for pleasure boats, kayaks, canoes and all types of fishing boats.

Primary fish species residing in Brownlee Reservoir
Click images for fishing tips and details about each species.
Brownlee Reservoir Amenities
Marina: NO
Boat Rental: NO
Boat Launch Ramp: YES
Campgrounds: YES
RV Hookups: YES
Lodging: YES
Convenience Store: YES
Bait & Tackle: NEARBY
Restaurant: YES
Today's Weather & Forecast
Beyond fishing, Brownlee Reservoir offers ample opportunities for boating enthusiasts. With its expansive waters, boaters can embark on leisurely cruises, engage in water sports, or explore the reservoir's secluded coves and inlets. Whether you prefer kayaking, jet skiing, or powerboating, the reservoir provides a scenic and tranquil environment to enjoy a day on the water.
Public Boat Launch Ramps & Landings
Olds Ferry Road Boat Launch Ramp
Located in the southeast corner of the lake, off Olds Ferry Road, this is a two-lane, concrete ramp with a dock and gravel parking.
Steck Park Boat Launch Ramp
Located in the southeast corner of the lake, off Olds Ferry Road, this is a two-lane, concrete ramp with a dock and gravel parking.
Woodhead Park Boat Launch Ramp
Located in the northeast corner of the lake, off Highway 71, this is a three-lane, concrete ramp with a dock and paved parking.
Click here for a Idaho Fishing License.
Camping is a popular activity for those looking to immerse themselves in the natural beauty of Brownlee Reservoir. The area offers several campgrounds equipped with facilities and stunning views, allowing visitors to unwind and soak up the peaceful ambiance. Camping near Brownlee Reservoir provides anglers and outdoor enthusiasts with easy access to prime fishing spots, ensuring that they make the most of their time in this scenic haven.
Campgrounds & RV Parks Nearby
Brownlee Campground - 208 634-0700
Steck Park Campground - 208 384-3300
Monroe Creek Campground & RV Park Campground - 208 549-2026
Lodging Nearby
Indianhead Motel & RV Park - 208 549-0331
The Colonial Motel - 208 549-0150
State Street Motel - 208 414-1390
Brownlee Reservoir ID Map - Fishing & Camping Areas
Contact Information
Brownlee Reservoir
Brownlee Campground
Cambridge, ID 83610
208 634-0700
Fishing lakes in each state.
Brownlee Reservoir in Idaho.
IDAHO


Information about fishing lakes in Idaho
Brownlee Reservoir offers both warm-water and cold-water fishing for bass, crappie, catfish, trout and sunfish along the OR-ID state borders.
Fishing on Brownlee Reservoir.