Fishing At Hayden Lake
AKA: Hayden Reservoir
What to fish for...
Guide to fishing for largemouth bass, smallmouth bass, black crappie, rainbow trout, cutthroat trout, bluegill, pumpkinseed sunfish, yellow perch, kokanee salmon and northern pike at Hayden Lake in Idaho.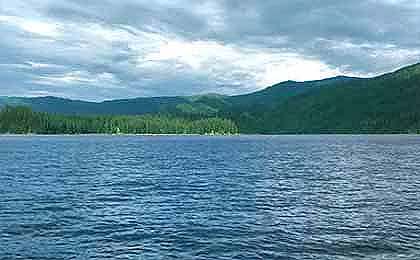 Located in the Upper Spokane Basin, Hayden Lake is a 3,800-acre lake with over 40 miles of shoreline. This popular fishing lake offers anglers the opportunity to fish for both cold-water and warm-water fish species.
The purpose of this page is to deliver an overview of this lake, the fishing options, and area amenities. Our goal is to provide info to first time visitors, as well as beginner and novice anglers. We gathered details from personal experience, numerous trusted websites that each offer select bits of information, and videos of fishing activity on the lake. These websites include the Idaho Fish and Game, marinas at the lake, campgrounds, boat rental agencies and others. By consolidating this information to one page it allows visitors to see the entire picture, all in one place.
Lake Video
Hayden Lake, located in northern Idaho, is a hidden gem for fishing enthusiasts. This pristine lake, surrounded by dense forests and rolling hills, offers a serene setting and excellent angling opportunities. Anglers are drawn to Hayden Lake for its abundance of fish species and the chance to catch some of Idaho's popular fish.
One of the prized catches in Hayden Lake is the smallmouth bass. These fierce and tenacious fighters provide an exciting angling experience, enticing anglers with their aggressive strikes and acrobatic jumps. The lake is also home to other popular species such as largemouth bass, northern pike, and panfish. Anglers can choose from various fishing techniques, including casting lures, using live bait, or fly fishing, to target these sought-after species.
Hayden Lake is a true gem in Idaho, captivating anglers and nature lovers with its natural beauty and recreational opportunities. Whether you're casting a line for smallmouth bass, cruising the lake's pristine waters, or spending nights under the starry sky at a lakeside campsite, Hayden Lake promises an unforgettable experience. Its diverse fish populations, boating possibilities, and picturesque camping areas make it a must-visit destination for those seeking outdoor adventures in northern Idaho.
Salmon, trout, northern pike, sunfish, crappie, perch and bass all reside here in Hayden Reservoir. Rainbow trout and kokanee are stocked here with regularity. Located in the northwest corner of the state, just west of Coeur d'Alene National Forest, this is a great destination for water sports, fishing and vacationing. The lake is at an elevation 2,240 feet above sea level and provides the opportunity for ice fishing when there is safe ice, during winter months. The north end of the lake can be good for northern pike through the ice. Boat launch ramps are available for launching pleasure and fishing boats with no motor HP restrictions. Camping, lodging, marina services, restaurants and shopping are all handy to enhance your stay.

Primary fish species residing in Hayden Lake
Click images for fishing tips and details about each species.
Hayden Lake Amenities
Marina: YES
Boat Rental: YES
Boat Launch Ramp: YES
Campgrounds: YES
RV Hookups: YES
Lodging: YES
Convenience Store: NEARBY
Bait & Tackle: NEARBY
Restaurant: YES
Today's Weather & Forecast
In addition to fishing, Hayden Lake offers opportunities for boating enthusiasts. With its crystal-clear waters and scenic surroundings, boaters can enjoy leisurely cruises, engage in water sports, or explore the lake's secluded coves and bays. Whether you prefer sailing, powerboating, or kayaking, Hayden Lake provides a serene and picturesque environment to enjoy a day on the water.
Fishing Boat Rentals
Hayden Lake Marina
Rentals: Fishing boats and pontoon boats
208 762-0181
Public Boat Launch Ramps & Landings
Hayden Lake Boat Launch Ramp
Located in the southwest corner of the lake, off E Honeysuckle Avenue, this is a two-lane, concrete ramp with a dock and paved parking.
Sportsman Park Boat Launch Ramp
Located in the northwest section of the lake, off N Sportsman Park Road, this is a two-lane, concrete ramp with a dock and paved parking.
Marinas
Hayden Lake Marina
3830 E Hayden Lake Rd
Hayden Lake, ID 83835
208 762-0181
Click here for a Idaho Fishing License.
Camping is a popular activity for those seeking to immerse themselves in the natural beauty of Hayden Lake. The area offers several campgrounds, both public and private, where visitors can set up tents or park their RVs. Camping near Hayden Lake allows anglers and outdoor enthusiasts to wake up to stunning lake views, enjoy campfire evenings, and have easy access to the fishing hotspots along the shoreline.
Campgrounds & RV Parks Nearby
Mokins Bay Campground - 208 765-7233
Alpine Country Store & RV Park - 208 772-4305
River Walk RV Park - 208 765-5943
Lodging Nearby
Tamarack RV Park & Vacation Cabins - 208 664-3087
Triple Play Resort Hotel & Suites - 208 772-7900
Rodeway Inn - 208 762-0140
The Cabin at the Lake - 509 990-3733
Starling Lake House - 855 910-9933
Hayden Lake ID Map - Fishing & Camping Areas
Contact Information
Hayden Lake
Hayden Lake Marina
3830 E Hayden Lake Rd
Hayden Lake, ID 83835
208 762-018
Fishing lakes in each state.
Hayden Lake in Idaho.
IDAHO


Information about fishing lakes in Idaho
Hayden Lake is an ideal destination for salmon, trout, northern pike, sunfish, crappie, perch and bass fishing in northwest Idaho.
Fishing on Hayden Lake.