Fishing At Priest Lake
AKA: Priest Reservoir
What to fish for...
Guide to fishing for smallmouth bass, cutthroat trout, lake trout, bluegill, pumpkinseed sunfish, yellow perch and kokanee salmon at Priest Lake in Idaho.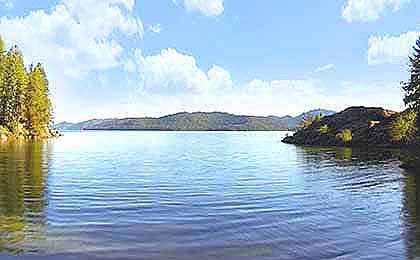 Nestled in a beautiful high-mountain setting, Priest Lake is a 23,000-acre lake providing fishing opportunities for bass, trout, bluegill, sunfish, perch and salmon. This appealing gem is located in the upper northern section of Idaho, one mile east of Nordman.
The purpose of this page is to deliver an overview of this lake, the fishing options, and area amenities. Our goal is to provide info to first time visitors, as well as beginner and novice anglers. We gathered details from personal experience, numerous trusted websites that each offer select bits of information, and videos of fishing activity on the lake. These websites include the Idaho Fish and Game, marinas at the lake, campgrounds, boat rental agencies and others. By consolidating this information to one page it allows visitors to see the entire picture, all in one place.
Lake Video
Priest Lake, located in the northernmost part of Idaho, is a paradise for fishing enthusiasts. This breathtaking lake, nestled amidst the pristine Selkirk Mountains, offers a serene setting and exceptional angling opportunities. Anglers are drawn to Priest Lake for its diverse fish populations and the chance to catch some of Idaho's most prized fish species.
One of the prized catches in Priest Lake is the trophy-sized lake trout, also known as mackinaw. These deep-dwelling predators provide an exhilarating angling experience, with their powerful runs and impressive size. Priest Lake is also home to other popular fish species such as kokanee salmon, cutthroat trout, and bull trout. Anglers can employ various techniques, such as trolling, jigging, or fly fishing, to target these sought-after species.
Priest Lake is a true gem in Idaho, captivating anglers and nature lovers with its natural beauty and recreational opportunities. Whether you're casting a line for lake trout, cruising the lake's pristine waters, or spending nights camping under the starry sky, Priest Lake promises an unforgettable experience. Its diverse fish populations, boating amenities, and picturesque camping areas make it a must-visit destination for those seeking outdoor adventures in northern Idaho.
Much of the 80 miles of shoreline is surrounded by roadways providing access to multiple places to fish from the bank or launch a canoe or kayak. The lake has no HP restrictions for pleasure or fishing boats and numerous boat launch ramps facilitate boating access. Rental boats are also available. Much of the lake is lined with boat docks, a favorite hangout for bass, crappie and sunfish. Marinas, camping, shopping and a variety of eating establishments are at the lake or very close by. Setting at an elevation of 2,440 feet above sea level, the lake offers year-round fishing including ice fishing in winter any time there is safe ice.

Primary fish species residing in Priest Lake
Click images for fishing tips and details about each species.
Priest Lake Amenities
Marina: YES
Boat Rental: YES
Boat Launch Ramp: YES
Campgrounds: YES
RV Hookups: YES
Lodging: YES
Convenience Store: YES
Bait & Tackle: YES
Restaurant: YES
Today's Weather & Forecast
Beyond fishing, Priest Lake offers ample opportunities for boating enthusiasts. With its crystal-clear waters and stunning mountain scenery, boaters can enjoy leisurely cruises, engage in water sports, or explore the lake's secluded coves and bays. Whether you prefer sailing, powerboating, kayaking, or paddleboarding, Priest Lake provides a picturesque and tranquil environment to enjoy a day on the water.
Fishing Boat Rentals
Blue Diamond Marina and Resort
Rentals: Fishing boats, pontoons, canoes and kayaks
208 443-2240
Elkins Resort On Priest Lake
Rentals: Fishing boats and pontoon boats
208 443-2432
Priest Lake Marina
Rentals: Fishing boats and pontoon boats
208 443-2405
Public Boat Launch Ramps & Landings
Priest Lake Boat Launch Ramp
Located mid lake, west side, off W Lakeshore Road, this is a three-lane, concrete ramp with docks and paved parking.
Marinas
Blue Diamond Marina and Resort
958 Blue Diamond Rd
Coolin, ID 83821
208 443-2240
Granite Creek Marina
491 Granite Creek Marina Rd
Nordman, ID 83848
510 847-3809
Priest Lake Marina
6515 W Lakeshore Rd
Priest Lake, ID 83856
208 443-2405
Click here for a Idaho Fishing License.
Camping is a popular activity for those seeking to fully immerse themselves in the natural beauty of Priest Lake. The area offers several campgrounds, both public and private, where visitors can set up their tents or park their RVs. Camping near Priest Lake allows anglers and outdoor enthusiasts to wake up to breathtaking lake views, enjoy evenings under starry skies, and have convenient access to the fishing hotspots along the shoreline.
Campgrounds & RV Parks Nearby
Beaver Creek Campground - 208 443-1801
Priest Lake State Park Campground - 208 443-2200
Osprey Campground - 208 443-3340
Outlet at Priest Lake Campground - 208 443-8053
Lodging Nearby
Inn At Priest Lake - 208 443-2447
Elkins Resort On Priest Lake - 208 443-2432
Grandview Resort - 208 443-2433
Blue Diamond Marina and Resort - 208 443-2240
Priest Lake ID Map - Fishing & Camping Areas
Contact Information
Priest Lake
Priest Lake Marina & Resort
6515 W Lakeshore Rd
Priest River, ID 83856
208 443-2405
Fishing lakes in each state.
Priest Lake in Idaho.
IDAHO


Information about fishing lakes in Idaho
Priest Lake provides opportunities for bass, trout, bluegill, sunfish, perch and salmon fishing in northern Idaho.
Fishing on Priest Lake.