Fishing At Big Lake
What to fish for...
Guide to fishing for largemouth bass, channel catfish, white crappie and bluegill at Big Lake in Missouri.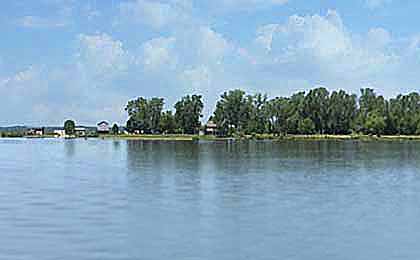 Located in northwest MO, Big Lake is a 646-acre oxbow lake offering a variety of outdoor activities. Camping, hiking, wildlife viewing and fishing are the main attractions. Bass, crappie, sunfish and catfish attract anglers for a day of fishing. Bring your own boat or rent a canoe or kayak from the state park. There are several areas with access to shoreline for fishing from the bank.
The purpose of this page is to deliver an overview of this lake, the fishing options, and area amenities. Our goal is to provide info to first time visitors, as well as beginner and novice anglers. We gathered details from personal experience, numerous trusted websites, and videos of fishing activity on the lake. These websites include the Missouri Department of Conservation, marinas at the lake, campgrounds, boat rental agencies and others. By consolidating this information to one page it allows visitors to see the entire picture, all in one place.
Big Lake is located in the northwest section of Missouri and is a popular destination for anglers seeking a variety of fish species. The lake offers excellent fishing opportunities, particularly for largemouth bass, bluegill, channel catfish, and white crappie.
Largemouth bass are highly sought after by anglers at Big Lake. Known for their aggressive strikes and powerful fights, these bass provide an exciting challenge. Anglers can target them using a variety of techniques, such as casting with topwater lures, working plastic worms or jigs around submerged structures, or trolling with crankbaits. Big Lake's diverse habitat, including weed beds, submerged timber, and rocky shorelines, provides excellent hiding spots for largemouth bass.
Bluegill are a popular panfish species found in Big Lake. These feisty fish are abundant and offer excellent angling opportunities, particularly for younger or novice anglers. Bluegill can be caught using simple and effective techniques such as bobber fishing with live bait, casting small jigs or spinners, or fly fishing with small nymphs or poppers. They provide a fun-filled fishing experience and are often found near weed edges or around submerged structures.
Channel catfish are another sought-after species in Big Lake. These hard-fighting fish can reach impressive sizes and offer a thrilling battle. Anglers can target them using a variety of baits, such as cut bait, stink baits, or chicken livers, and fishing near the lake's deeper areas or along the shoreline. Big Lake's ample catfish population ensures anglers have a good chance of landing a trophy-sized fish.
White crappie are a popular panfish species found in Big Lake, offering anglers a chance to catch a tasty meal. Anglers can target white crappie by fishing around submerged structures, brush piles, or drop-offs using small jigs, minnows, or crappie nibbles. These fish are known for their schooling behavior, providing an opportunity to catch multiple fish in a single location.
Big Lake in Missouri is a popular fishing destination known for its abundance of largemouth bass, bluegill, channel catfish, and white crappie. With its diverse fishery, scenic surroundings, and opportunities for boating and camping, Big Lake provides an enjoyable fishing experience for anglers of all levels of expertise.

Primary fish species residing in Big Lake
Click images for fishing tips and details about each species.
Big Lake Amenities
Marina: NO
Boat Rental: YES
Boat Launch Ramp: YES
Campgrounds: YES
RV Hookups: YES
Lodging: YES
Convenience Store: YES
Bait & Tackle: NO
Restaurant: YES
Today's Weather & Forecast
In addition to the excellent fishing opportunities, Big Lake offers boating and camping facilities for outdoor enthusiasts. Anglers can enjoy boating on the lake, whether it's a motorized boat, kayak, or canoe, to explore different fishing spots and enjoy the scenic beauty of the lake.
Public Boat Launch Ramps & Landings
Big Lake State Park Boat Launch Ramp
Located in the northeast corner of the lake, off State Park Road, this is a two-lane, concrete ramp with a dock and paved parking.
Click here for a Missouri Fishing License.
Camping spots allow anglers to extend their fishing trips and immerse themselves in the tranquility of nature.
Campgrounds & RV Parks Nearby
Big Lake State Park Campground - 660 442-3770
Big Lake MO Map - Fishing & Camping Areas
Contact Information
Big Lake
Big Lake State Park
204 Lake Shore Drive
Craig, MO 64437-7181
660 442-3770
Fishing lakes in each state.
Big Lake in Missouri.
MISSOURI


Information about fishing lakes in MO.
Big Lake in offers great fishing and camping.
Fishing at Big Lake, in Missouri.