Fishing At Lake Jacomo
What to fish for...
Guide to fishing for largemouth bass, channel catfish, flathead catfish, black crappie, white crappie, walleye, bluegill and white bass at Lake Jacomo in Missouri.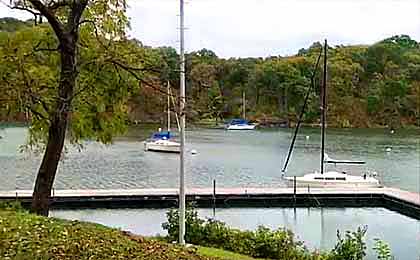 Located southeast of Kansas City, MO, Lake Jacomo is a 970-acre freshwater reservoir offering a wide variety of water-sport and outdoor activities. With almost 20 miles of shoreline there are plenty of places to wet a line. Much of the shoreline is surrounded by thick trees, but there are areas with access for fishing from the bank.
Lake Jacomo is located in the western section of Missouri and is a popular destination for fishing enthusiasts. The lake offers a diverse fish population and a variety of angling opportunities.
Walleye is a popular fish species found in Lake Jacomo. Anglers can target walleye using techniques such as trolling with crankbaits, jigging with minnows or artificial lures, or using live bait rigs. The lake's structure, including points, drop-offs, and submerged brush piles, provides ideal habitat for walleye. Anglers can enjoy the challenge of catching walleye while appreciating the scenic surroundings of Lake Jacomo.
Largemouth bass are another highly sought-after species in Lake Jacomo. Anglers can find bass in the lake's weed beds, submerged logs, and rocky structures. Techniques such as casting with topwater lures, working plastic worms or jigs, or using spinnerbaits can be effective in targeting largemouth bass. Anglers can experience the thrill of reeling in these feisty and hard-fighting bass.
Lake Jacomo is also known for its catfish population, including channel and flathead catfish. Anglers can use various bait options such as cut bait, stink baits, or chicken liver to attract these catfish. Fishing near the lake's deeper areas, along channels, or near submerged structures can increase the chances of catching catfish. These fish provide a thrilling angling experience, especially when they put up a strong fight.
Black and white crappie are popular panfish species found in Lake Jacomo. Anglers can target crappie using techniques such as vertical jigging, casting with small jigs or minnows, or using crappie nibbles. The lake's submerged brush piles, standing timber, and drop-offs offer excellent hiding spots for crappie. Anglers can enjoy the challenge of finding and catching these tasty panfish.
Bluegill and white bass are other common fish species in Lake Jacomo. Anglers can have a great time targeting these fish using various techniques such as bobber fishing with live bait, casting small jigs or spinners, or fly fishing with small nymphs or poppers. These fish provide an enjoyable angling experience, particularly for those who prefer lighter tackle and a relaxed fishing environment.
In addition to fishing, Lake Jacomo offers boating and camping facilities, allowing anglers to extend their outdoor adventures. Anglers can explore the lake's waters by motorized boats, kayaks, or canoes, and access different fishing spots. The camping facilities near the lake provide opportunities for overnight stays, allowing anglers to fully immerse themselves in the natural beauty of Lake Jacomo.
Lake Jacomo in Missouri is a fantastic destination for anglers seeking walleye, largemouth bass, channel and flathead catfish, crappie, bluegill, white bass, and other fish species. With its diverse fishery, scenic surroundings, and recreational facilities, Lake Jacomo offers an enjoyable fishing experience for anglers of all ages and skill levels.
Boat rentals are available, plus public boat ramps for launching your personal watercraft. The maximum horsepower for motor boats is 25 hp, although sailboats and pontoons are allowed up to 40 hp. Kayaks and canoes are popular here. Anglers can fish for catfish, bass, crappie, walleye and sunfish.

Primary fish species residing in Lake Jacomo
Click images for fishing tips and details about each species.
Lake Jacomo Amenities
Marina: YES
Boat Rental: YES
Boat Launch Ramp: YES
Campgrounds: YES
RV Hookups: YES
Lodging: NEARBY
Convenience Store: NEARBY
Bait & Tackle: YES
Restaurant: NEARBY
Today's Weather & Forecast
Fishing Boat Rentals
Lake Jacomo Marina
Rentals: Fishing boats, jon boats, canoes, kayaks and pontoon boats
816 795-8888
Public Boat Launch Ramps & Landings
Lake Jacomo Marina Boat Launch Ramp
Located in the northwest section of the lake, off W Park Road, this is a multi-lane, concrete ramp with a dock and paved parking.
Lake Jacomo Non-Motorized Boat Launching Area
Located in the southwest corner of the lake, off Beach Road, this is a one-lane, concrete ramp with a dock and paved parking.
Marinas
Lake Jacomo Marina
7401 W Park Rd
Blue Springs, MO 64015
816 795-8888
Lake Jacomo Sail Boat Cove Marina
740 E Park Rd
Lee's Summit, MO 64086
816 503-4805
Click here for a Missouri Fishing License.
Campgrounds & RV Parks Nearby
Jacomo Campground - 816 503-4800
Lake Jacomo MO Map - Fishing & Camping Areas
Lake Video
Contact Information
Lake Jacomo
Fleming Park
9200 Beach Road
Lee's Summit, MO 64064
816 503-4805
Fishing lakes in each state.
Lake Jacomo in Missouri.
MISSOURI


Information about fishing lakes in MO.
Lake Jacomo offers great fishing for numerous species, plus camping and boat rentals.
Fishing at Lake Jacomo, in Missouri