Guide To The Best Bass Fishing Lakes In Missouri
Fish for spotted, smallmouth and largemouth bass in Missouri lakes.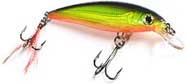 Bass are one of the most sought after of all the game fish. Its appeal spans cultures, age groups and genders to tap on the heart strings of anglers everywhere. Visit the Bass Knowledge Center for valuable information about bass and bass fishing. Join us in our endeavor to offer information about bass fishing.
Bass Lakes In MO
It might be hard to find water in Missouri without at least a few bass. Ideal location and long growing seasons make MO a bass factory. Most rivers, ponds and lakes contain bass. Major lakes including Bull Shoals Lake, Harry S. Truman Reservoir, Lake of The Ozarks, Long Branch Lake, Mark Twain Lake, Mozingo Lake, Pomme de Terre Lake, Smithville Reservoir, Stockton Lake, Table Rock Lake, Atkinson Lake, Bean Lake, Big Lake, Blue Springs Lake, Clearwater Lake, Council Bluff Lake, Fellows Lake, Forest Lake, Lake Jacomo, Lake Springfield, Lake Taneycomo, Lake Wappapello, Long Branch Lake, Longview Lake, McDaniel Lake, Montrose Lake, Mozingo Lake, Thomas Hill Reservoir and many others all have excellent populations of bass. Many of these lakes support one or more of the state species - spotted, smallmouth and largemouth bass.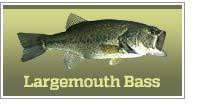 World record: 22 lbs 4 oz
State Record: 13 lbs 14 oz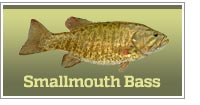 World record: 11 lbs 15 oz
State Record: 7 lbs 2 oz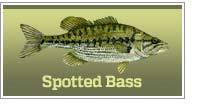 World record: 9 lbs 8 oz
State Record: 7 lbs 8 oz
Click the images and links above for species details.
Top 5 Bass Fishing Lures For Missouri
When bass are shallow, spinnerbaits, crankbaits and top water lures are the most productive. As they move deeper, worms and jigs are among the top producers.
The state record largemouth bass was caught from Bull Shoals Lake.
The state record smallmouth bass came from Stockton Lake.
The state record spotted bass came from Table Rock Lake.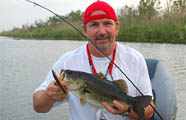 Whether you are a novice, seasoned fisherman or a professional bass angler, MO has plenty of opportunities to catch both quality and quantities of spots, smallies and big mouth bass.
Bass fishing basics video.
Understanding the primary seasonal movements of smallmouth bass and largemouth bass is key to locating them on local lakes in the Show Me State.

Catch big bass!
Bass fishing information by state.
The lifecycle of bass
The more you know about the seasonal migration of bass, the more likely you are to be looking in the right area next time you visit Missouri bass fishing lakes. Visit the bass fishing page for more in-depth information about bass activities.
MISSOURI