Guide To The Best Bass Fishing Lakes In Rhode Island
Fish for smallmouth and largemouth bass. Visit the Bass Knowledge Center for valuable information about bass and bass fishing.
Rhode Island may not be famous for bass fishing like some other states, but it still offers excellent opportunities to catch both largemouth and smallmouth bass. There are numerous ponds, lakes, and rivers scattered throughout the state that provide habitat for these two bass species.
Largemouth bass can be found in many of the freshwater bodies of Rhode Island. Places like Stafford Pond, Johnson's Pond, and Worden Pond are known for producing good-sized largemouth bass. The early spring and late fall are generally the best times to target largemouth bass, as they are more active and easier to catch during these cooler months.
Smallmouth bass, on the other hand, are more commonly found in the rivers and streams of Rhode Island. The Wood River and the Pawcatuck River are particularly well-known for their smallmouth bass fishing. The summer months are typically the prime time for smallmouth bass fishing, as the warmer water temperatures make them more active.
Both largemouth and smallmouth bass are aggressive predators, making them fun to catch on a variety of lures and baits. Anglers often use techniques like casting crankbaits, soft plastics, and topwater lures to entice these bass into striking. Whether you're an experienced angler or a novice looking to try bass fishing for the first time, Rhode Island's bass fishing scene has something to offer for everyone.
Bass Fishing Lakes In Rhode Island
Most major lakes in Rhode Island contain bass, including Beach Pond, Indian Lake, Johnson Pond (Flat River Reservoir), Pascoag Reservoir (Echo Lake), Stafford Pond, Tiogue Lake, Watchaug Pond, Woonasquatucket Reservoir and Worden Pond. Bass can also be found in ponds, parks and rivers, many of which offer ice fishing for bass in winter.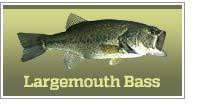 World record: 22 lbs 4 oz
State Record: 11 lbs 3.2 oz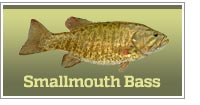 World record: 11 lbs 15 oz
State Record: 5 lbs 15 oz
Click the images and links above for species details.
Top 5 Bass Fishing Lures For Rhode Island
When bass are shallow, spinnerbaits, crankbaits and stickbaits are the most productive. As they move deeper, worms and jigs are among the top producers.
Rhode Island State Record Bass
The state record largemouth bass was caught from Johnson's Pond.
The state record smallmouth bass came from Wash Pond.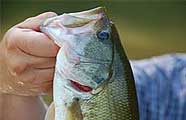 Bass are one of the most sought after of all the game fish. Its appeal spans cultures, age groups and genders to tap on the heart strings of anglers everywhere. Join us in our endeavor to offer information about bass fishing on your favorite bass lake in Rhode Island.
Bass fishing basics video.

Catch big bass!
Understanding the primary seasonal movements of smallmouth bass and largemouth bass is key to locating them on local lakes in the Ocean State.
Bass fishing information by state.
The lifecycle of bass
The more you know about the seasonal migration of bass, the more likely you are to be looking in the right area next time you visit Rhode Island bass fishing lakes. Visit the bass fishing page for more in-depth information about bass activities.
RHODE ISLAND