Bass Fishing & Bass Lakes In Washington State
Guide to fishing for largemouth and smallmouth bass in WA.
By Rick Seaman
Washington state offers excellent opportunities for bass fishing, with both largemouth and smallmouth bass being popular species among anglers. The purpose of this page is to share basic information about bass fishing and bass lakes in the state.
Bass fishing basics video.
Largemouth bass can be found in various lakes and rivers throughout the state, including lakes like Lake Washington, Lake Sammamish, and Lake Tapps. These fish are known for their aggressive strikes and powerful fights, making them a favorite target for many bass anglers. The lush vegetation and structure of Washington's lakes provide ideal habitats for largemouth bass, creating exciting opportunities for anglers to test their skills.
Smallmouth bass, on the other hand, are prevalent in rivers and reservoirs across Washington. The Snake River, Columbia River, and Potholes Reservoir are renowned for their excellent smallmouth bass fishing. Known for their tenacity and acrobatic leaps, smallmouth bass offer a thrilling angling experience. Anglers often target smallmouth bass with lures such as crankbaits, jigs, and soft plastics, as these fish are known to aggressively strike at moving baits.
The best time to fish for largemouth and smallmouth bass in Washington varies depending on the season and weather conditions. Generally, spring and fall are considered prime seasons for bass fishing, as the fish are more active and feeding heavily. During these seasons, anglers often find success by targeting shallow areas with cover, such as weed beds, fallen trees, or rocky structures. However, bass can be caught year-round in Washington, and dedicated anglers are often rewarded with successful catches during the summer and winter months as well.
Whether you prefer the excitement of chasing largemouth bass in the lakes or the challenge of battling smallmouth bass in the rivers, Washington offers a wealth of opportunities for bass fishing enthusiasts. The diverse landscapes and abundance of lakes and rivers make it a prime destination for anglers looking to pursue these prized game fish.
Best Bass Lakes In WA
All about fishing for smallmouth and largemouth bass.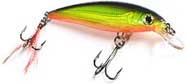 Visit the Bass Knowledge Center for valuable information about bass and bass fishing. Alder Lake, American Lake, Banks Lake, East Rapids Lake, Lake Bryan, Lake Chelan, Lake Mayfield, Lake Sacajawea, Lake Sammamish, Lake Tapps, Lake Umatilla, Lake Wallula, Lake Washington, Lake Whatcom, Moses Lake, Osoyoos Lake, Ozette Lake, Palmer Lake, Potholes Reservoir, Riffe Lake, Rock Lake, Roosevelt Lake, Rufus Woods Lake, Silver Lake, Vancouver Lake and Wanapum Lake are some of the major lakes in Washington with healthy populations of bass. Bass can also be found throughout the state in ponds, creeks, parks, rivers and smaller lakes. The Columbia River has a quite significant bass population.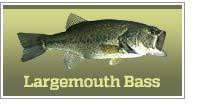 World record: 22 lbs 4 oz
State Record: 12.53 lbs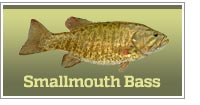 World record: 11 lbs 15 oz
State Record: 8.85 lbs
Click the images and links above for species details.
Top 5 Bass Fishing Lures For Washington
When bass are shallow, spinnerbaits, crankbaits and stickbaits are the most productive. As they move deeper, worms and jigs are among the top producers.
The state record largemouth bass was taken out of Lake Bosworth.
The state record smallmouth bass was caught from the Columbia River, Hanford Reach.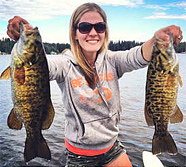 These two quality smallies were caught out of Lake Goodwin, by Julie Jackson.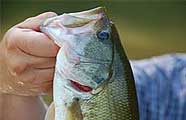 Bass are one of the most sought after of all the game fish. Its appeal spans cultures, age groups and genders to tap on the heart strings of anglers everywhere. Join us in our endeavor to offer information about bass fishing on your favorite bass lake in Washington.
Understanding the primary seasonal movements of smallmouth bass and largemouth bass is key to locating them on local lakes in the Evergreen State.

Catch big bass!
Bass fishing information by state.
The lifecycle of bass
The more you know about the seasonal migration of bass, the more likely you are to be looking in the right area next time you visit Washington bass fishing lakes. Visit the bass fishing page for more in-depth information about bass activities.
WASHINGTON