Top Spots In California For Bass Fishing
All about fishing for spotted, smallmouth and largemouth bass.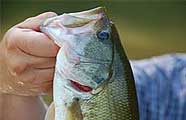 Bass are one of the most sought after of all the game fish. Its appeal spans cultures, age groups and genders to tap on the heart strings of anglers everywhere. Join us in our endeavor to offer information about bass fishing on your favorite bass lake in California.
Bass fishing basics video.
Understanding the primary seasonal movements of smallmouth bass and largemouth bass is key to locating them on local lakes in the Golden State.
Bass Fishing Lakes In CA
---
Northern California
In Northern California be sure to try your luck for bass at Bucks Lake, Clear Lake, Copco Lake, Folsom Lake, Lake Almanor, Lake Berryessa, Lake Combie, Lake Mendocino, Lake Oroville, Lake Pillsbury, Los Vaqueros Reservoir, New Bullards Bar Reservoir, Shasta Lake, Trinity Lake and Whiskeytown Lake. You'll find bass in plenty other waters in the area as well including private ponds, creeks and smaller lakes.
---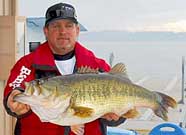 Central California
Bass Lake, Lake Don Pedro, Lake Cachuma, Lake Camanche, Lake Kaweah, Lake McClure, Lake Sonoma, Lake Tulloch, Lake Nacimiento, Lake Tahoe, Millerton Lake, New Hogan Lake, New Melones Lake, Pine Flat Lake, San Luis Reservoir, San Pablo Reservoir, Shaver Lake, Success Lake, The Delta and Topaz Lake are the larger bodies of water that hold bass. Check the tributaries leading into and away from these lakes for potential bass fishing hot spots.
---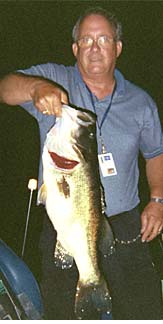 Southern California
Andrew Kotnik with a nice 12 1/2 pound bass from Lake Mission Viejo.
The larger bodies of water in Southern California that hold populations of bass include Barrett Lake, Big Bear Lake, Canyon Lake, Diamond Valley Lake, El Capitan Reservoir, Laguna Niguel Lake, Lake Cahuilla, Lake Casitas, Lake Castaic, Lake Hemet, Lake Elsinore, Lake Havasu, Lake Hodges, Lake Perris, Lake Piru, Lake Sutherland, Littlerock Reservoir, Lower Otay Lake, Pyramid Lake, San Vicente Reservoir, Silverwood Lake and Skinner Reservoir. Lake Castaic served up the state record for largemouth bass in California. Other monster bass have also come from Castaic.
---

Catch big bass!
The California state record smallmouth bass was caught out of Clair Engle Lake. Lake Castaic holds the CA record for largemouth bass. Pine Flat Reservoir was home to the state record spotted bass.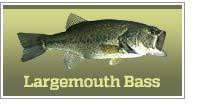 World record: 22 lbs 4 oz
State Record: 21 lbs 12 oz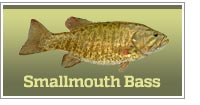 World record: 11 lbs 15 oz
State Record: 9 lbs 13 oz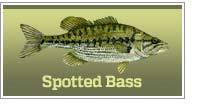 World record: 9 lbs 8 oz
State Record: 10 lbs 4 oz
By clicking on the images and links above, you will be taken to a page offering more information about the selected species.
Bass fishing information by state.
The lifecycle of bass
The more you know about the seasonal migration of bass, the more likely you are to be looking in the right area next time you visit California bass fishing lakes. Visit the bass fishing page for more in-depth information about bass activities.
CALIFORNIA