Fishing At Potholes Reservoir
AKA: Potholes Lake
What to fish for...
Guide to fishing for largemouth bass, smallmouth bass, black crappie, walleye, rainbow trout, bluegill, yellow perch and whitefish at Potholes Reservoir in Washington.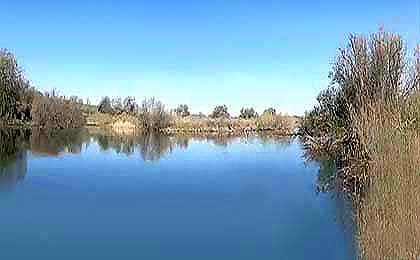 A fishery with multiple warm-water species of fish, Potholes Reservoir is home to bass, crappie, walleye, perch, bluegill, whitefish and (stocked) rainbow trout. This sprawling, 27,800-acre lake in central WA, 5 miles south of Moses Lake can produce quality fishing one year and just mediocre the next.
The purpose of this page is to deliver an overview of this lake, the fishing options, and area amenities. Our goal is to provide info to first time visitors, as well as beginner and novice anglers. We gathered details from personal experience, numerous trusted websites that each offer select bits of information, and videos of fishing activity on the lake. These websites include the Washington Department of Fish & Wildlife, marinas at the lake, campgrounds, boat rental agencies and others. By consolidating this information to one page it allows visitors to see the entire picture, all in one place.
Lake Video
Potholes Reservoir, located in Washington, is a renowned fishing destination that offers excellent angling opportunities and a variety of fish species. The reservoir is known for its diverse fish population, making it a popular spot for anglers seeking a rewarding fishing experience. Popular fish species found in Potholes Reservoir include walleye, largemouth bass, smallmouth bass, rainbow trout, yellow perch, and crappie. These species provide ample opportunities for anglers to test their skills and reel in impressive catches.
At an elevation of 1,043 ft above sea level it will occasionally freeze over, providing ice fishing opportunities for walleye, perch and trout. April through September are generally the best months to plan a fishing trip. Boat launch ramps, rental boats, camping and convenience stores are close by to keep your trip simple. There is lots of shallow water and access to the shoreline for fishing from the bank or portage of canoes and kayaks.
Potholes Reservoir in Washington offers a rewarding fishing experience, complemented by boating and camping opportunities. Whether you're angling for walleye, bass, or trout, cruising the open waters by boat, or spending a night under the starry sky at a lakeside campsite, Potholes Reservoir provides abundant recreational opportunities for visitors to relax, appreciate the natural beauty, and create lasting memories.

Primary fish species residing in Potholes Reservoir
Click images for fishing tips and details about each species.
Potholes Reservoir Amenities
Marina: NO
Boat Rental: YES
Boat Launch Ramp: YES
Campgrounds: YES
RV Hookups: YES
Lodging: YES
Convenience Store: YES
Bait & Tackle: NEARBY
Restaurant: YES
Today's Weather & Forecast
Boating is a favored activity at Potholes Reservoir, offering visitors a chance to explore the expansive waters and access prime fishing locations. The reservoir permits motorized boats, providing anglers with flexibility in their boating choices. From speedboats to pontoon boats, boaters can navigate the reservoir's open waters, discover hidden coves, and find optimal spots to cast their lines. The picturesque surroundings and serene ambiance make boating on Potholes Reservoir an enjoyable experience.
Fishing Boat Rentals
MarDon RV resort Marina
Rentals: Kayaks
509 346-2651
Public Boat Launch Ramps & Landings
Blythe Public Access Boat Ramp
Located in the southwest corner of the lake, off Highway 262, this is a two-lane, concrete ramp with gravel parking.
Potholes State Park Boat Launch Ramp
Located mid lake, west side, off Campground Loop, this is a five-lane, concrete ramp with a dock and paved parking.
Sampsons Pit Boat Launch Ramp
Located in the southeast corner of the lake, off Highway 262, this is a two-lane, concrete ramp with gravel parking.
Marinas
MarDon RV resort Marina
8198 Hwy 262 SE
Othello, WA 99344
509 346-2651
Click here for a Washington fishing license.
Camping options are available near Potholes Reservoir, providing an opportunity for visitors to extend their outdoor adventure. The nearby Potholes State Park offers campsites equipped with facilities such as picnic areas, restrooms, and showers. Camping near Potholes Reservoir allows anglers to immerse themselves in the natural beauty of the area, enjoy peaceful evenings by the water's edge, and have convenient access to fishing opportunities throughout their stay.
Campgrounds & RV Parks Nearby
Potholes State Park Campground - 509 346-2759
O'Sullivan Sportsman Resort RV Park - 509 346-2447
Cascade Park Campground - 509 764-3805
Desert Oasis RV Park - 509 764-5319
Suncrest RV Park - 509 765-0355
Lakefront RV Park - 509 765-8294
Potholes Reservoir WA Map - Fishing & Camping Areas
Contact Information
Potholes Reservoir
Potholes State Park
6762 Washington 262 East
Othello, WA 99344
509 346-2759
Fishing lakes in each state.
Potholes Reservoir in Washington.
WASHINGTON


Information about fishing lakes in Washington
Potholes Reservoir provides anglers to opportunity to fish for bass, crappie, walleye, perch, bluegill, whitefish and trout in central Washington.
Fishing on Potholes Reservoir.