Best Fishing Guides In Washington State
Hire a guide to take you fishing in WA.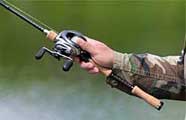 Hire a fishing guide to fish for largemouth bass, smallmouth bass, channel catfish, flathead catfish, blue catfish, white catfish, black crappie, white crappie, walleye, rainbow trout, cutthroat trout, golden trout, brown trout, lake trout, steelhead, bluegill, green sunfish, pumpkinseed sunfish, rock bass, warmouth, yellow perch, Atlantic salmon, coho salmon, chum salmon, chinook salmon, pink salmon, sockeye salmon, northern pike, sturgeon and tiger muskie in local lakes.

Washington Fishing Guides
Other Local Guides
For the ultimate fishing experience, hire a professional guide. They know the WA fishery inside out and have determined the best techniques for catching fish at various times of the year.
All Rivers Guide Service - 425-736-8920
Mark Coleman - [email protected]
Focus Species: Salmon, steelhead and trout. All Rivers Guide Service offers professionally guided gear and fly fishing trips for Salmon, Steelhead & Trout in Washington State. Our destinations include guided Drift Boat and Power Boat trips on the beautiful Snohomish, Skykomish, and Snoqualmie Rivers, as well as premier SW Washington and Olympic Peninsula Rivers.
MegaBites Fishing Guide Service
1-888 OUT 4 FUN. 1-888-688-4386
Pete Grace - [email protected]
Focus Species: Salmon, Steelhead, Sturgeon, Walleye. We offer the finest fishing trips in the Northwest. Visit our web site for more details.
Angler's Obsession
Aaron O'Leary - [email protected]
Focus Species: Trout, steelhead and salmon. We offer an experienced, knowledgeable guide that is a pleasure to be around; that does everything to make each angler's day the best possible and provides techniques to be used in the future. We focus on Rainbow Trout on the Yakima River and pursue steelhead and salmon throughout the state.
Excel Fishing Charters - 360 805-1729
Tom Burlingame - [email protected]
Focus Species: Salmon, halibut, bottom fish. Offers Washington's finest saltwater fishing action. Salmon fishing trips are available on Puget Sound from the port of Everett WA. (Sept. - March) and salmon, halibut or bottom fishing trips from Neah Bay WA. (April - Aug) . All gear and bait included, Washington fishing license available on board.
Waters West Guide Service - 253 389-0359
Casey Weigel - [email protected]
Focus Species: Salmon, steelhead and sturgeon. Washington's Premier Salmon and Steelhead Guide Service. We are located at the Southern Tip of the Beautiful Olympic Peninsula. Fish the Wynoochee, Satsop, Chehalis, Humptulips Rivers, Columbia River and the world-famous Cowlitz and Lewis Rivers.
Washington Fishing Guide Services
In addition to catching fish, guides teach you techniques which you will use over a lifetime of fishing. Learn tips on rods, reels, line, knots, lures, hook types, techniques and much more...all by spending the day in a boat with a local guide.
Fishing guide information for other states.
WASHINGTON