Best Fishing Guides In Hawaii
Hire a guide to take you fishing in HI.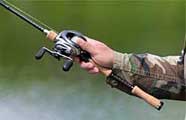 Hire a fishing guide to fish for largemouth bass, smallmouth bass, peacock bass, channel catfish, rainbow trout, bluegill and tilapia in local lakes.
Hawaii Fishing Guides
Other Local Guides
For the ultimate fishing experience, hire a professional guide. They know the HI fishery inside out and have determined the best techniques for catching fish at various times of the year.
Nervous Water Flyfishers - 808-734-7359
Clayton and Kevin - [email protected]
Focus Species: Bonefish. Fly shop and guided fly fishing for bonefish on the island of Oahu.
Shoreline Adventures Hawaii - 808-237-8646
Oliver Owens - [email protected]
Focus Species: bonefish, travally and other local species. We offer fly and light tackle wade trips along with casting lessons.
Hallelujah Hou Fishing - 808 336-1870
Capt Clay - [email protected]
Focus Species: Bonefish and trevally. Flyfishing on the flats for one to two anglers with a flats skiff, bottom fishing, deep sea fishing for families, one to six anglers with larger boat. Each trip is customized to the anglers desire and expertise, two boats are available for different activities. Please call for information.
Hawaii Fishing Guide Services
In addition to catching fish, guides teach you techniques which you will use over a lifetime of fishing. Learn tips on rods, reels, line, knots, lures, hook types, techniques and much more...all by spending the day in a boat with a local guide.
Fishing guide information for other states.
HAWAII