Choose From The Best Fishing Guides In California
Hire a guide to take you fishing in CA.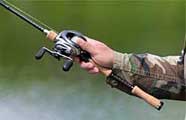 Hire a fishing guide to fish for largemouth bass, smallmouth bass, spotted bass, channel catfish, flathead catfish, blue catfish, white catfish, black crappie, white crappie, rainbow trout, cutthroat trout, brook trout, brown trout, lake trout, golden trout, bluegill, green sunfish, pumpkinseed sunfish, redear sunfish, tilapia, warmouth, white bass, coho salmon, chinook salmon, kokanee salmon and stripers in local lakes.
California Fishing Guides
Other Local Guides
For the ultimate fishing experience, hire a professional guide. They know the CA fishery inside out and have determined the best techniques for catching fish at various times of the year.
River Pirate Guide Service - 530 365-5833
[email protected]
Experience heart pounding sport fishing action. Catch more Kings. California fishing guide with thirty years experience gives all out fishing effort.
Sierra Drifters Guide Service - 760-935-4250
Tom Loe - [email protected]
Focus Species: Fresh water trout
Sierra Drifters Guide Service....Year Round Drift Boats,
In-Season Flats Style Boats and Full Service Guiding of the Eastern Sierra. We can take you to the hot spots in comfort! Sierra Drifters Guide Service will accommodate all your trip needs including all gear, flies and a deli-style lunch.
Mammothflyfishing.com - 209 484-1114
Brad McFall - [email protected]
Focus Species: trout, steelhead. Experience world class year round fly fishing within 10 minutes of Mammoth Lakes California with a highly knowledgeable and experienced guide. We are affiliated with The Trout Fitter fly shop in Mammoth Lakes and can accommodate most any group size for fishing lakes and streams.
John Klar's Salmon/Steelhead - 707-725-9120
John Klar - [email protected]
Focus Species: Specializing in king salmon, steelhead, and striped bass. Since 1986, a full-time guide service on North coast and Sacramento Valley Rivers. Spending over 240 days a year on the water, utilizing both jet boats and drift boats, furnishing only state of the art equipment. The single most important component of your guided fishing trip is your guide. It pays to do your homework.
Rus Snyders Bass Fishing Guide - 650 740-7735
Rus - [email protected]
Bass Fishing Guide Service on Northern California Lakes (Clear Lake, California Delta, Oroville, Sonoma, Berryessa, Anderson, Calero).
California Fishing Guide Services
In addition to catching fish, guides teach you techniques which you will use over a lifetime of fishing. Learn tips on rods, reels, line, knots, lures, hook types, techniques and much more...all by spending the day in a boat with a local guide.
Fishing guide information for other states.