Best Fishing Guides In Wisconsin
Hire a guide to take you fishing in WI.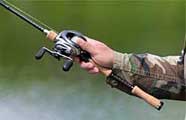 Hire a fishing guide to fish for largemouth bass, smallmouth bass, channel catfish, flathead catfish, black crappie, white crappie, walleye, rainbow trout, brook trout, brown trout, lake trout, bluegill, green sunfish, pumpkinseed sunfish, rock bass, warmouth, white bass, white perch, yellow bass, yellow perch, Atlantic salmon, chinook salmon, coho salmon, kokanee salmon, pink salmon, stripers, bowfin, longnose gar, muskie, northern pike, sauger, saugeye, sturgeon and tiger muskie in local lakes.

Wisconsin Fishing Guides
Other Local Guides
For the ultimate fishing experience, hire a professional guide. They know the WI fishery inside out and have determined the best techniques for catching fish at various times of the year.
Willie Bee Charters - 920 682-5003
Keith Heberlein - [email protected]
Focus Species: Salmon. Salmon and Trout fishing on Lake Michigan out of Seagull Marina and Campground in Two Rivers, WI. Our fully equipped boat and licensed captain are ready to take you on your next charter fishing adventure.
DATBYTES Port Cities Charter - 920 629-7818
Captain Rick Bellin - [email protected]
Focus Species: Salmon,Trout. 6 hour charter fishing on Lake Michigan for groups of up to 6 people. Out of the port of Manitowoc awesome fishing and a great boat with all the equipment needed to have a fishing trip that you will remember for a life time!
RV Charters - 800 487-0022
Scott Osborne - [email protected]
Focus Species: chinook, steelhead, coho, lake trout, brown trout. Three large boats and first class lodging. Out of the port of Algoma, WI. the number 1 port in Wisconsin for Chinook salmon. All tackle and equipment provided all fish cleaned. Captain and first mate on each boat.
AA Phoenix Fishing Charters - 800 793-5219
Steven Bignell - [email protected]
Focus Species: Salmon and Trout. Aggressive quality Salmon charter fishing. Anglers can relax with a Sheboygan Wisconsin fishing charter. Home of the best Wisconsin Salmon fishing, and Trout action on the Lake. No Sheboygan charter boat will fish harder for you than the Phoenix and her crew.
Professional WI Fishing Guide - 715 693-4696
Pat Pierce - [email protected]
Focus Species: Muskie, walleyes, smallmouth bass, crappies, northern pike and catfish. I am the "Original" Lake DuBay Fishing Guide with 40 plus years of guiding experience. Since 1979 guiding 7,000+ fisher men, women and children from 50 States and 42 Countries to more than 132,000 fish from 17 species, including muskies and walleyes on the Wisconsin River and her Flowage.
Winnebago Fishing - 920 716-3620
Scott "Axl" Ehricke - [email protected]
Focus Species: Walleyes. Walleye Fishing Guide and radio show Host of "Let's Go Fish'n". Over the last 21 years, I have developed many proven fishing tactics, for both the trolling fisherman, and for those who prefer to jig the reefs. My guide service welcomes both the beginner, and the experienced angler on Lake Winnebago.
Wisconsin Fishing Guide Services
In addition to catching fish, guides teach you techniques which you will use over a lifetime of fishing. Learn tips on rods, reels, line, knots, lures, hook types, techniques and much more...all by spending the day in a boat with a local guide.
Fishing guide information for other states.
WISCONSIN