Michigan Fishing Article
Tippy Pond Smallies
I had just got done setting up my pop-up camper at the local campground and wanted nothing more than to plop my boat into the water. I was already running a little late and after setting up my campsite it was already around 3:00 p.m. I had driven all the way to Manistee from Oscoda to fish. I wasn't about to waste an evening in my camper. I scoped out my area map and noticed there was a boat launch Tippy Dam Pond right around the corner.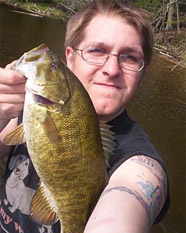 When I arrived at the launch I noticed the water was a little choppy, but not too bad so I dumped my little 12' boat in the water. I knew nothing of this 1,330 acre pond and was a little intimidated by its size. Before leaving the dock I peered out over the water looking for any noticeable structure that may hold some fish. I noticed lot's of logs peppering the shoreline so I figured I would start by fishing those. I started my day out by slipping on a Bass Assassin plastic minnow. This bait has worked for me on every lake that I had ever fished, especially for game fish. With the noticeable amount of logs and stumps, for structure, I figured the lake would have a good population of bass and pike.
I saw that there was a stump poking out of the water right near the launch and decided that would be a good spot to start throwing my bait. My minnow hit the water within an inch of the log and I was only able to give it one twitch before something nailed it, leaving me with a broken line. Pike have a tendency to do that to 8 pound test, but I was excited anyhow because that one bite told me that the fish were biting on this day. I re-rigged and tried getting that mystery fish to bite again with no avail, so I decided to just cruise the shoreline and see what else I could get to bite. After just a couple casts a nice smallmouth bass engulfed my minnow and leaped out of the water.
When I lipped this bass and snapped a picture, I had a feeling that it was going to be a good day of fishing. It was May 1st and the weather was still somewhat chilly, so I knew the bass wouldn't be spawning for another week. More than likely they were in pre-spawn mode. When bass are pre-spawn they can be found close to the area in which they plan to construct their beds. Which I figured would be around or near the various logs. This time of year they can be easy to catch because they will eat almost anything that gets between them and their bedding areas, and my rubber minnows seemed to be just what they were looking for. I also tied on spinner-baits as well as Rapala X-Raps and did just as good on those. In fact this was the first year I had ever tried the X-Rap, on bass, and found them to be dynamite.
I'm sure some of you are thinking, "If this was May 1st you were illegal if you were casting for bass," but that is wrong. This was May 1st of 2008 and as of that year the Michigan Department of Natural resources, MDNR, opened up a catch and immediate release bass season from the last Saturday in April-Friday before Memorial Day on all Lower Peninsula inland lakes. I believe this season is a great idea, as long as the fisherman are gentle with the bass and make sure they immediately release their catch. Catching bass this time of year can be a blast, especially once they hit the beds. A lot of fishermen disagree with catching the bass off the beds, but as long as you quickly release the bass it will swim right back to its bed and no harm is done. This can actually be a great time to get children into fishing, because anything cast on a bass bed will be quickly grabbed. Once a child has caught his or her first big bass they are going to be hooked for the rest of their life. And because you have to throw the fish back, it can be a good time to teach your child the values of catch and release fishing.
When Manistee comes to mind most people think about salmon fishing on Lake Michigan, or the awesome trout and steelhead fishing to be had at Tippy Dam. You never hear of what lies on the other side of Tippy Dam in the backwaters, but I'm here to tell you the fishing can be amazing. It seemed like every other cast thrown involved something at least rolling at my bait. May 1st last year I managed to catch 19 smallmouth bass between two and five pounds in only three hours, and lost quite a few fish. I'd say that's a pretty good day. They seemed to hit on almost anything I would throw but I had the best luck on the rainbow trout colored X-Rap, and silver colored Bass Assassins. When throwing the X-Rap or the Bass Assassin, I would reel them in the same way. I would give three or four quick snaps of the rod tip, and pause for just a few seconds before giving a few more snaps. More often than not the bass would nail the bait during that short pause.
That was the only day that I got to fish the pond last year. The wind was nasty during the three other days of staying at the campground. During those windy days I still managed to have a blast fishing steelhead in the Manistee River, and catching brook trout in Pine Creek. If your like me and enjoy a good variety of fish, Manistee County is the place for you. Manistee County has every kind of big game-fish available, as well as some nice panfish. I'm planning on camping at the same campground this year, though I plan on focusing more on catching walleye and bass on both Tippy Dam pond, and Manistee Lake.
Fishing photos and articles, by state.
Contribute MI fishing photos and articles
If you have information, articles or photos relating to fishing in Michigan, and would like to see them published here, please submit them for consideration.
Article about fishing for smallmouth in Michigan.