Guide To Popular Ice Fishing Lakes In California
Favorite fish species at top ice fishing lakes in the state.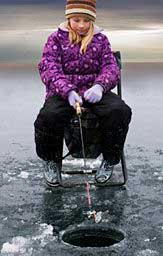 The best ice fishing lakes in CA include Silver Lake, Red Lake and Stampede Lake. The most popular species through the ice, across the state, include trout, bass and salmon. See a list of lakes and species below.
Ice fishing is as basic as fishing gets. During winter, it is popular here in the state. Aside from the tools one uses to create a hole in the ice, all other gear is very basic. A simple rod, reel, line and hook or lure is all you need. Lures, live bait and prepared bait are options, depending on the fish species in the lake or pond.
California's mild climate and predominantly warm weather make ice fishing a relatively uncommon practice in the state. However, in the higher elevation regions of the Sierra Nevada Mountains, some lakes and reservoirs do freeze over during the winter months, providing opportunities for ice fishing enthusiasts.
The primary fish species targeted in California's ice fishing are trout, particularly rainbow trout and brown trout. Lakes such as Caples Lake, Silver Lake, and Red Lake are known to freeze over, offering a chance to catch these prized trout species through the ice.
Ice fishing methods in California are similar to those in other regions. Anglers typically drill holes in the ice using augers, set up ice fishing shelters or tents to provide protection from the elements, and use specialized ice fishing equipment such as ice fishing rods, tip-ups, and ice jigs. Bait options include live bait such as worms or maggots, as well as artificial lures and jigs specifically designed for ice fishing.
When engaging in ice fishing in California, it is essential to prioritize safety. Ice conditions can vary greatly, and it is crucial to ensure that the ice is thick and stable enough to support your weight. Checking the ice thickness, using ice picks or a safety rope, and wearing appropriate cold weather gear are essential precautions to take. It is also advisable to fish with a partner and inform someone of your fishing plans and expected return time.
Additionally, it is important to be aware of and adhere to any specific regulations and guidelines related to ice fishing in California. Some lakes may have restrictions on ice fishing or require special permits, so it is important to check with local authorities or the California Department of Fish and Wildlife for the most up-to-date information.
While ice fishing in California may not be as widespread or common as in colder regions, it can still offer a unique and rewarding fishing experience for those who are well-prepared, informed about safety measures, and willing to explore the limited ice fishing opportunities available in the state.
Top Ice Fishing Lakes & Species
There are numerous places to go ice fishing in the state. Here are a list of some of the proven, best destinations.
Northern CA
Boca Lake
Caples Lake
Castle Lake
Frenchman Lake
Gold Lake
Lake Davis

Prosser Reservoir
Red Lake
Central CA
Lake Sabrina
Mammoth Lakes
Silver Lake
Southern CA
Click the images for species details.
This is a great way to get the kids to go outdoors in winter, connect with nature and learn to fish. The first consideration when attempting to go ice fishing, is safety. Make sure the ice is safe, and that you are prepared should an accident occur. Dress to stay warm - it's better to remove extra jackets than be cold and miserable. Be aware that the ice can be slippery, and falls can be dangerous.
Ice Fishing Tips & Techniques Video
Click here for ice fishing basics, including details on finding the best place to fish, tips for cutting a hole, basic tackle, bait, lures, depths to fish, safety, shanty's, tents and huts.
Best ice fishing method for trout
Trout focus on small forage fish in winter, so baits that flash silver - jigs or spoons, do well in attracting trout. Dual rods, where legal, are very effective. One rod with a jig/live bait set up on a tip-up, the second with a spoon fished up and down pretty aggressively. See more detail about ice fishing for trout.
Best ice fishing method for bass
Bass are often found closer to the shoreline than schooling fish. Fish the same as other species, using a bit larger baits and slightly heavier line. Be prepared to battle using your drag if you hook a big one. Additional information about ice fishing for largemouth and smallmouth bass.
Click here for a California fishing license.
California Map
States with notable ice fishing.