Fishing At Lake Mendocino In Northern CA
AKA: Mendocino Reservoir
What to fish for...
Guide to fishing for largemouth bass, smallmouth bass, channel catfish, white catfish, black crappie, white crappie, bluegill, redear sunfish and striped bass at Lake Mendocino in California.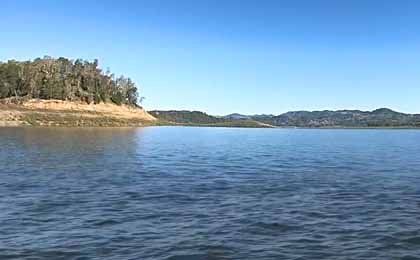 Loaded with a nice variety of warm-water fish species, Lake Mendocino is a 1,920 acre reservoir, located in the northwestern part of the state, at Calpella. Striped bass are the big draw here as they are caught in good size and numbers. Largemouth and smallmouth bass are also favored species. Catfish, crappie, bluegill and sunfish also swim in these waters.
The purpose of this page is to deliver an overview of this lake, the fishing options, and area amenities. Our goal is to provide info to first time visitors, as well as beginner and novice anglers. We gathered details from personal experience, numerous trusted websites that each offer select bits of information, and videos of fishing activity on the lake. These websites include the California Department of Fish and Wildlife, marinas at the lake, campgrounds, boat rental agencies and others. By consolidating this information to one page it allows visitors to see the entire picture, all in one place.
Lake Video
Lake Mendocino, situated in Mendocino County, California, is a picturesque destination known for its excellent fishing opportunities. The lake is home to a variety of fish species, making it a favorite spot for anglers. One of the most sought-after catches in Lake Mendocino is the bass, including largemouth and smallmouth bass. These fish are known for their thrilling fights and can be found hiding among the lake's submerged structures and rocky areas. Other species that can be found in the lake include catfish, trout, sunfish, and crappie, offering anglers a diverse range of fishing experiences.
Beyond fishing, boating, and camping, Lake Mendocino offers additional recreational activities for visitors to enjoy. Hiking trails surround the lake, providing opportunities for nature walks, birdwatching, and wildlife spotting. The scenic beauty of the area makes it a popular spot for photography enthusiasts. Swimming, water skiing, and kayaking are also favorite activities during the warmer months, providing a refreshing way to cool off and have fun on the lake's clear waters.
Lake Mendocino in California is a fantastic destination for fishing enthusiasts, offering a diverse range of fish species and ample boating opportunities. The availability of camping facilities allows visitors to extend their stay and fully immerse themselves in the natural surroundings. With its scenic beauty and a variety of recreational activities, Lake Mendocino provides a memorable experience for anglers, boaters, campers, and nature lovers alike.
About ten miles of shoreline wrap this fertile fishery. Anglers choosing to fish from the bank can find plenty of places to wet a line. Boating access is available at the North Ramp by Kyen Campground off Highway 20, and at the South Ramp off Lake Mendocino Drive. Both are excellent launch ramps with plenty of parking and rest rooms. Fishing is not permitted at the boat ramps.
Primary fish species residing in Lake Mendocino
Click images for fishing tips and details about each species.
Lake Mendocino Amenities
Marina: NO
Boat Rental: NO
Boat Launch Ramp: YES
Campgrounds: YES
RV Hookups: YES
Lodging: NEARBY
Convenience Store: YES
Bait & Tackle: YES
Restaurant: YES
Today's Weather & Forecast
Boating is a popular activity on Lake Mendocino, allowing visitors to explore the expansive waters and access prime fishing locations. The lake permits various types of watercraft, including motorized boats, kayaks, canoes, and paddleboards. Boaters can take advantage of the boat ramps and marina facilities available for easy access to the lake. Whether it's cruising along the calm waters, fishing from a boat, or engaging in water sports, Lake Mendocino provides ample opportunities for boating enthusiasts.
Public Boat Launch Ramps & Landings
Lake Mendocino North Ramp
Located in the northeast corner of the lake, off Marina Drive, this is a two-lane, concrete ramp with a dock and paved parking.
Lake Mendocino South Ramp
Located in the southwest corner of the lake, at the north end of the dam, this is a two-lane, concrete ramp with a dock and paved parking.
Click here for a California fishing license.
Camping options at Lake Mendocino cater to both tent and RV campers, offering a chance to immerse oneself in the natural beauty of the area. The lake features several campgrounds and camping areas with facilities such as picnic tables, fire pits, restrooms, and showers. Whether you prefer a secluded spot by the water's edge or a site nestled in the surrounding forest, there are camping options to suit various preferences. Camping at Lake Mendocino allows visitors to relax, enjoy the serene ambiance, and create lasting memories in the great outdoors.
Campgrounds & RV Parks Nearby
Bushay Recreation Area Campground - 707 467-4200
Ukiah Mobile Home & RV Park - 707 485-1766
Bushay Camp Ground Little Bear Campsite - 707 467-4200
Miti Campground (boat access) - 707 467-4200
Lake Mendocino CA Map - Fishing & Camping Areas
Contact Information
Lake Mendocino
Kyen Campground
95470, 1275 Marina Dr
Ukiah, CA 95482
707 467-4200
Fishing lakes in each state.
Lake Mendocino in Northern California.
Fishing for stripers and largemouth bass in northwest CA.
Lake Mendocino, in California.