Fishing At Skinner Reservoir In Southern CA
AKA: Lake Skinner Recreation Area
What to fish for...
Guide to fishing for largemouth bass, channel catfish, black crappie, white crappie, rainbow trout, bluegill and striped bass at Skinner Reservoir in California.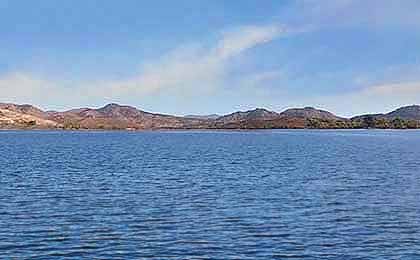 Fishing for largemouth bass and channel catfish draw a great deal of attention at Skinner Reservoir, a 1,400 acre lake, located in the southern part of the state, north of Temecula in Riverside County. Additionally fishing for crappie, trout, stripers and bluegill are popular.
The purpose of this page is to deliver an overview of this lake, the fishing options, and area amenities. Our goal is to provide info to first time visitors, as well as beginner and novice anglers. We gathered details from personal experience, numerous trusted websites that each offer select bits of information, and videos of fishing activity on the lake. These websites include the California Department of Fish and Wildlife, marinas at the lake, campgrounds, boat rental agencies and others. By consolidating this information to one page it allows visitors to see the entire picture, all in one place.
Lake Video
Skinner Reservoir, located in Riverside County, California, is a popular destination for fishing enthusiasts. The reservoir offers a variety of fish species, making it an attractive spot for anglers of all ages and skill levels. Some of the common fish species found in Skinner Reservoir include largemouth bass, striped bass, rainbow trout, bluegill, and catfish.
Largemouth bass fishing is a major highlight at Skinner Reservoir. Anglers can target these prized game fish using various techniques such as casting with plastic worms, crankbaits, or topwater lures. The reservoir's abundant vegetation, submerged structures, and rocky areas create ideal habitats for largemouth bass, providing ample opportunities for anglers to land a trophy-sized catch.
Striped bass is another sought-after species at Skinner Reservoir. These aggressive and hard-fighting fish can be targeted by trolling with swimbaits or using live bait such as shad or anchovies. The reservoir's deeper waters and submerged channels serve as prime locations for striped bass fishing, particularly during their active feeding periods.
Rainbow trout are regularly stocked in Skinner Reservoir, making it a popular spot for trout fishing. Anglers can have success catching rainbow trout by casting with spinners, spoons, or using bait such as PowerBait or nightcrawlers. The cooler months, when trout are stocked, tend to offer the most productive fishing for these beautiful and tasty fish.
Skinner Reservoir also provides opportunities for bluegill and catfish fishing. Bluegill can be caught using small jigs, worms, or flies, while catfish are often targeted using bait such as chicken liver, stink bait, or nightcrawlers. These species offer a fun fishing experience, especially for families or those looking for a more relaxed angling outing.
Before fishing at Skinner Reservoir, it's important to review and comply with local fishing regulations, obtain the necessary fishing licenses, and be aware of any fishing restrictions or seasons. It's also advisable to check for any special advisories or guidelines related to the reservoir. By staying informed and prepared, anglers can have a safe and rewarding fishing experience at Skinner Reservoir.
Skinner Reservoir in California provides an exciting fishing experience with its diverse fish species, including largemouth bass, striped bass, rainbow trout, bluegill, and catfish. Boating options allow anglers to access various fishing spots, while camping facilities nearby offer a chance to fully immerse in the natural surroundings. It's essential to adhere to fishing regulations, obtain the appropriate licenses, and stay updated on any advisories to ensure a memorable and successful fishing adventure at Skinner Reservoir.
Access for fishing from the bank, along more than twelve miles of shoreline, can be found on all sides of the lake. Boating access is via two excellent boat launch ramps. One is at Lake Skinner Marina, the other is on the southwest side of the Lake Skinner Recreation Area. Rental boats, camping, RV hookups, supplies, bait and tackle are all handy at the lake. Lodging and restaurants are less than 5 miles from the lake.
Primary fish species residing in Skinner Reservoir
Click images for fishing tips and details about each species.
Skinner Reservoir Amenities
Marina: YES
Boat Rental: YES
Boat Launch Ramp: YES
Campgrounds: YES
RV Hookups: YES
Lodging: NEARBY
Convenience Store: YES
Bait & Tackle: YES
Restaurant: NEARBY
Today's Weather & Forecast
In addition to fishing, Skinner Reservoir offers boating options for anglers and recreational boaters. The reservoir permits motorized boats, kayaks, canoes, and sailboats, allowing visitors to explore the water and access different fishing areas. Multiple boat ramps are available for easy launching and retrieval, ensuring convenient access for boaters.
Public Boat Launch Ramps & Landings
Lake Skinner Marina Boat Launch Area
Located in the northeast corner of the lake, off Warren Road, this is a six-lane, concrete ramp with a dock and paved parking.
Click here for a California fishing license.
For those looking to extend their fishing trip, camping facilities are available near Skinner Reservoir. Campgrounds offer amenities such as picnic tables, fire rings, and restroom facilities, providing a comfortable and enjoyable camping experience. Whether you prefer tent camping or RV camping, Skinner Reservoir offers options to suit different preferences.
Campgrounds & RV Parks Nearby
Lake Skinner Park Campground - 951 926-1541
Indian Oaks Campground - 951 302-5399
Skinner Reservoir CA Map - Fishing & Camping Areas
Contact Information
Skinner Reservoir
Lake Skinner Park
37701 Warren Rd
Winchester, CA 92596
951 926-1541
Fishing lakes in each state.
Skinner Reservoir in Southern California.
Fishing for largemouth bass and channel catfish in southern CA.
Skinner Reservoir, in California.