Fishing At Castaic Lake In Southern CA
AKA: Lake Castaic
What to fish for...
Guide to fishing for largemouth bass, channel catfish, black crappie, rainbow trout and striped bass at Castaic Lake in California.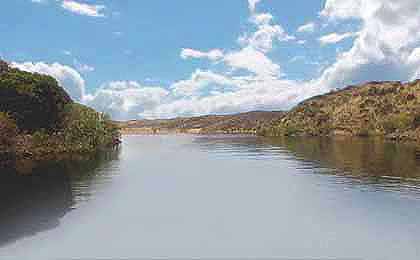 Home of five record largemouth bass (all over 19 pounds), a striped bass over 43 pounds, and a channel catfish over 47 pounds, Castaic Lake is a dream lake for serious anglers. The lake also offers exciting fishing for anglers of all skill levels, with populations of catfish, crappie and trout.
The purpose of this page is to deliver an overview of this lake, the fishing options, and area amenities. Our goal is to provide info to first time visitors, as well as beginner and novice anglers. We gathered details from personal experience, numerous trusted websites that each offer select bits of information, and videos of fishing activity on the lake. These websites include the California Department of Fish and Wildlife, marinas at the lake, campgrounds, boat rental agencies and others. By consolidating this information to one page it allows visitors to see the entire picture, all in one place.
Lake Video
Castaic Lake, located in Southern California, is renowned for its exceptional fishing opportunities and scenic beauty. Anglers flock to this popular destination in search of various fish species that inhabit its waters. One of the prized catches at Castaic Lake is the largemouth bass, known for its size and fighting prowess. Anglers can test their skills and techniques while targeting these trophy-sized bass, making it a thrilling experience for avid bass fishermen.
In addition to bass, Castaic Lake is home to a diverse range of fish species, including striped bass, catfish, crappie, and bluegill. Striped bass, or "stripers," are highly sought after for their size and strength, offering anglers an exciting challenge. Catfish, such as channel catfish and flathead catfish, provide a thrilling fight for those targeting these bottom-dwelling predators. Crappie and bluegill offer excellent opportunities for panfish enthusiasts, and their abundance ensures that anglers can enjoy a productive day on the water.
Castaic Lake is not only a haven for fishing enthusiasts but also offers a variety of recreational activities. Visitors can enjoy swimming, water skiing, jet skiing, and even windsurfing on the lake's clear waters. The surrounding hills and trails provide opportunities for hiking, picnicking, and wildlife spotting. With its diverse fishery, boating options, camping facilities, and recreational activities, Castaic Lake stands as a top-tier destination for anglers and nature lovers seeking an unforgettable fishing experience in California.
Castaic Lake is a 2,200 acre fishery, located in the southwest part of the state in Los Angeles County. This is a day-use only lake, and fees to enter are required. While access to shorelines is limited, one can do some fishing from shore. However, this lake is best fished from a boat, canoe or kayak.
Primary fish species residing in Castaic Lake.
Click images for fishing tips and details about each species.
Castaic Lake Amenities
Marina: NO
Boat Rental: NEARBY
Boat Launch Ramp: YES
Campgrounds: NEARBY
RV Hookups: NEARBY
Lodging: NEARBY
Convenience Store: NEARBY
Bait & Tackle: NEARBY
Restaurant: NEARBY
Today's Weather & Forecast
Boating is a popular activity at Castaic Lake, allowing anglers to access different areas of the lake and explore prime fishing spots. The lake features multiple boat ramps for launching fishing boats, pontoon boats, and other watercraft. Anglers can navigate the expansive lake, search for their preferred species, and enjoy the breathtaking views of the surrounding hills and canyons while indulging in their fishing passion.
Fishing Boat Rentals
Castaic Landing Boat Rentals
Rentals: Fishing boats
661 775-6232
Marinas
Castaic Landing Boat Rentals
32839 Lake Hughes Rd
Castaic, CA 91384
661 775-6232
Public Boat Launch Ramps & Landings
Castaic Lake Boat Launch Ramp
Located mid lake, on the south side of the lake, at the east end of the Castaic Lake Dam, this is a two-lane, concrete ramp with a dock and plenty of paved parking.
Click here for a California fishing license.
For those looking to extend their fishing adventure, Castaic Lake offers camping facilities that cater to both tents and RVs. Campgrounds near the lake provide a convenient and picturesque base for anglers and outdoor enthusiasts. Camping allows visitors to immerse themselves in the serene atmosphere of the lake, waking up to the sounds of nature and having easy access to fishing spots at any time.
Campgrounds & RV Parks Nearby
Castaic Lake RV Park & Campground - 661 257-3340
Castaic Lake CA Map - Fishing & Camping Areas
Contact Information
Castaic Lake
Castaic Lake RV Park
31540 Ridge Route Road
Castaic, CA 91384
661 257-3340
Lake Access
The hours of operation and entry requirements change often - check here for the latest information.
Fishing lakes in each state.
Castaic Lake in Southern California.
Giant catfish and stripers, plus bragging-size largemouth bass fishing in southwest CA.
Fishing at Castaic Lake, in California.