Guide To Fishing At Stampede Reservoir In Northern CA
AKA: Stampede Lake
What to fish for...
Fishing for rainbow trout, cutthroat trout, brook trout, lake trout and kokanee salmon at Stampede Reservoir in California.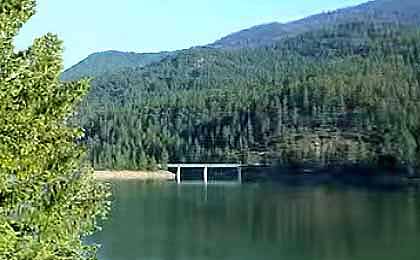 Kokanee salmon fishing is great at Stampede Reservoir, a 3,340-acre lake in the northeast part of the state, 10 miles north of Truckee. This is also a terrific trout fishery with four species of trout. Scattered around the lake, which has twenty five miles of shoreline, are access roads and trails for reaching the water for fishing from the bank.
Stampede Reservoir, situated in the Sierra Nevada Mountains of California, is a popular destination for fishing enthusiasts seeking a serene and productive fishing experience. The reservoir is renowned for its abundant fish populations and picturesque surroundings, making it a favorite among anglers.
One of the most sought-after fish species in Stampede Reservoir is the kokanee salmon. These landlocked salmon provide anglers with thrilling fights and delicious table fare. Kokanee salmon fishing is particularly productive during the spring and fall seasons when they are actively feeding. Trolling with downriggers and using lures such as spoons, spinners, or dodgers with bait are common techniques for targeting kokanee. The reservoir's deep waters and submerged structures serve as ideal habitats for these salmon.
Stampede Reservoir is also home to a variety of other fish species, including rainbow trout, brown trout, and smallmouth bass. Rainbow trout can be found throughout the year and are often targeted using techniques such as trolling with lures, fly fishing, or bait fishing. Brown trout, known for their elusive nature, can be caught using similar methods, with early morning and late evening being prime times for success. Smallmouth bass are known for their feisty nature and can be targeted using techniques such as casting with crankbaits, jigs, or soft plastics.
Boating is a popular activity on Stampede Reservoir, and the lake offers ample opportunities for boaters to explore its vast waters. Anglers can launch their boats from the available boat ramps and enjoy cruising, fishing, or engaging in water sports. The scenic beauty of the surrounding mountains and the tranquil atmosphere of the reservoir make boating an enjoyable experience.
For those looking to extend their fishing adventure, camping facilities are available near Stampede Reservoir. The campground provides amenities such as campsites, picnic areas, and restroom facilities, allowing anglers and outdoor enthusiasts to immerse themselves in the natural beauty of the area. Camping near Stampede Reservoir offers a chance to relax, rejuvenate, and enjoy the peace and tranquility of the Sierra Nevada Mountains.
It's important to note that fishing regulations, including bag limits and size restrictions, apply at Stampede Reservoir. Anglers should familiarize themselves with these regulations, obtain the appropriate fishing licenses, and adhere to any special guidelines or restrictions in place. By practicing responsible fishing and following the regulations, anglers can help preserve the natural ecosystem and ensure the sustainability of fish populations in Stampede Reservoir.
Stampede Reservoir in California offers a rewarding fishing experience with its diverse fish species, including kokanee salmon, rainbow trout, brown trout, and smallmouth bass. Boating enthusiasts can take advantage of the reservoir's scenic beauty and ample boating opportunities. Camping facilities provide a chance to fully immerse oneself in the natural surroundings. By respecting fishing regulations and practicing responsible angling, visitors can enjoy a memorable and sustainable fishing adventure at Stampede Reservoir.
Shore fishing is also available at the campgrounds. Boating access is via the boat launch ramp, located just west of Logger Campground.
Primary fish species residing in Stampede Reservoir
Click images for fishing tips and details about each species.
Stampede Reservoir Amenities
Marina: NO
Boat Rental: NO
Boat Launch Ramp: YES
Campgrounds: YES
RV Hookups: NO
Lodging: NO
Convenience Store: NO
Bait & Tackle: NO
Restaurant: NO
Today's Weather & Forecast
Public Boat Launch Ramps & Landings
Stampede Reservoir Boat Ramp
Located mid lake, on the south side of the lake, off Boat Launch Access Road, this is a two-lane, concrete ramp with a dock and paved parking.
Click here for a California fishing license.
Campgrounds & RV Parks Nearby
Logger Campground - 530 587-3558
Emigrant Group Campground - 530 587-3558
Stampede Reservoir CA Map - Fishing & Camping Areas
Lake Video
Contact Information
Stampede Reservoir
Stampede Campgrounds
Truckee, CA 96161
530 587-3558
Fishing lakes in each state.
Stampede Reservoir in Northern California.
Fishing for kokanee salmon and trout in northeast CA.
Stampede Reservoir, in California.