California Crappie Fishing
All about fishing for black and white crappie in CA.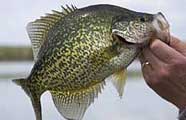 Crappie are actually a member of the sunfish family and can be found in many California lakes. Crappie are known by many different local names. They are fun to catch and make a great fish fry.
Crappie Fishing Waters In CA
Crappie Fishing Lakes In Northern California
You'll find good schools of crappie at major lakes in Northern CA like Bucks Lake, Clear Lake, Folsom Lake, Lake Berryessa, Lake Combie, Lake Mendocino, Lake Oroville, New Bullards Bar Reservoir, New Hogan Lake, Lake Shasta, Trinity Lake and Whiskeytown Lake. Crappie populate many other smaller waters. It's always worth a few casts to see if crappie inhabit the water you're on. Clear Lake holds the state record for white crappie while New Hogan Lake holds the state record for black crappie.
Crappie Fishing Lakes In Central California
Bass Lake, Lake Don Pedro, Lake Cachuma, Lake Camanche, Lake Kaweah, Lake McClure, Lake Sonoma, Lake Tulloch, Lake Nacimiento, Millerton Lake, New Hogan Lake, New Melones Lake, Pine Flat Lake, San Luis Reservoir, San Pablo Reservoir, Shaver Lake, Success Lake and The Delta all have nice populations of crappie as do some of the smaller bodies of water in Central CA.
Crappie Fishing Lakes In Southern California
The warmer waters of the lower elevation lakes in Southern CA like Barrett Lake, Big Bear Lake, Canyon Lake, Castaic Lake, Diamond Valley Lake, El Capitan Lake, Lake Cahuilla, Lake Elsinore, Lake Hemet, Lake Hodges, Lake Perris, Lake Piru, Lake Sutherland, Littlerock Reservoir, Lower Otay Lake, Pyramid Lake, San Vicente Reservoir, Silverwood Lake and Skinner Reservoir have healthy populations of crappie.
The California state record black crappie came from New Hogan Lake and Clear Lake produced the CA state record white crappie.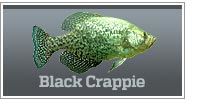 World record: 6 lbs 0 oz
CA State Record: 4 lbs 1 oz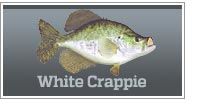 World record: 5 lbs 3 oz
CA State Record: 4 lbs 8 oz
By clicking on the images and links above, you will be taken to a page offering more information about the selected species.
Check out crappie fishing information, by state.
The life cycle of crappie.
The more you know about crappie, the easier it will be to locate and catch them in California lakes and rivers. Visit the crappie fishing page for details about their seasonal migrations.
Best crappie fishing lakes in California!