Fishing At Lake Camanche In Central CA
AKA: Camanche Reservoir
What to fish for...
Guide to fishing for largemouth bass, smallmouth bass, spotted bass, channel catfish, white catfish, black crappie, white crappie, rainbow trout, brown trout, bluegill, green sunfish, redear sunfish and kokanee salmon at Lake Camanche in California.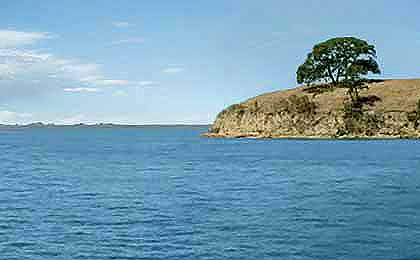 Spotted bass are the featured prize here at Lake Camanche, aka Camanche Reservoir. This is a 7,700 acre lake, located in the central part of the state in Amador, Calaveras, and San Joaquin County. The lake boasts nice populations of bass, catfish, crappie, trout, sunfish and salmon.
Lake Camanche, located in the Sierra Nevada foothills of California, is a popular destination for fishing enthusiasts seeking a diverse range of species and outdoor activities. The lake is well-known for its excellent fishing opportunities, offering anglers a chance to catch a variety of species. One of the primary game fish found in Lake Camanche is the bass, with both largemouth and smallmouth bass thriving in its waters. Anglers can enjoy the thrill of battling these hard-fighting fish known for their aggressive strikes and acrobatic jumps.
In addition to bass, Lake Camanche is home to other sought-after species such as rainbow trout, catfish, crappie, and bluegill. Rainbow trout are regularly stocked, providing a great opportunity for anglers to reel in these vibrant and delicious fish. Catfish, including channel catfish and flathead catfish, also populate the lake, offering a fun challenge for those targeting these bottom-dwelling predators. Crappie and bluegill provide additional angling opportunities, especially for those looking to catch panfish.
Lake Camanche provides ample boating opportunities, allowing anglers to explore the lake's vast expanse and reach prime fishing spots. The lake has multiple boat ramps available for launching fishing boats, pontoon boats, and other watercraft. Anglers can cruise along the scenic shoreline, drift along fishing hotspots, and enjoy the peaceful ambiance of the lake while seeking their desired catch.
For those looking to extend their fishing adventure, Lake Camanche offers camping facilities nestled in the beautiful natural surroundings. The lake features campgrounds with tent and RV sites, providing a comfortable and convenient base for anglers and outdoor enthusiasts. Camping near the lake allows for easy access to fishing spots and the opportunity to fully immerse oneself in the tranquility of the outdoors.
Beyond fishing, Lake Camanche offers a range of recreational activities for visitors. The lake's calm waters are perfect for swimming, water skiing, and tubing, providing fun for the whole family. Hiking trails around the lake showcase the scenic beauty of the area, and birdwatching enthusiasts can spot a variety of avian species. With its diverse fishery, boating options, camping facilities, and recreational activities, Lake Camanche is a premier destination for anglers and outdoor enthusiasts seeking an unforgettable fishing experience in California.
There is a daily fee required to fish the lake, available at either Rec Area. Strewn with islands, and boulders, the lake offers excellent cover for predator fish. This is a structure fishing haven. While most fishing is conducted from boats and kayaks, there is sufficient opportunity for shoreline fishing.
Primary fish species residing in Lake Camanche.
Click images for fishing tips and details about each species.
Lake Camanche Amenities
Marina: YES
Boat Rental: YES
Boat Launch Ramp: YES
Campgrounds: YES
RV Hookups: YES
Lodging: YES
Convenience Store: NEARBY
Bait & Tackle: YES
Restaurant: NEARBY
Today's Weather & Forecast
Fishing Boat Rentals
South Shore Lake Camanche Marina
Rentals: Fishing boats, patio boats and bass boats
209 763-5121
Marinas
North Shore Camanche Marina
Shawnee Ct
Ione, CA 95640
209 763-5166
South Shore Lake Camanche Marina
Pattison Rd
Wallace, CA 95254
209 763-5121
Public Boat Launch Ramps & Landings
North Shore Lake Camanche Marina Boat Ramp
Located mid lake, on the north side of the lake, off Camanche Road, this is a five-lane, concrete ramp with docks and plenty of paved parking.
South Shore Lake Camanche Marina Boat Ramp
Located mid lake, on the south side of the lake, off Camanche Road, this is a five-lane, concrete ramp with docks and plenty of paved parking.
Click here for a California fishing license.
Campgrounds & RV Parks Nearby
Lake Camanche Recreation - South Shore - 209 763-5912
Lake Camanche Campground - 209 763-5121
North Shore Lake Camanche Campground - 209 763-5121
Lake Camanche CA Map - Fishing & Camping Areas
Lake Video
Contact Information
Lake Camanche
Lake Camanche Recreation
2000 Camanche Road
Ione, CA 95640
209 763-5121
Fishing lakes in each state.
Lake Camanche in Central California.
Excellent spotted bass fishing in central CA.
Fishing at Lake Camanche, in California.