Fishing At Los Vaqueros Reservoir In Northern CA
AKA: Los Vaqueros Watershed & Marina
What to fish for...
Guide to fishing for largemouth bass, channel catfish, white catfish, white crappie, rainbow trout, bluegill, green sunfish, redear sunfish, kokanee salmon and striped bass at Los Vaqueros Reservoir in California.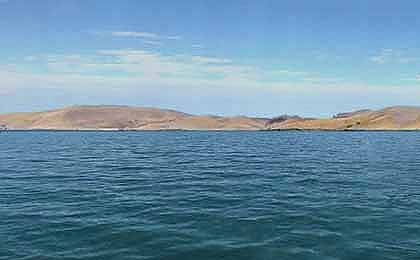 Rental boats from the marina are the only boats allowed on Los Vaqueros Reservoir, a 1,480 acre lake in the Bay Area, 10 miles north of Livermore. The lake has more than ten miles of shoreline, with access for fishing from the bank along the south shore.
Nestled amidst the rolling hills of California's East Bay region, Los Vaqueros Reservoir is a popular destination for fishing enthusiasts. The reservoir boasts an impressive array of fish species, making it an excellent spot for anglers of all levels. One of the most sought-after species in Los Vaqueros Reservoir is the largemouth bass. Anglers can test their skills in reeling in these prized game fish, known for their size and fight. The reservoir is also home to other popular sportfish such as striped bass, catfish, trout, and sunfish, ensuring there's always something for everyone.
Boating is a fantastic way to explore the expansive waters of Los Vaqueros Reservoir and access prime fishing areas. The reservoir permits motorized boats, kayaks, canoes, and paddleboards, giving visitors plenty of options to enjoy their preferred watercraft activities. Boat ramps and rentals are available, allowing for easy launch and convenient access to different areas of the reservoir. Anglers and boating enthusiasts can spend their days cruising the calm waters, searching for the best fishing spots, and enjoying the scenic views.
Camping at Los Vaqueros Reservoir offers visitors the opportunity to extend their stay and fully immerse themselves in the natural beauty of the surrounding area. The reservoir features a designated campground with both tent and RV sites, complete with picnic tables, fire rings, and restroom facilities. Spending the night under the starry sky and waking up to the tranquil ambiance of the reservoir creates a truly memorable experience. Additionally, the reservoir has picnic areas and hiking trails, allowing visitors to further enjoy the scenic landscapes and abundant wildlife.
Los Vaqueros Reservoir also serves as an important habitat for a variety of bird species, making it a haven for birdwatching enthusiasts. The reservoir is a stopover site for migrating birds and offers opportunities to spot both resident and migratory species. Birdwatchers can witness a fascinating array of waterfowl, shorebirds, raptors, and songbirds in their natural habitat.
Los Vaqueros Reservoir provides a fantastic fishing experience with its diverse fish species and stunning natural surroundings. Whether you're an angler in search of trophy bass, a boating enthusiast exploring the waters, or a nature lover seeking a peaceful camping getaway, Los Vaqueros Reservoir has something for everyone. With its ample fishing opportunities, boating access, camping facilities, and abundant wildlife, it's a hidden gem for outdoor enthusiasts in California's East Bay region.
Trophy-size stripers, trout, bass and catfish are common here. Additionally, there are bluegill, kokanee, crappie and sunfish. A limited number of rental boats are available, offered on a first come, first served basis.
Primary fish species residing in Los Vaqueros Reservoir
Click images for fishing tips and details about each species.
Los Vaqueros Reservoir Amenities
Marina: YES
Boat Rental: YES
Boat Launch Ramp: NO
Campgrounds: NO
RV Hookups: NO
Lodging: NO
Convenience Store: YES
Bait & Tackle: YES
Restaurant: NO
Today's Weather & Forecast
Marinas
Los Vaqueros Watershed & Marina
9990 Los Vaqueros Rd
Livermore, CA 94551
925 371-2628
Click here for a California fishing license.
Campgrounds & RV Parks Nearby
No campgrounds or RV parks are at, or nearby the lake.
Los Vaqueros Reservoir CA Map - Fishing & Camping Areas
Lake Video
Contact Information
Los Vaqueros Reservoir
Los Vaqueros Watershed & Marina
9990 Los Vaqueros Rd
Livermore, CA 94551
925 371-2628
Fishing lakes in each state.
Los Vaqueros Reservoir in Northern California.
Fishing for trout and striped bass in the bay area CA.
Los Vaqueros Reservoir, in California.