Fishing At Pyramid Lake In Southern CA
What to fish for...
Guide to fishing for largemouth bass, smallmouth bass, channel catfish, black crappie, rainbow trout, bluegill and striped bass at Pyramid Lake in California.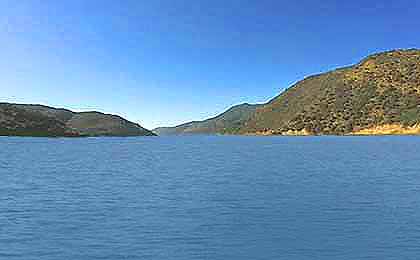 If you are looking for a fishing lake with a variety of fish species, in Southern California, Pyramid Lake is a great option. This 1,300 acre lake, located in the southwest part of the state in Los Angeles County is home to bass, trout, catfish and crappie. Easy access of Interstate 5 and plenty of camping options make this a great place to bring the family and stay for a while.
Nestled in the heart of the Mojave Desert, Pyramid Lake is a renowned fishing destination in California. The lake is famous for its trophy-sized striped bass, which draw anglers from far and wide. Striped bass weighing over 40 pounds are not uncommon in Pyramid Lake, making it a paradise for avid anglers seeking a thrilling fishing experience.
Aside from striped bass, Pyramid Lake is also home to other fish species such as largemouth bass, smallmouth bass, catfish, trout, and bluegill. This diverse range of species provides anglers with plenty of opportunities to test their skills and reel in a variety of fish.
Boating is a popular activity at Pyramid Lake, as it offers anglers the opportunity to explore the vast expanse of water and access prime fishing spots. Boaters can bring their own boats or rent them from the marina, ensuring a memorable fishing excursion. It's important to note that certain boating regulations and permits may apply, so it's advisable to check the local regulations before heading out on the water.
Camping at Pyramid Lake allows anglers and outdoor enthusiasts to extend their stay and fully immerse themselves in the natural beauty of the area. The lake features several campgrounds equipped with amenities such as picnic tables, fire rings, and restrooms. Whether you prefer tent camping or RV camping, there are options available to suit your needs.
In addition to fishing and camping, Pyramid Lake offers stunning scenic views and opportunities for various outdoor activities. The surrounding landscape is a haven for hikers, nature photographers, and wildlife enthusiasts. The lake's unique geological formations, including the iconic Pyramid Rock, add to its allure and make it a popular spot for sightseeing and photography.
When planning a visit to Pyramid Lake, it's important to note that the lake is managed by the Los Angeles Department of Water and Power, and certain regulations and permits may be required. It's recommended to check the local fishing regulations, obtain any necessary permits, and stay updated on water conditions and safety guidelines to ensure a pleasant and safe fishing experience.
Pyramid Lake in California is a premier fishing destination known for its trophy-sized striped bass and a variety of other fish species. With its excellent boating opportunities, scenic campgrounds, and picturesque surroundings, Pyramid Lake offers a memorable outdoor experience for fishing enthusiasts and nature lovers alike. Whether you're casting a line from a boat, camping by the lakeshore, or exploring the stunning desert landscape, Pyramid Lake provides a captivating escape into California's natural beauty.
Camping facilities with easy access to the lake, boat ramps and a marina keep things simple. Largemouth bass and striped bass are favorites here.
Primary fish species residing in Pyramid Lake.
Click images for fishing tips and details about each species.
Pyramid Lake Amenities
Marina: YES
Boat Rental: NO
Boat Launch Ramp: YES
Campgrounds: YES
RV Hookups: YES
Lodging: NO
Convenience Store: YES
Bait & Tackle: YES
Restaurant: NEARBY
Today's Weather & Forecast
Public Boat Launch Ramps & Landings
Pyramid Lake Boat Ramp
Located mid lake, at the northern tip of the lake, off Pyramid Lake Road, this is a eight-lane, concrete ramp with a dock and plenty of paved parking.
Vaquero Beach Boat Launch Ramp
Located mid lake, on the east side of the lake, off Vist Del Lago Road, this is a two-lane, concrete ramp with a dock and plenty of paved parking.
Click here for a California fishing license.
Campgrounds & RV Parks Nearby
Pyramid Lake Los Alamos Campground - 661 248-6725
Pyramid Lake RV Resort - 661 248-0100
Pyramid Lake CA Map - Fishing & Camping Areas
Lake Video
Contact Information
Pyramid Lake
Pyramid Lake Recreation Area
43100 Pyramid Lake Road
Gorman CA 93243
805 434-1996
Fishing lakes in each state.
Pyramid Lake in Southern California.
Crappie, trout, catfish and bass fishing in southwest CA.
Fishing at Pyramid Lake, in California.