Fishing At Lake Havasu In Southern CA
What to fish for...
Guide to fishing for largemouth bass, smallmouth bass, channel catfish, flathead catfish, bluegill, redear sunfish and striped bass at Lake Havasu in California.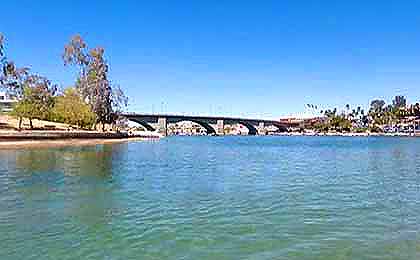 This fishing, boating and vacationing gem is a great place for anyone who loves water sport activities. Though the weather is hot during the peak of summer, and the water temperatures are chilly during winter, Lake Havasu is a year-round outdoors destination.
The purpose of this page is to deliver an overview of this lake, the fishing options, and area amenities. Our goal is to provide info to first time visitors, as well as beginner and novice anglers. We gathered details from personal experience, numerous trusted websites that each offer select bits of information, and videos of fishing activity on the lake. These websites include the California Department of Fish and Wildlife, marinas at the lake, campgrounds, boat rental agencies and others. By consolidating this information to one page it allows visitors to see the entire picture, all in one place.
Lake Video
Lake Havasu, located on the border of California and Arizona, is renowned for its fantastic fishing opportunities and picturesque surroundings. The lake is known for its diverse fish species, making it a favorite destination among anglers. One of the most sought-after species in Lake Havasu is the largemouth bass. Anglers flock to the lake to challenge themselves in catching these trophy-sized bass. The lake also supports populations of other popular fish species, including smallmouth bass, striped bass, and catfish, providing anglers with a variety of fishing experiences.
Aside from fishing and boating, Lake Havasu offers various recreational activities for visitors to enjoy. The lake's inviting waters are perfect for swimming, water skiing, and jet skiing. The surrounding desert landscape provides opportunities for hiking, off-roading, and wildlife viewing. Additionally, Lake Havasu is famous for the iconic London Bridge, which connects the mainland to an island in the lake. Visitors can explore the bridge, stroll along the promenade, and discover shops and restaurants in the adjacent English Village.
In conclusion, Lake Havasu is a premier fishing destination in California, offering a wide range of fish species, excellent boating opportunities, and scenic camping spots. Whether you're an avid angler in pursuit of trophy bass or a water sports enthusiast seeking thrilling adventures, Lake Havasu provides a memorable experience for all. Its natural beauty, diverse recreational activities, and the iconic London Bridge make it a must-visit destination for outdoor enthusiasts.
This 19,300 acre lake is located on the California/Arizona border in Southern CA, and surrounded by desert landscape. Long known as a striped bass fishery, the lake has recently achieved acclaim for excellent smallmouth bass fishing. The lake also supports catfish, sunfish and an occasional rainbow trout from upstream waters.
Primary fish species residing in Lake Havasu.
Click images for fishing tips and details about each species.
Lake Havasu Amenities
Marina: YES
Boat Rental: AZ side
Boat Launch Ramp: YES
Campgrounds: YES
RV Hookups: YES
Lodging: YES
Convenience Store: NO
Bait & Tackle: NO
Restaurant: YES
Today's Weather & Forecast
Boating is a major attraction at Lake Havasu, and the lake is well-suited for it. Boaters have plenty of space to explore the expansive waters, enjoy water sports, and access prime fishing spots. The lake offers numerous boat launch ramps and marinas, ensuring easy access and convenience for boating enthusiasts. Whether you prefer a motorized boat, a kayak, or a pontoon, Lake Havasu provides the perfect setting for your watercraft adventures.
Public Boat Launch Ramps & Landings
Black Meadow Landing Boat Launch Ramp
Located in the southwest corner of the lake, off Black Meadow Road, this is a two-lane, concrete ramp with a dock and gravel parking.
Havasu Landing Marina Boat Ramp
Located mid lake, on the west side of the lake, off Havasu Lake Road, this is a two-lane, concrete ramp with a dock and plenty of paved parking.
Table Bluff Lighthouse Replica Boat Launch
Located mid lake, on the west side of the lake, off Havasu Lake Road, this is a two-lane, concrete ramp with gravel parking.
Click here for a California fishing license.
Camping opportunities abound at Lake Havasu, allowing visitors to extend their stay and fully immerse themselves in the natural beauty of the area. The lake offers several campgrounds with amenities such as picnic areas, restrooms, and fire pits. From lakeside camping spots to secluded sites surrounded by desert landscapes, there are options to suit different preferences. Waking up to stunning lake views, enjoying evening campfires, and stargazing under the clear desert sky make camping at Lake Havasu a memorable experience.
Campgrounds & RV Parks Nearby
Lake Havasu Campground - 760 858-4592
Lake Havasu CA Map - Fishing & Camping Areas
Contact Information
Lake Havasu
Havasu Landing Resort & Casino
PO Box 1707
Havasu Lake, CA 92363
760 858-4592
Fishing lakes in each state.
Lake Havasu in Southern California.
Great smallmouth bass and striper fishing in southeast CA.
Fishing at Lake Havasu, in California.