Fishing At Lake Berryessa In Northern CA
AKA: Berryessa Lake
What to fish for...
Guide to fishing for largemouth bass, smallmouth bass, spotted bass, channel catfish, white catfish, black crappie, rainbow trout, bluegill, chinook salmon and kokanee salmon at Lake Berryessa in California.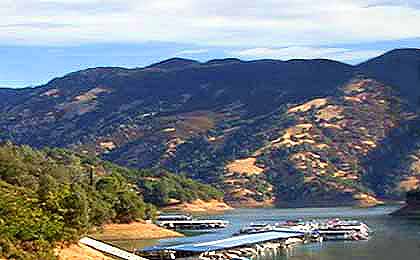 If you enjoy catching bass, trout and salmon all from the same spot, Lake Berryessa might become one of your favorite fishing lakes. This is a 20,700 acre lake, located ten miles west of Winters, CA in Napa County. The lake has a nice mixed bag of bass, catfish, crappie, trout, salmon and sunfish.
Lake Berryessa, located in Napa County, California, is a renowned fishing destination that offers a diverse range of angling opportunities. The lake is known for its thriving population of both warmwater and coldwater fish species, making it a favorite spot for anglers of all types. Bass fishing is particularly popular at Lake Berryessa, with both largemouth and smallmouth bass available in abundance. These bass provide exciting action and anglers often use techniques such as casting with lures or bait, or trolling to target them.
Lake Berryessa is also home to various other game fish species, including rainbow trout, brown trout, and kokanee salmon. These coldwater species provide additional angling opportunities, especially during the cooler months. Anglers can employ methods such as trolling with downriggers or casting with artificial lures to entice these trout and salmon.
Boating is a favored activity at Lake Berryessa, with its vast size and calm waters providing an ideal environment for watercraft. Anglers can launch their boats from multiple boat ramps around the lake, allowing for easy access to different fishing areas. Whether it's a fishing boat, kayak, or pontoon boat, there's plenty of room to explore the lake's scenic shoreline and search for the best fishing spots.
Camping facilities are available at Lake Berryessa, providing an opportunity for anglers and outdoor enthusiasts to extend their stay and fully immerse themselves in the natural beauty of the area. Several campgrounds are situated around the lake, offering a range of camping options from tent camping to RV camping. Camping near Lake Berryessa allows anglers to make the most of their fishing excursions and enjoy the tranquility of the surroundings.
Aside from fishing, Lake Berryessa offers a variety of recreational activities. The lake is popular for water sports such as swimming, waterskiing, and wakeboarding. Additionally, the surrounding hills and valleys provide opportunities for hiking, bird-watching, and wildlife observation.
With its diverse fishery, ample boating opportunities, and scenic camping spots, Lake Berryessa is a sought-after destination for anglers and outdoor enthusiasts in California. Whether you're targeting bass, trout, or salmon, or simply looking to enjoy a peaceful boating and camping experience, Lake Berryessa offers a memorable and fulfilling outdoor adventure.
Depending on time of year, you can focus on a certain species, and at other times you can catch a variety - even from the docks or fishing from shore. For fishing, Berryessa is blessed with both quantity and quality - giving you the opportunity to catch that fish of a lifetime. Bring the family and enjoy all that this lake has to offer.
Primary fish species residing in Lake Berryessa.
Click images for fishing tips and details about each species.
Lake Berryessa Amenities
Marina: YES
Boat Rental: YES
Boat Launch Ramp: YES
Campgrounds: YES
RV Hookups: YES
Lodging: YES
Convenience Store: YES
Bait & Tackle: YES
Restaurant: YES
Today's Weather & Forecast
Fishing Boat Rentals
Lake Berryessa Boat and Jet Ski Rentals
Rentals: Fishing boats, kayaks and pontoons
707 966-4204
Pleasure Cove Marina, CA
Rentals: Fishing boats, canoes, kayaks and pontoons
707 966-9600
Marinas
Pleasure Cove Marina, CA
6100 CA-128
Napa, CA 94558
707 966-9600
Public Boat Launch Ramps & Landings
Capell Cove Launch Ramp
Located in the southwest corner of the lake, off Berryessa Knoxville Road, this is a two-lane, concrete ramp with a dock and paved parking.
Markley Cove Resort Boat Ramp
Located in the southeast corner of the lake, off Highway 128, this is a three-lane, concrete ramp with a dock and gravel parking.
Pleasure Cove Launch Ramp
Located at the southernmost tip of the lake, off Wagg Canyon Road, this is a four-lane, concrete ramp with a dock and paved parking.
Putah Canyon Campground Boat Ramp
Located mid lake, in the northwest section of the lake, off Berryessa Knoxville Road, this is a three-lane, concrete ramp with a dock and paved parking.
Click here for a California fishing license.
Campgrounds & RV Parks Nearby
Steele Canyon Campground - 877 386-4383
Canyon Creek Resort Campground - 530 795-4133
Oak Shores Day Use Area - 707 966-2111
Manzanita Canyon Campground
Lake Berryessa CA Map - Fishing & Camping Areas
Lake Video
Contact Information
Lake Berryessa
Pleasure Cove Marina
6100 Highway 128
Napa California 94558
707 966-9600
Fishing lakes in each state.
Lake Berryessa in Northern California.
Quality largemouth, smallmouth and spotted bass fishing in northwest CA.
Fishing at Lake Berryessa, in California.