Fishing At Lower Otay Lake In Southern CA
AKA: Lower Otay Reservoir
What to fish for...
Guide to fishing for largemouth bass, channel catfish, blue catfish, black crappie, white crappie, bluegill and green sunfish at Lower Otay Lake in California.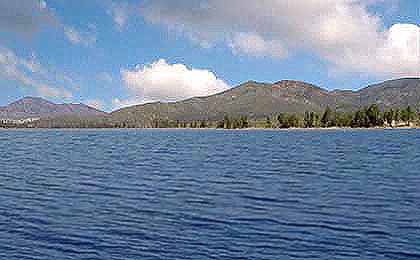 Bass, catfish, crappie and sunfish hide among the submerged timber in Lower Otay Lake, an 1,100-acre lake in southwest CA, 10 miles east of Chula Vista. Giant largemouth bass are caught with some regularity here, often weighing over ten pounds as well as many in the mid-range weights.
The purpose of this page is to deliver an overview of this lake, the fishing options, and area amenities. Our goal is to provide info to first time visitors, as well as beginner and novice anglers. We gathered details from personal experience, numerous trusted websites that each offer select bits of information, and videos of fishing activity on the lake. These websites include the California Department of Fish and Wildlife, marinas at the lake, campgrounds, boat rental agencies and others. By consolidating this information to one page it allows visitors to see the entire picture, all in one place.
Lake Video
Lower Otay Lake, located in San Diego County, California, is a renowned fishing destination that offers an exciting angling experience. The lake is home to a variety of fish species, making it a favorite spot among fishing enthusiasts. One of the most sought-after species in Lower Otay Lake is the largemouth bass. Anglers can test their skills and techniques in pursuit of these feisty game fish known for their aggressive strikes and acrobatic fights. The lake is also populated with other popular sportfish such as catfish, crappie, bluegill, and carp, providing ample opportunities for anglers to reel in a diverse range of species.
In addition to fishing, boating, and camping, Lower Otay Lake offers a range of recreational activities. Birdwatchers can indulge in their passion as the lake attracts a diverse array of bird species. With its surrounding wetlands and abundant vegetation, the lake serves as a habitat for various waterfowl, shorebirds, and migratory birds. Nature lovers can also explore the surrounding trails and enjoy hiking, birding, and wildlife observation.
Overall, Lower Otay Lake is a haven for anglers and outdoor enthusiasts alike. With its diverse fish species, boating opportunities, and proximity to camping facilities, it provides an ideal setting for a memorable fishing trip or a relaxing weekend getaway in the scenic San Diego County. Whether you're a seasoned angler seeking trophy bass or a nature lover looking to soak in the natural beauty, Lower Otay Lake offers an unforgettable experience for all who visit.
Access for fishing from the bank is available along most of the twenty five miles of shoreline, with some of the easiest along the west shore. Boat access is via Otay Lake City of San Diego Reservoir boat launch ramp on the west side of the lake, off Wueste Road. Rental boats are available at the concession near the boat landing, which also has bait, fishing tackle and snacks.
Primary fish species residing in Lower Otay Lake
Click images for fishing tips and details about each species.
Lower Otay Lake Amenities
Marina: NO
Boat Rental: YES
Boat Launch Ramp: YES
Campgrounds: NEARBY
RV Hookups: NEARBY
Lodging: NEARBY
Convenience Store: YES
Bait & Tackle: YES
Restaurant: NEARBY
Today's Weather & Forecast
Boating is a popular activity at Lower Otay Lake, allowing anglers and recreational boaters to explore the expansive waters. The lake permits both motorized and non-motorized boats, including kayaks, canoes, and paddleboards. Boaters can take advantage of the boat ramp and rentals available at the lake to launch their vessels and access prime fishing spots. Cruising the serene waters of Lower Otay Lake offers not only excellent fishing opportunities but also breathtaking views of the surrounding landscape.
Public Boat Launch Ramps & Landings
Fishing Otay Lake Boat Launch Ramp
Located in the southwest corner of the lake, off Wueste Road, this is a four-lane, concrete ramp with a dock and paved parking.
Click here for a California fishing license.
Camping is not available directly at Lower Otay Lake; however, there are nearby campgrounds and recreational areas that offer camping facilities. Visitors can find various camping options in the vicinity, allowing them to extend their stay and fully immerse themselves in the natural beauty of the region. These campgrounds provide amenities such as picnic tables, fire rings, and restrooms, ensuring a comfortable camping experience for outdoor enthusiasts.
Campgrounds & RV Parks Nearby
Pio Pico RV Resort & Campground - 619 421-0104
Sweetwater Summit Regional Park Campground - 619 472-7572
Lower Otay Lake CA Map - Fishing & Camping Areas
Contact Information
Lower Otay Lake
Otay Lake City of San Diego Reservoir
2165 Wueste Rd
Chula Vista, CA 91915
619 397-5212
Fishing lakes in each state.
Lower Otay Reservoir in Southern California.
Fishing for largemouth bass in southwest CA.
Lower Otay Lake, in California.